Karnataka: Low market prices, transport hurdles distress farmers | Hubballi News – Times of India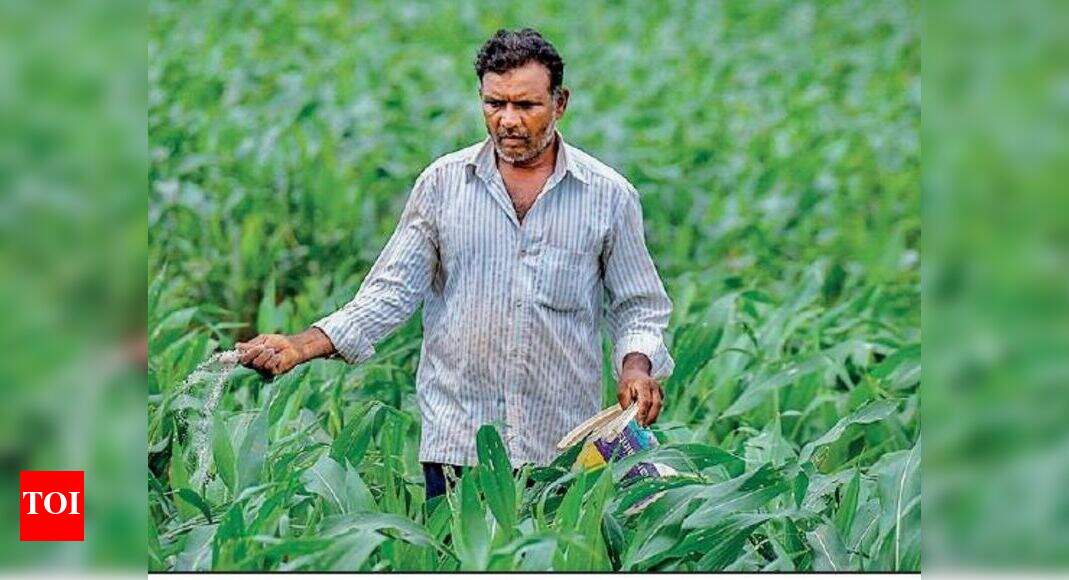 BENGALURU: Several sugarcane growers in north Karnataka torched their standing crop last year after they couldn't get skilled farmhands from Maharashtra for the harvesting task.
Those who made do with available workers were unable to sell their stocks as sugar units reduced orders. This is only a snapshot of the challenges farmers have faced in the past 15 months.
Though the agriculture sector was largely exempted from stringent Covid-19 restrictions in 2020 and this year, new and long-standing problems — labour shortage, fluctuating demand, poor price realisation, transportation hurdles and inadequate government support — left farmers in many parts reeling. Moving produce to markets in and outside the state has been particularly difficult because of general disruptions caused by Covid lockdowns. Mango farmers, for instance, struggled to shift stocks on time.
APMC yards functioned for limited hours, and it didn't make sense for farmers in far-off places to make the trip. They were forced to sell their produce, especially vegetables and fruits, at throwaway prices in the nearest market or dump it on the side of the road in anger. Wholesale merchants, who secured supplies at a fraction of the cost, were the only ones to benefit from the situation.
Some growers tried to adapt, switching to soya bean cultivation following the soaring demand for soya oil, but bad weather affected the yield. Gangadhar Patil Kulkarni, a farmer leader in north Karnataka, said that the government had failed to buy enough produce at minimum support price (MSP). "The procurement was only 6 per cent, that too in a select set of crops. The government is yet to pay farmers for crops purchased at MSP," he claimed.
Labour woes were less severe in the Old Mysore region because of reverse migration. A large number of youngsters returned to villages from cities and towns, taking up jobs in fields. But transportation problems and low prices affected farmers.
Cultivators of cash crops such as ginger and tobacco are facing hardship because of a slow monsoon this year. "The market prices of these crops are encouraging, but poor rainfall has meant that the yield is not very good," said BJ Devaraju, a farmer in Bettadapura in Mysuru's Periyapatna taluk. Krishnaprasad Govindaiah, director of Sahaja Samrudha, said that many farmers had finally come to terms with the need to diversify crops.
The revival of fallow land has offered a sliver of hope in Dakshina Kannada. According to Seetha, the joint director of the agriculture department, nearly 253 hectares of land in Mangaluru taluk has been revived through the 'Hadilu Bhoomi' campaign, and paddy cultivation has begun there.
In Udupi, farming costs have gone up. Farmer Ajith A said that the daily wage of women workers had increased from Rs 300 to Rs 350 and that of men from Rs 500 to Rs 550. "The cost of renting a tiller machine per hour has gone up from Rs 450 to Rs 550. Renting small and big tractors has also become expensive by Rs 100 per hour. We are now spending Rs 6,000 to Rs 7,000 more for each acre of our paddy field," he added.
For areca farmers in the region, it is a bittersweet hour: while the price of the crop has touched Rs 520 per kg, the yield was affected by yellow leaf disease and increased incidence of nut dropping.
Agri sector a silver lining
Despite the challenges, the agriculture sector has been a bright spot for Karnataka. Food production in the state touched a record high of 153 lakh metric tonnes in 2020-21, and officials are hoping for the output to reach 100 lakh metric tonnes this year.