Karnataka legislative council polls: BJP brass does a balancing act to keep BSY happy | Bengaluru News – Times of India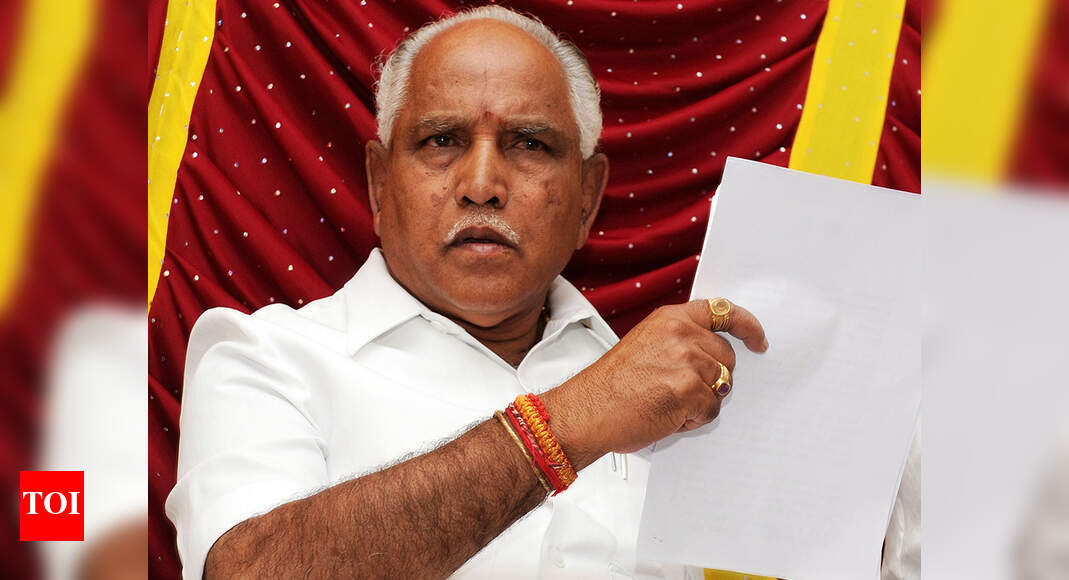 Karnataka BS Yediyurappa
BENGALURU: The BJP leadership in New Delhi has sought to perform a balancing act while deciding candidates for the June 29 Karnataka legislative council polls. BJP Central Election Committee late on Wednesday named MTB Nagaraj, R Shankar, Sunil Vallyapure and Pratap Simha Nayak as the candidates.
The committee chose to field two candidates from the list of four recommended by chief minister BS Yediyurappa, while naming two others suggested by the party's brass. By doing so, the party leadership has saved Yediyurappa from facing an embarrassing situation once again after it ignored his choice of candidates for two Rajya Sabha seats by selecting grassroots workers Ashok Gasti and Eranna Kadadi.
Of the four, sources said Nagaraj and Shankar (both Kurubas) were Yediyurappa's picks, while Vallyapure (ST) and Nayak's names were suggested by the party's SC face Aravind Limbavali and BJP general secretary (organisation) BL Santosh, respectively.
Nagaraj and Shankar had played a key role in formation of the BJP government after the coup that led to collapse of the Congress-JD(S) coalition and had subsequently defected to the saffron party. While Nagaraj lost the bypolls held last December, Shankar did not contest after Yediyurappa promised him a council berth.
Party sources said Santosh had also batted for Nagaraj's candidature notwithstanding widespread resentment in the party. "If BJP wanted to keep the promise made by Yediyurappa to all the defectors, even AH Vishwanath, who unsuccessfully contested bypolls from Hunsur, should have been considered. It shows Nagaraj had the backing of a senior leader in Delhi," said a senior party functionary.
Vallyapure, a former minister and MLA from Chincholi, was considered for an MLC seat since he'd given up his seat when the party decided to field Avinash Jadhav, son of Umesh Jadhav, who had resigned as Chincholi MLA, against Congress veteran Mallikarjun Kharge in the 2019 Lok Sabha polls. Sources said Amit Shah had reportedly promised Vallyapure he would be considered for the upper house.
However, Nayak's candidature is being seen as the party brass' continued attempt to reward loyal district-level leaders. While Yediyurappa had recommended H Vishwanath, a former JD(S) state president and MLA who had defected to BJP, Nayak – who had served as Dakshina Kannada district president – was picked. "Nayak's candidature is a surprise for everyone as he was not even in the reckoning," said a senior functionary and confidant of Santosh, adding Nagaraj was considered over Vishwanath as he had lost the bypolls because party MP BN Bachhe Gowda's son Sharath contested as a rebel. The party had asked Vishwanth not to contest, quoting an internal survey, but he ignored it.