karnataka: Karnataka is second in online consultations across country | Bengaluru News – Times of India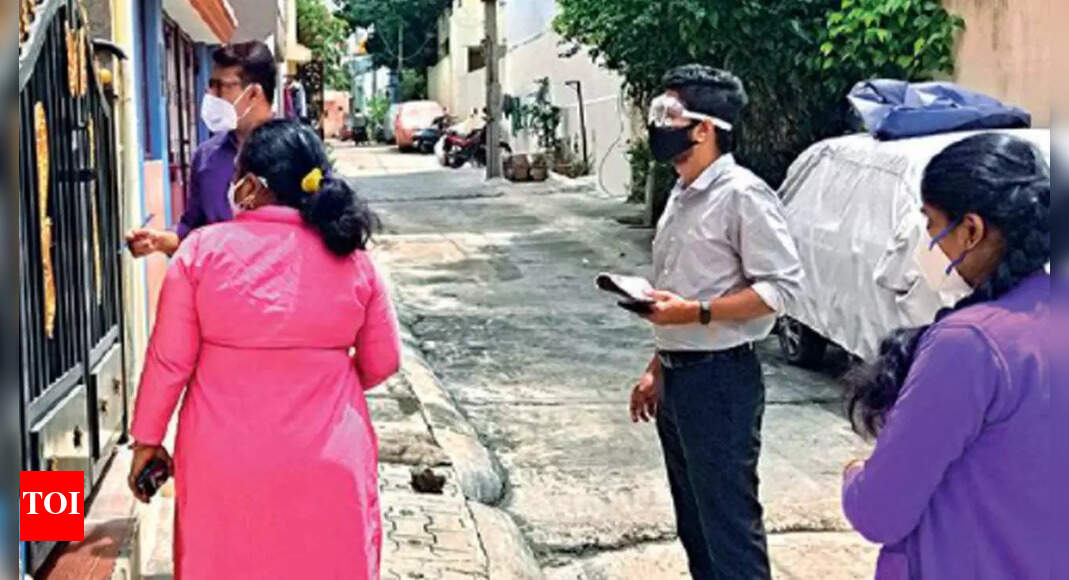 BENGALURU: Karnataka stands second in the country in providing online medical consultations through the central government-run e-Sanjeevani portal, shows data with the Press Information Bureau as on October 4.
The service was launched a few weeks before the Covid pandemic hit, and it has received the highest response in Andhra Pradesh where 42 lakh consultations were recorded. Karnataka has provided the second highest number of consultations at 24 lakh, while the data shows Tamil Nadu (15.9 lakh), Uttar Pradesh (13.7 lakh) and Gujarat (4.8 lakh) follow in that order.
An initiative of National Teleconsultation Service under the Union ministry of health and family welfare, its aim is to provide healthcare advice to people in their homes through an app-based platform. It has so far seen 1.3 crore consultations across the country since its launch in December 2019.
The service provides free video-based clinical consultations between a patient and a doctor. All one needs to do to avail the service is to download the e-Sanjeevani app on a smartphone and register. To consult a doctor, patients must provide name, gender, age, address, mobile number, email ID, health records and details of dependents. The process includes registration, token generation, queue management and audio-video consultation with a doctor.
The Mohali branch of Centre for Development of Advanced Computing provides end-to-end technical assistance for the portal including development, implementation, operations, and training to health personnel.
Spreading awareness
Dr Arundhathi Chandrashekar, mission director, National Health Mission, Karnataka, told TOI that the state government has been encouraging ASHA workers to introduce the app to the general public during their door-todoor surveys.
"Consultation is provided depending on the area of requirement. A range of specialists are available," she said. Based on consultations, patients are provided with a prescription for medicines which they need to procure.
Another way of accessing the service is through the hub and spoke model, where staff in health and wellness centres connect with specialists in district hospitals and government medical colleges. This is a doctor-to-doctor consultation where specialists' advice is sought to treat patients.
Lockdown boon
Officials say the service was widely used during Covidinduced lockdowns, when accessing hospitals to treat non-Covid ailments was badly affected. Nearly 3,600 doctors in Karnataka have provided advice, while there are 38 specialist hubs to which calls from a total 3,964 spokes are connected.
Currently the facility is available from 9am to 7pm and offers specialists' advice for issues involving dermatology, urology, pulmonology, general surgery, psychiatry, general medicine, ophthalmology, orthopaedics, ENT (ear nose and throat), gynaecology and paediatrics. The highest number of consultations were with physicians, said Dr Arundhathi.
While Kerala also offers services in the field of cardiology, psychiatry and cancer care through the online portal, they are unavailable at the moment in Karnataka.
The average consultation time in Karnataka was one minute 53 seconds, data for September shows. "The duration of consultation depends on internet connectivity and the consultation itself. The maximum consultation duration we have seen is four minutes," officials said.
Chikkamagaluru tops
Data from the state health department as on October 7 shows Chikkamagaluru registered the most consultations at nearly 16 lakh and is followed by Ballari (15.6 lakh) and Belagavi (13.6 lakh). Bengaluru Urban district, including BBMP areas, has recorded less than one lakh consultations.
"In metros like Bengaluru, the dependency is more on the private healthcare sector and local clinics near patients' homes," said an official.
Health minister K Sudhakar said: "E-Sanjeevani OPD, the national teleconsultation service is an amazing platform which allows people to access the best of healthcare remotely. There have always been concerns about the adoption of technology by common people in the past, but the pandemic has hastened adoption."