Karnataka floods: Monkeys trapped atop a tree as Varada river swells | Hubballi News – Times of India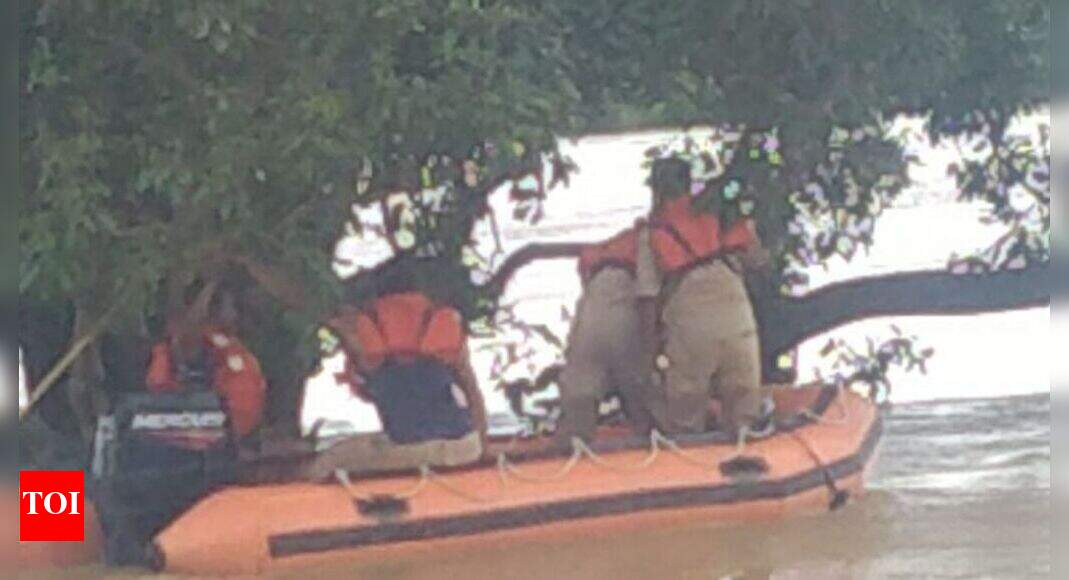 HAVERI: Inundation of villages and roads in the aftermath of heavy rainfall in North Karnataka has not only forced people out of their homes but has also put members of the animal kingdom in a spot of bother.
In Haveri, for instance, swelling of the Varada River left a group of monkeys marooned atop a submerged tree for two days.
A video of the monkeys trapped atop the tree subsequently went viral on social media, prompting the forest department to launch a rescue effort – the personnel are yet to succeed in rescuing the primates off the submerged tree.
Following the swelling of the Varada River in Haveri district, the overflowing waters left a mango tree submerged, leaving the group of monkeys stranded atop the tree stranded since Saturday.
Hubballi deputy range forest officer Akbar said that the monkeys had been trapped on the tree since Saturday.
"With the help of the fire department, we tied a rope to a tree. However, the monkeys keep jumping between branches, hampering our efforts," Akbar said.
Akbar said that, stuck atop a tree for the past two days has left the monkeys an infuriated lot. "They had not had any food, and we provided fruits using a boat. We are hoping the water level recedes on Tuesday, and we can rescue the trapped monkeys," he added.
Range forest officer Ramappa Pujar said that a guard had been deployed at the tree. "If the monkeys manage to get out of the tree themselves, it would be great, else, we will rescue them and keep supplying food till we can get them out of there once the water level recedes," Pujar said.