Karnataka: Farmer leader who steered agitation | Bengaluru News – Times of India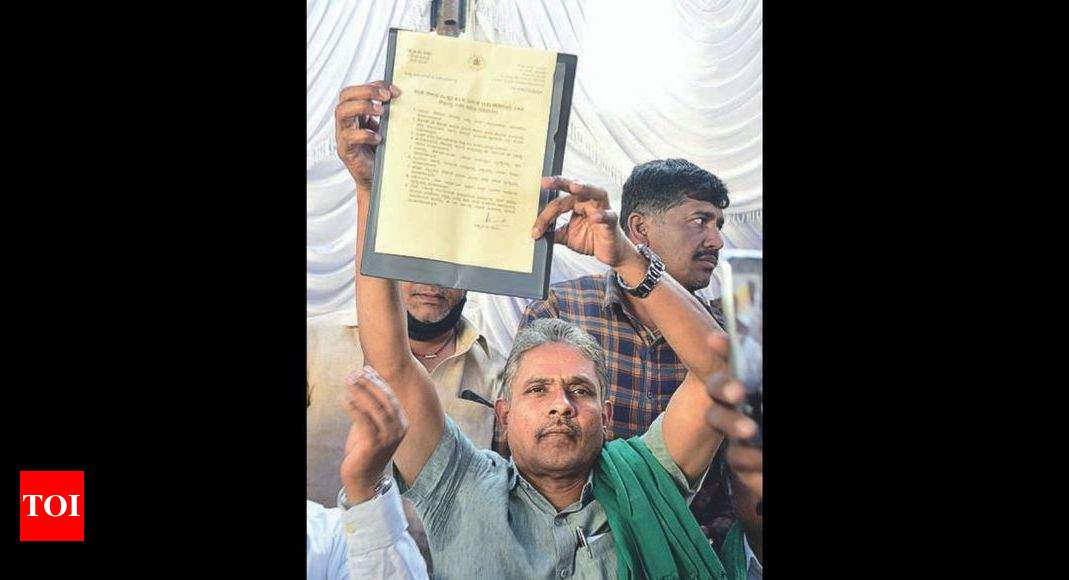 BENGALURU: Employees of state transport corporations have found an unlikely hero in a farmer leader, who successfully led their protest to jolt the public transport administration and the government into action.
Karnataka Rajya Raitha Sangha (KRRS) president Kodihalli Chandrashekar, who had not seen much success in the recent agitation against farm bills, triggered a panic wave when he was asked to lead the transport employees' strike to draw attention of the authorities to their long-standing concerns.
The effect of his call for defiance was so instantaneous that more than 30,000 employees left their work and resorted to a strike. Finally, the government on Monday agreed to nine of the 10 demands, which Chandrashekar even forced the former to give in writing.
Sources say transport employees were facing a leadership crisis and wanted a prominent face to take up their cause, and now they have found a new leader who they can rely on. When some of their union leaders sought Chandrashekar's help, he readily agreed.
"Chandrashekar will continue to lead our future agitations. We never expected the government to pay heed to our demands. We also had not anticipated our workers would back us the way they did. It is all because of this one man," said a transport corporation workers' union leader.
Chandrashekar, 50, hails from Arsikere in Hassan district and is an ardent supporter of late scholar-activist MD Nanjundaswamy, who was among the founders of KRRS, which opposed the corporatisation of agriculture and the entry of multinational corporations into India in the 80s and 90s. When Nanjundaswamy floated Hasiru Sene (Green Brigade), a young Chandrashekar was asked to spearhead it.
Since then, there has been no looking back for him. When the influence of KRRS began to wane, Chandrashekar took the political plunge. He unsuccessfully contested two elections — the Hassan Lok Sabha seat in 2009 and Hassan assembly constituency in 2013. In 2013, Chandrashekar headed the Praja Pragathi Ranga (PPR), an umbrella outfit of 16 progressive organisations, and the party contested over 100 assembly constituencies, but without success.
Chandrashekar, a close relative of Narayana Gowda, president of Karnataka Rakshana Vedike, was at one time accused of getting close to Vokkaliga leaders, who were in power and acting as their pawn. In the transport strike too, he is said to have had the backing of KPCC president DK Shivakumar.