Karnataka: Family builds cricket pitch in a 20x30ft site in Hubbali | Hubballi News – Times of India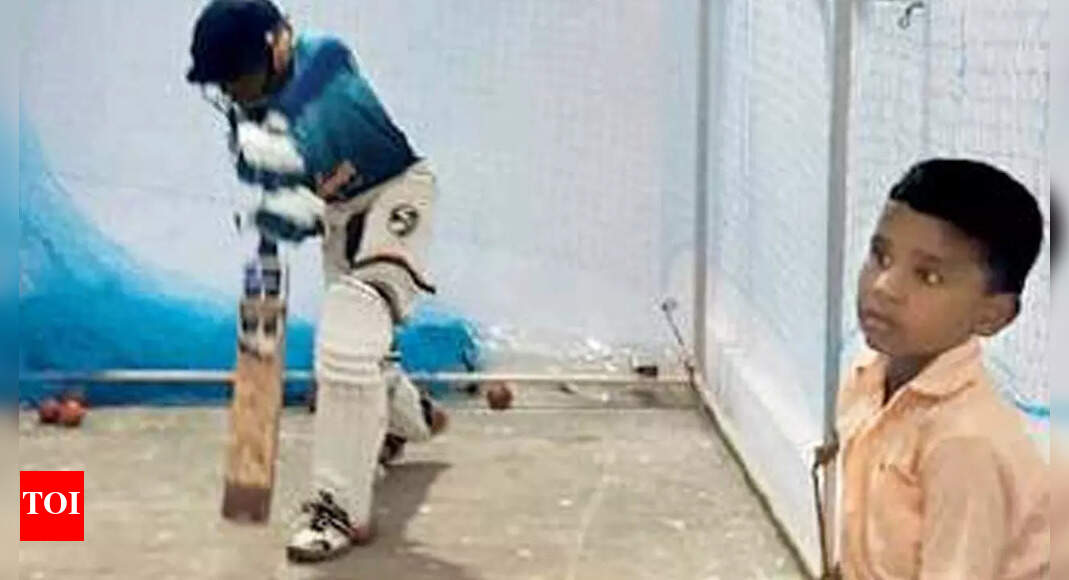 HUBBALLI: A cricket enthusiast's family has carved out just enough space to build a playing strip for his four grandchildren in a 20ft by 30ft plot in Hubballi's Gokul area, reports Sangamesh Menasinakai.
Fakkirappa Hulakoppa, a farmer and head of the family, told TOI that his two sons, employed with private firms, keenly follow cricket. Undeterred by the size of the residential plot or its location, the family patriarch wanted to ensure a practice arena within their premises so that his grandchildren could learn cricket more seriously.
'Sons want kids to become cricketers'
The family has constructed the track on 8ft by 30ft strip and the 1BHK house is built on the rest of the site. Fakkirappa told TOI that his sons want their children to take up cricket as a profession. "It is not important whether they, indeed, become professional players. What's important is that we, on our part, must provide the right and encouraging environment," he added.
Preetam, a 13-year-old child of Fakkirappa's elder son, has won the best wicketkeeper award in Under-14 tournaments. His sister Prateeti, 10, is showing enough interest in cricket for the family to sit up and take notice.
Yuvaraj, 5, and Raj, 3, sons of Fakkirappa's younger son, follow the game even at a young age, he said, adding they had to build a new house as their ancestral property couldn't afford a growing family.
He said, "When my sons expressed their desire to build a cricket pitch at home, I gave them the goahead. Of the Rs 8 lakh construction cost, about Rs 75,000 was for grill and gate of the pitch. We are installing a net on the internal wall. As it's an enclosed pitch, children can practise at their convenience and at any time of the day. We allow neighboring children too."
Preetam, who is doing Class 8 at KLE School, is being coached at Tejal Shiraguppi Cricket Academy. He said he needed space to try and practise techniques taught in the school.
Somashekhar Shiraguppi, a BCCI level 'C' coach, said that today's children do not have a ground or space to play cricket in urban areas. "Since cricket is an expensive game, poor and lower middle-class families can't imagine a dedicated practice pitch. However, this family has braved all odds to build an all-weather practice area. This is unique and could set a precedent for other cricket enthusiasts," he added.