Karnataka exhausts MGNREGA quota, salaries delayed | Bengaluru News – Times of India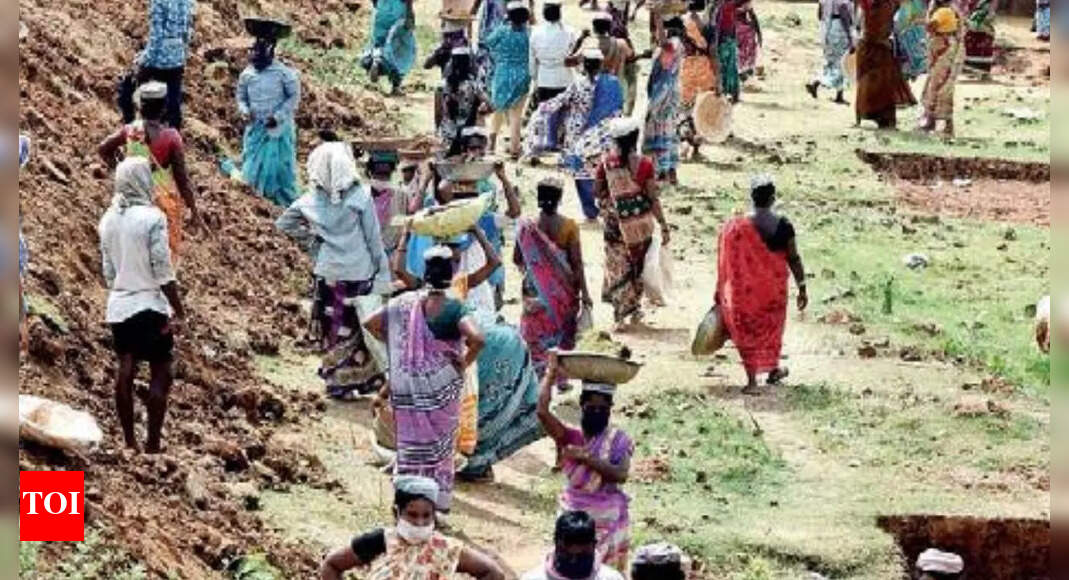 BENGALURU: Unusually heavy rain and continued distress due to the pandemic left the state government relying heavily on the Mahatma Gandhi National Rural Employment Guarantee (MGNREGA) scheme this year to supplement household incomes in rural areas.
The state has leaned so heavily on the scheme that it has already exhausted the original allocation of 13 crore person days of employment made by the Centre under the scheme for the fiscal. With three-and-ahalf months to go this fiscal, the state is now scrambling to persuade the Centre to increase allocation. Payment of wages has already been delayed with an estimated Rs 700 crore pending from Centre.
"Since we have exhausted allocated person days, all MGNREGA labour payments will henceforth be delayed as a consequence as the Centre has to first clear the demand raised by the state and then transfer additional funds," said a government official.
The government faced embarrassment during the ongoing winter session of the legislature in Belagavi when senior BJP functionary and former chief minister BS Yediyurappa sided with the opposition in raising questions over payment delays to labourers employed under the scheme.
The Centre had allocated 13 crore person days at the beginning of the fiscal but extended it by another 1.4 crore person days till January. However, the state will exhaust even this extended allocation over the next 15 days and is therefore seeking a further upward revision of person days.
"Due to increase in demand for work under MGNREGA, Karnataka has already achieved the target of 13 crore person days, even though three-and-half months still remain in this financial year," said LK Atheeq, principal secretary, rural development and panchayat raj department. "We have requested the Centre to increase the state's labour budget from 13 crore person days to 18 crore. The Centre had sanctioned an additional labour budget of 1.4 crore person days till January 2022. The state will have to again make a request to increase the labour budget in January."
For every crore person days, the Centre has to provide an additional sanction of Rs 500 crore. This may have caused budgetary constraints for the Union government and may hit Karnataka's demand for an upward revision, say officials.