Karnataka: Doctor who tested Covid +ve raring to resume duty | Hubballi News – Times of India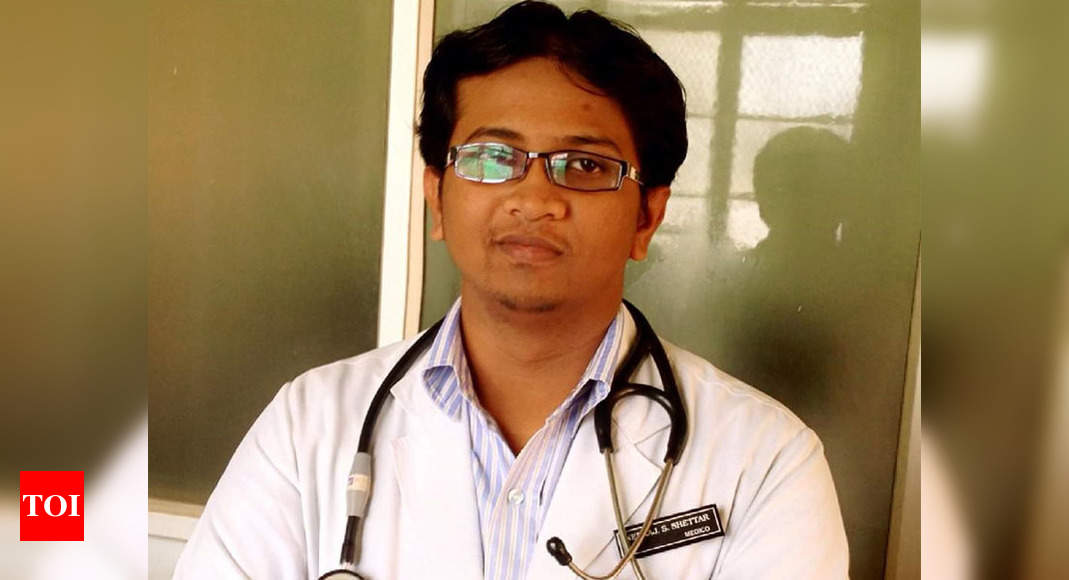 HUBBALLI: Barely two weeks after he tested positive for the novel coronavirus, 28-year-old Dr Neeraj Shettar, an MD student at the Bharathi Vidyapeeth's Medical College (BVMC) in Pune, is raring to return to his duties at the hospital. Set to be discharged from the quarantine facility on Saturday, Neeraj is eager to don the white coat, and is willing to do so immediately.
Neeraj, a native of Gadag, and an alumnus of Sri Sathya Sai Loka Seva Trust in Alike, Dakshina Kannada district and Karnataka Institute of Medical Sciences, Hubballi, had been working in BVMC's Covid-19 ward from April 27.
"Our college had adopted all safety norms to protect its staff, and I had no reservations being deployed in the Covid ward. I also treated around 350 patients, who were undergoing treatment in wards and in the OPD. I treated a tuberculosis patient on May 28, who subsequently tested positive for the novel coronavirus. I started to show symptoms on June 2, and tested positive two days later. I was quarantined immediately after I started to show symptoms. My quarantine will end on Saturday, and am waiting to see the duty chart," Dr Neeraj told TOI.
Asked if he felt he needed to rest further, Neeraj said that the Covid-19 crisis was an opportunity for the medical fraternity to show its commitment to duty and the nation.
"As a budding physician, how can I miss this opportunity? My mother, Asha, who lives in Gadag, suggested that I return home. I told her that travel was not an acceptable option. If the college management deputes me to work in the Covid-19 ward again, I am more than willing to do so since I have complied to all safety norms prescribed by the Indian Council of Medical Research (ICMR)," he added.
His father, Dr Sangamnath B Shettar, an orthopaedic surgeon in Gadag, expressed pride in his son's dedication to his profession.
"I am very proud that he is a corona warrior, and is still keen to attend to Covid-19 and other patients," he said.
Dr Neeraj is waiting for the duty roster to be put up, since he will know for certain when he can return to his duties. He said that he would not mind if he were asked to start work immediately after he was released from the quarantine facility on Saturday.