Karnataka CM BS Yediyurappa plans lunch for staff amid exit talk | Bengaluru News – Times of India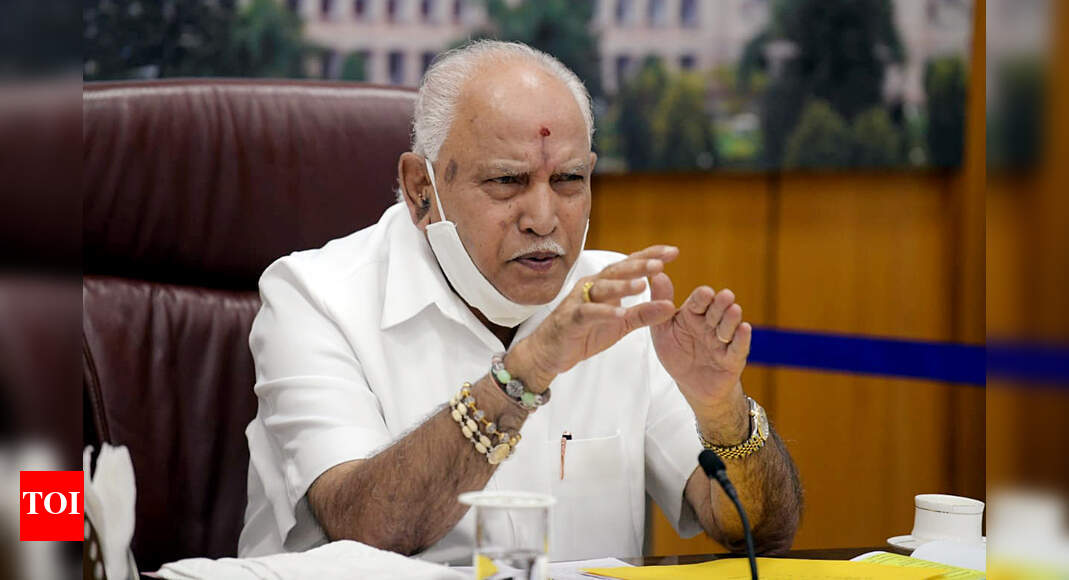 BENGALURU: Chief minister BS Yediyurappa reportedly plans to host a lunch for senior officials and his secretariat staff on July 25, a day before a meeting of the BJP legislature party. This has fuelled further speculation in political circles that his time in office may be winding down, a suggestion his close aides reject.
According to an official in the Chief Minister's Office (CMO), Yediyurappa also intends to organise a lunch for BJP MLAs after the meeting, followed by a photo session in the Vidhana Soudha. A few days before that, on July 23 or 24, he is expected to visit his home district, Shivamogga, to inaugurate a slew of projects.
The speculation about leadership change follows Yediyurappa's two-day visit to Delhi last week, when he met the BJP brass. He had described the trip as a success and dismissed the talk that he would be asked to step aside. He added that the high command had given him the responsibility of leading the party to victory in the 2023 assembly elections.
A section of BJP functionaries believes that he may announce his decision to resign at the July 26 meeting. But his loyalists denied that he was on the way out. "He is a fighter; he will not go that easily," said a senior MLA. One theory in political circles is that Yediyurappa wants to avoid making any announcement till August 15, keeping in mind the inauspicious period of Ashadha.
On Monday, he went out for lunch with ministers Basavaraj Bommani, V Somanna, R Ashoka and K Sudhakar, and some MLAs. But for most of the day, he was at his home office.
Meanwhile, Yediyurappa has received support from some unexpected quarters. Congress member and former water resources minister MB Patil asked BJP to treat Yediyurappa with respect. "BJP may face the wrath of Lingayats if they (party) ill-treat a tall leader of the community. BJP should value his contribution and treat him with dignity," he tweeted. Another senior Congress MLA, Shamanur Shivashankarappa, who is the president of the Veerashaiva Lingayat Mahasabha, met Yediyurappa. "BJP will be wiped out if Yediyurappa is disturbed. He has built the party from scratch, and the Lingayat community wants him to continue. The Veerashaiva Sabha will back him," he said.
Prominent Lingayat seer Jagadguru Prasanna Renuka Shivacharya Swami of the Rambhapuri mutt in Balehonnur also warned the party against replacing Yediyurappa. "He is the tallest leader of the party and the community. Allow him to complete his tenure," he said in Raichur.
Meanwhile, Karnataka governor Thawar Chand Geholt called on Prime Minister Narendra Modi in Delhi on Monday.