Karnataka: Cash relief for cabbies, auto drivers hits data snag | Bengaluru News – Times of India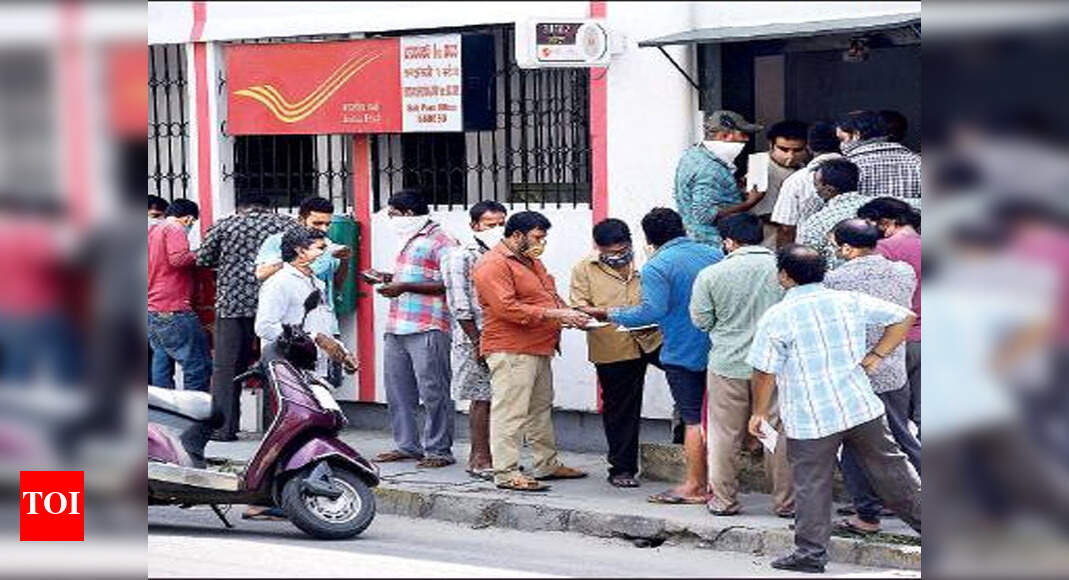 <p>A file picture of auto and taxi drivers thronging a post office in Bengaluru to submit personal details to …Read More
BENGALURU: The state government's cash transfer scheme for workers in the unorganised sector remains a non-starter, thanks to delay in creating database of beneficiaries, procedural issues and lack of bank accounts.
On May 6, chief minister BS Yediyurappa had announced the Rs 1,600-crore relief package under which drivers, farmers, barbers and others hit by the lockdown are supposed to get Rs 5,000. "We'll ensure all these people get the incentive in a week,'' the CM had said.
But, the state has so far not been able to transfer cash to a single beneficiary. "There has been delay in setting up the direct benefit transfer (DBT) system because of the unavailability of verified list of beneficiaries,'' said sources in the finance department.
Officials said the government orders have been issued asking workers to submit their details and there has been an overwhelming response. "However, we're struggling to verify the list of beneficiaries.Some communities have no credible associations while those who have lack the list of beneficiaries," said an official.
Now, the social welfare department has been tasked with identifying washermen and barbers. The transport department is preparing the list of autorickshaw and taxi drivers. Though some genuine beneficiaries have been identified, the government is unable to release the money due to procedural issues.
"We're accepting applications only through the Seva Sindhu portal. Over 1.03 lakh drivers have applied. We estimate there are 6 to 7 lakh more drivers who are yet to apply," said transport commissioner N Shivakumar.
As per the notification, only one person will be given cash for every auto. "This means thousands of drivers who run autos on rent will miss out on the benefit," said officials. "When the package was announced, the estimation was that only 3 lakh beneficiaries are there. However, by the time the order was issued, the numbers went up to 6 to 9 lakhs. The finance department has said it won't be able to give assistance to such a large number of people due to the present financial situation," they added.
Meanwhile, opposition leader Siddaramaiah took to Twitter to hit out at Yediyurappa for "betraying the people". "Crisis and vulnerability should not be misused for political gains and the BJP is insensitive towards the same," he alleged.