Karnataka bypolls: Hangal records same turnout as in 2018, Sindgi sees a minor dip | Bengaluru News – Times of India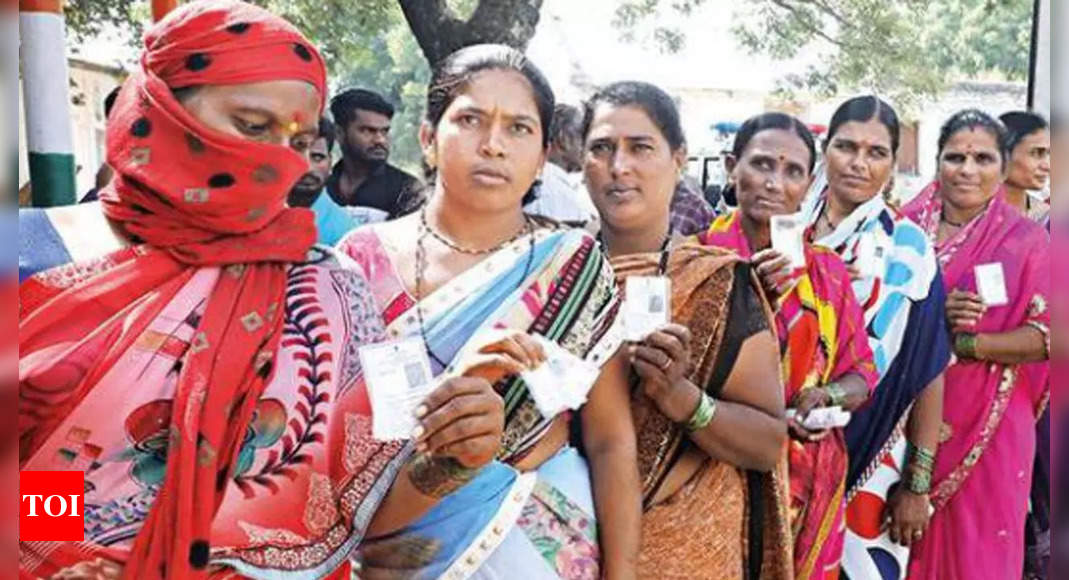 BENGALURU: Voters on Saturday turned out in large numbers in the byelections to two assembly seats of Hangal and Sindgi. The overall turnout in both seats was around 76.5% at the time of going to press.
While Hangal recorded same voter turnout as it did in 2018, Sindgi with 69 % witnessed a two percent dip in polling when compared to previous elections.
Nearly 4.4 lakh voters are eligible to cast their votes in these elections necessitated due to the deaths of sitting MLAs MC Managuli from Sindgi and CM Udasi from Hangal. In all, 19 candidates are in the fray in both constituencies – six from Sindgi and 13 from Hangal. Two candidates from Sindgi are women. Counting of votes is on November 2
"The bypolls passed off peacefully without any major incidents. Whenever any discrepancy was brought to our notice, we took prompt action to rectify it," said election officials.
Slow start
The polling, which started on a slow note at 7am, picked up pace by 9am. A majority of voters turned up in the last three hours. People were seen standing in long queues before to cast their franchise. Candidates of all three parties voted with their family members.
In Chandkavate village in Sindgi taluk, there was a minor verbal altercation between Congress and BJP workers over distributing voters' slips having the picture of Congress candidate Ashok Managuli. After police recovered and destroyed the slips, the situation was defused.
Though results of these bypolls don't have much political significance, ruling BJP, opposition Congress and JD(S) ran spirited campaigns, in all holding over 600 rallies and meetings in both constituencies. Parties believe the outcome here will set the tone for the 2023 polls. This is the first electoral challenge for chief minister Basavaraj Bommai. Retaining Hangal is important for him as it is adjacent to his Shiggaon assembly segment which falls under Haveri district. The Congress, by ensuring a win, wants to give momentum to its preparations in the run-up to the 2023 assembly polls in the state, while JD(S) is looking to retain Sindgi seat and prove it still has a support base in north Karnataka.
Bommai, opposition leader Siddaramaiah and KPCC president DK Shivakumar held over 30 rallies each in both constituencies. JD(S) supremo HD Deve Gowda and former CM HD Kumaraswamy had camped in Sindgi constituency for over 10 days to drum up support for their candidate despite the party being on a weak footing. Former CM BS Yediyurappa too vigorously campaigned for his party candidates.