Karnataka: Bus strike causes loss of Rs 45 crore | Bengaluru News – Times of India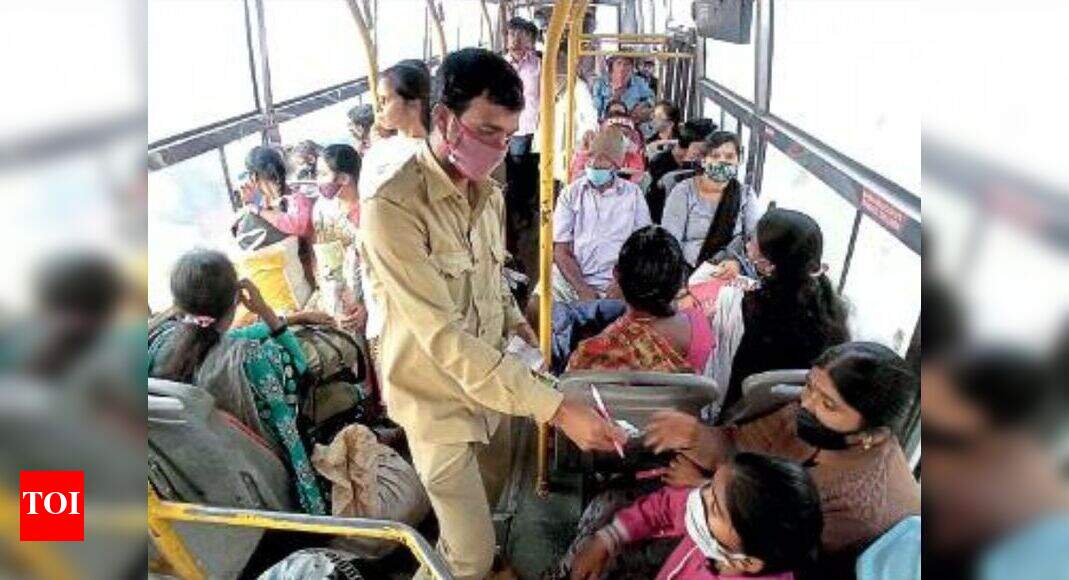 BENGALURU: The four-day bus employees' strike, which ended on Monday evening, not only put commuters to hardship but also caused losses to the tune of Rs 45 crore to the state exchequer.
A report to this effect was reportedly submitted by transport minister Laxman Savadi to chief minister BS Yediyurappa. Though Bengaluru Metropolitan Transport Corporation (BMTC) and Karnataka State Road Transport Corporation (KSRTC) operated a few schedules under police protection for the past two days, sources in these corporations maintain the strike has badly hit the cash-strapped corporations.
BMTC officials said they suffered a loss of around Rs 9 crore due to cancellation of services since Friday. "The average daily passenger revenue is Rs 2.6 crore. In addition to the three-day passenger revenue, around 20 buses were damaged due to stone pelting by protesters" said a BMTC official.
KSRTC suffered revenue loss of around Rs 21 crore due to cancellation of services and 44 of its buses were damaged due to stone pelting.
"All bus corporations are facing severe financial crunch due to Covid. For the first time, the state government has given Rs 1,782 crore from April to November 2020 to all four corporations to pay salaries. In 2016, salaries of employees were increased by 12.5% and the next revision is due in January 2021. They should have waited till then to protest. But they staged a flash strike without prior notice. They are not even a recognised union but managed to halt operations with the help of outsiders," said a senior KSRTC official.
The strike has taken a heavy toll on ordinary commuters, who had to pay hefty amounts to taxis and autorickshaws. By 8pm Monday, 1,649 KSRTC buses, 1,675 BMTC buses, 1,226 NEKRTC buses and 1,263 NWKRTC buses had resumed operations.
"BMTC is the city's lifeline but this strike was unexpected. The government should ensure that employees don't disrupt public transport services without notice," said K Uma, a passenger at Majestic bus stand.
Sources say it's a wake-up call for state transport undertakings as they can no longer take employees for granted. Employees are unhappy with the KSRTC Staff and Workers' Federation affiliated to All India Trade Union Congress (AITUC), which is not in favour of making transport staff government employees. Only a few employees turned up for duty on Monday morning even after AITUC urged its members to resume work.
"AITUC is in deep slumber. They failed to take up our demands or stage protests for us when salaries were delayed or we faced harassment at depots. So we approached farmer leader Kodihalli Chandrashekar who helped us to conduct a rally and stage a hunger strike. He filled the gap of a leader even though he is not from the transport sector," said another employee.
Vinay Sreenivasa, Bengaluru Bus Prayanikara Vedike (BBPV), a passenger forum, said: "While this issue of payment of salaries and benefits to transport employees may seem like an outcome of the current economic crisis, it's not the case. In the past too, many times, corporations have delayed salary payments, delayed paying workers' insurance premiums and PF due to lack of funds."