Karnataka: BS Yediyurappa shows he still holds sway in party | Bengaluru News – Times of India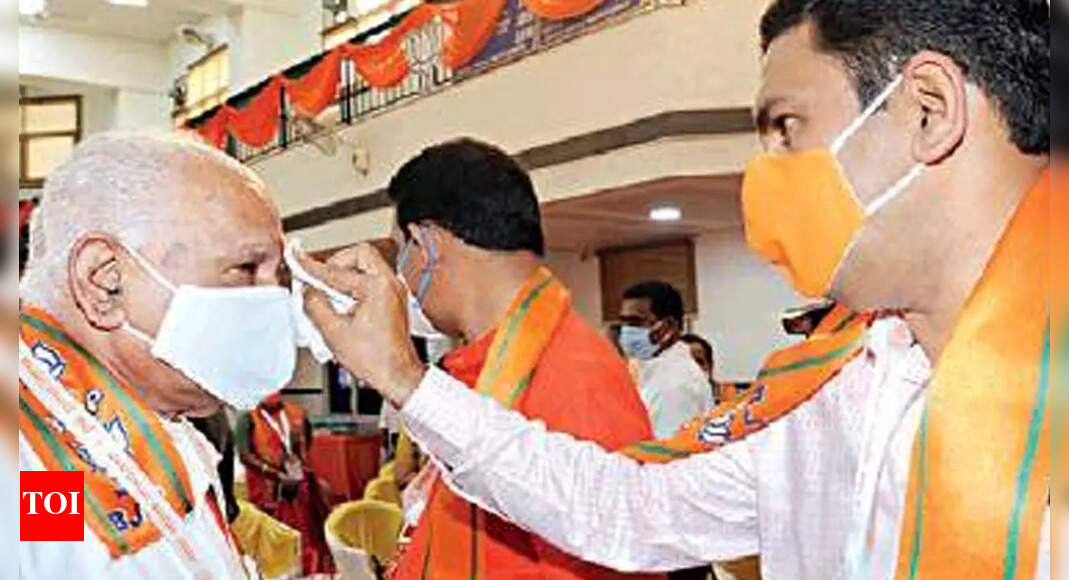 BENGALURU: The BJP leadership may have nudged BS Yediyurappa to put his plans for a solo statewide tour on hold, but the former chief minister continues to have a big say in party matters.
He ensured two of his confidants, Honnali MLA MP Renukacharya and former Sringeri legislator DN Jeevaraj, were reappointed as political secretaries to chief minister Basavaraj Bommai. Earlier this week, he also managed to include his son, BY Vijayendra, in the BJP team that will oversee the Hangal assembly bypoll.
In further evidence of Yediyurappa's influence, his long-time associate Shivaraj Sajjanar landed the party ticket for this election on Thursday. Sajjanar's candidacy has come as a surprise as late legislator CM Udasi's daughterin-law, Revathi, was a strong contender for the ticket.
Sajjanar is a former BJP MLA from Haveri. In 2013, he quit BJP along with Yediyurappa, who formed the Karnataka Janata Party (KJP). Sajjanar unsuccessfully contested on a KJP ticket.
Vijayendra was initially left out of the BJP list of election incharges, a decision that riled his supporters. Yediyurappa and Vijayendra issued appeals to calm them down. "Some of our karyakartas have expressed their anger and anguish about my noninclusion in the list of in-charges for the Sindgi and Hangal byelections. My appeal to them: please refrain from making comments that embarrass our party, leaders or me," Vijayendra tweeted.
Vijayendra was eventually included in the revised list announced on Monday.
"This was a wrong move by the party. In the past two months, Bommai has done his best to step out of Yediyurappa's shadow. The decision on Vijayendra and other recent developments indicate that Yediyurappa remains a person of authority in the party," said a senior BJP functionary.
Several MLAs loyal to Bommai have also expressed displeasure over the developments, claiming that Yediyurappa is trying to portray his son as an important campaign manager even though the party is in a strong position to win the two bypolls. "He wants the credit to go to his son, and not to Bommai or ministers, the way it happened in Sira and KR Pet," alleged an MLA from Dharwad.
Political analyst Sandeep Shastri observed: "BJP did a course correction. It goes on to indicate the type of influence Yediyurappa still has. In politics, there are moments when concessions are made as a strategy. This move seems to be one such case. After the new CM took charge, there were instances where Yediyurappa did not have his way. Strategically, he has had his say in this matter."
People close to Vijayendra said the leadership bowed to pressure from cadres because the latter had faith in him and that the decision was not linked to Yediyurappa.