Karnataka: BJP leader Papareddy slaps police constable in Raichur | Hubballi News – Times of India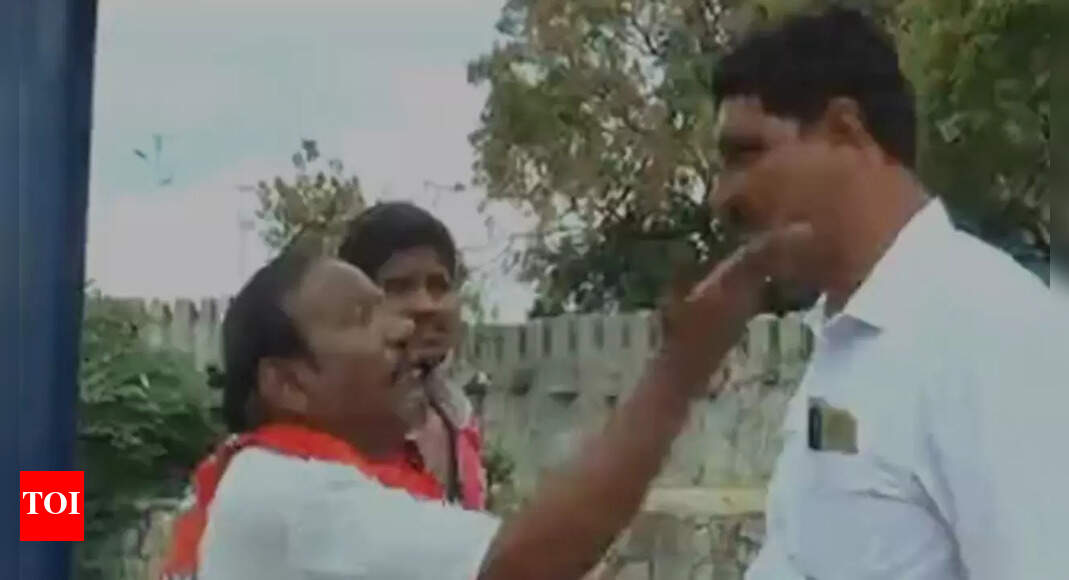 RAICHUR: Angered over being prevented from burning the effigy of former chief minister (CM) Siddaramaiah, Bharatiya Janata Party leader and former MLA Papareddy slapped a police constable in plain clothes in Raichur on Wednesday.
A video clip of Papareddy slapping the constable, identified as Raghavendra, has now gone viral on WhatsApp and other social media platforms.
The incident happened during the BJP Scheduled Castes and Tribes Morcha' protest demonstration against the leader of opposition in the assembly, Siddaramaiah.
The former CM, while campaigning for bypoll in Sindagi, had reportedly said that Dalit leaders are quitting Congress and joining BJP to secure livelihood.
The SC/ST Morcha had organised protests across the state.
In Raichur, when the BJP leaders attempted to burn the effigies of Siddaramaiah, Raghavendra, attached to west police, snatched away the effigy and walked away.
Enraged over his move, Papareddy walked towards him and slapped him asking who he is to stop them from what they were doing.
The west police have registered an FIR for assaulting to obstruct a public servant for discharging the duty.
After he slapped the constable, other police officials intervened and stopped Papareddy.
However, Reddy was seen arguing with senior police officials present at the site.
Later, the protesters burnt the effigy.
Talking to media after the incident, Papareddy said he confused a constable with a party worker as he was in plain clothes.
"He snatched the effigy from our hands and ran away. I was perplexed as to why our own worker was indulging in such an act and in anger I shouted at him and pushed him," he said.
He further said there is no question of tendering apology as he has not made any mistake and why that constable infiltrated the protest.
Raichur superintendent of police Nikhil B, while talking to TOI, said action would be initiated against the accused and an FIR has already been lodged in the police station.
District SC/ST morcha in Belagavi also held a protest and leaders said Siddaramaiah cheated many dalit leaders for his political gains and has no moral rights talk about the community.