Karnataka assembly byelections: Polling goes smoothly; Hangal records voter turnout of 83.72%, Sindgi 69.41% | Bengaluru News – Times of India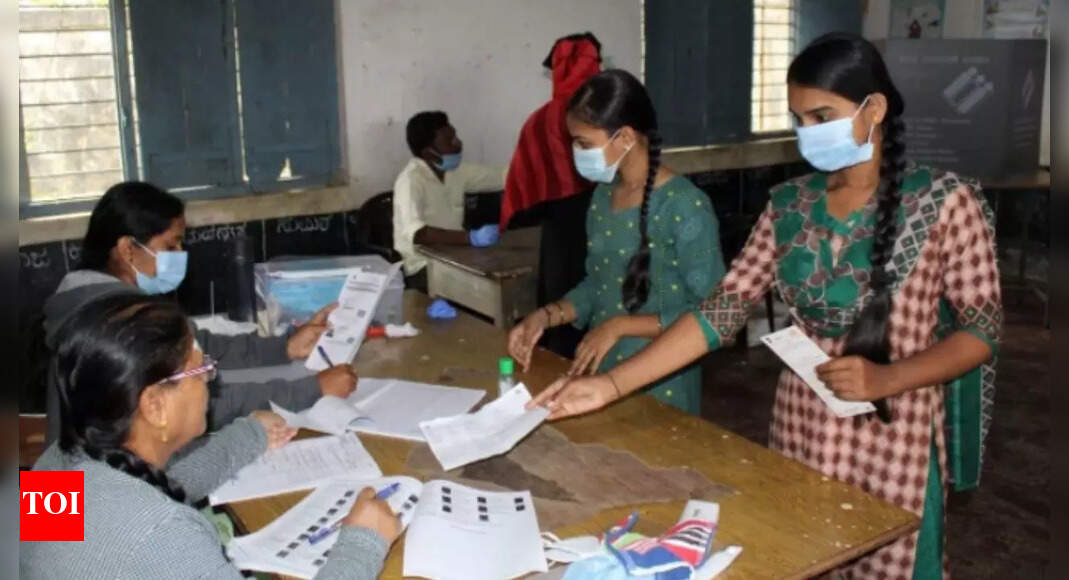 HANGAL/SINDGI: Bypoll for Hangal in Haveri district and Sindgi in Vijayapura district of Karnataka went smoothly and received a good voters' turnout. Hangal has witnessed a turnout of 83.72% while Sindgi has got a turnout of 69.41%.
By 11am, Sindgi (26.75%) took over Hangal (24.31%). Later Hangal maintained the lead and it witnessed a commendable turnout of 77.9% while Sindgi got 64.54% by 5pm.
Hangal constituency had recorded a turnout of 83.97% in 2018 general assembly elections and Udasi had won the election with a margin of over 6,000 votes. The EVM machines were struck due to technical problems in three polling stations in the constituency and they were rectified and polling was started after 45 minutes late.
Leaders, candidates and workers of different political parties and independent candidates were found convincing voters outside the polling stations. Some political party workers were luring voters by money in some places. But the police prevented them.
MP Shivakumar Udasi and his family members, Congress candidate Srinivas Mane and his family members cast their vote in Hangal.
However, BJP candidate Shivaraj Sajjanar could not cast his vote as he was not a voter of the constituency.
In Sindgi, which had witnessed voters' turnout of 71.53% in 2018 general assembly election, bypoll was conducted after the death of JD(S) MLA M C Managuli. His son Ashok Managuli is now contesting from Congress party while BJP has fielded former MLA Ramesh Bhusanur and JD(S) has fielded Naziya Angadi.
The constituency witnessed brisk campaign by BJP leaders including former CM BS Yediyurappa, CM Basavaraj Bommai and his cabinet colleagues, Congress leaders like Siddaramaiah, DK Shivakumar, and JD(S) leaders like HD Deve Gowda and HD Kumaraswamy.
Polling was delayed by 90 minutes at Devenagaon village after technical glitches in EVMs. There were some technical hurdles at EVMs in two other booths but they were rectified soon. A person was arrested after his video of voting in favor of a candidate went viral.
Vijayapura DC P Sunil Kumar said that bypoll went successfully in the constituency.