Karnataka administers record 83 lakh shots in August; hopes to hit 1 crore | Bengaluru News – Times of India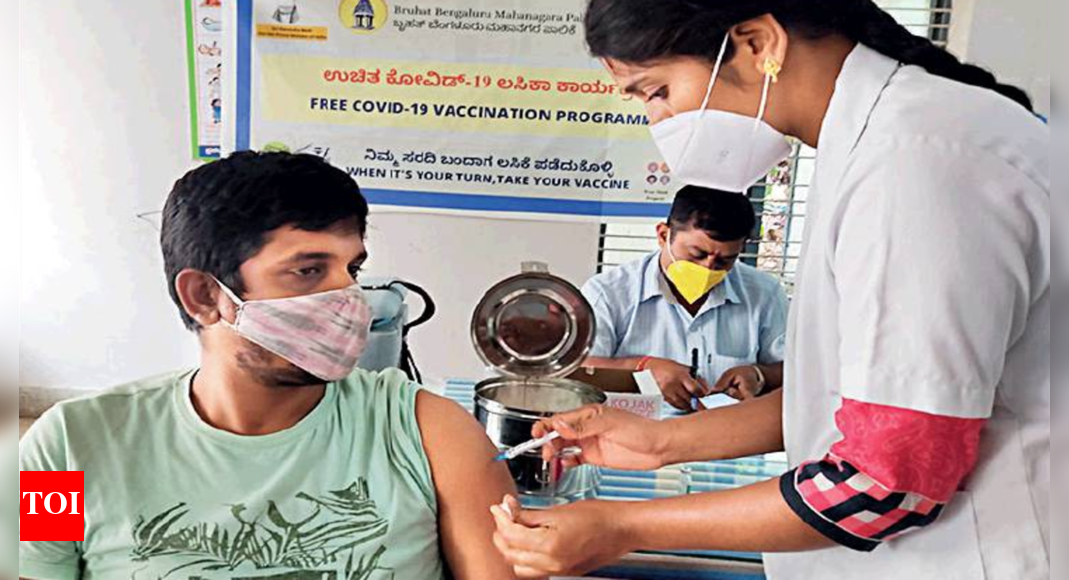 BENGALURU: Karnataka, which has been demanding more Covid-19 vaccine doses from the Centre, has administered a record 82.6 lakh doses in 27 days this month — up to 12pm on Friday — and hopes to close August with at least 1 crore jabs.
The number of doses administered in August is already higher than June, when the state administered 10 lakh doses on a single day – June 21 — thanks to a special drive by the Centre. On the seven days ending August 27, the state administered 26.1 lakh doses, a number which was set to increase by the end of Friday.
As on date, more than 3.9 crore doses have been administered in the state. The drive has covered more than 2.9 crore people, and of these, nearly 95 lakh have been fully inoculated (both doses). While Bengaluru was the priority so far, from September, the health department is planning a more equitable distribution of doses across districts.
"The opening balance today (Friday) was around 26 lakh doses, and we should be able to cross one crore doses for the month," health commissioner Dr KV Trilok Chandra said, adding that the state has received 84 lakh doses for August.
Of the 3.9 crore doses administered, Chandra said, 52 lakh, or around 13% of the shots, were given at private facilities. More than 1.96 crore doses have been given to men and more than 1.94 crore to women.
The government, as reported by TOI earlier, has set itself a daily target of five lakh doses a day, but has been stymied by supplies from the Centre. With available doses, the state has administered an average of 3.7 lakh doses on each day between August 21 and 27 (up to 12pm).
Analysis of 32 weeks of the vaccination drive shows the overall daily average is around 1.7 lakh with around 12.2 lakh doses being administered per week. However, some weeks have seen a significantly lower number while there are also multiple weeks that have more than double this number.
The lowest weekly coverage (1.2 lakh) was between January 23 and 29, and the highest (31.2 lakh) between June 19 and 25 — largely because of the single day spike recorded on June 21.
"We are hopeful of getting more doses from September which will help us increase daily vaccinations further," Chandra said. "The state has covered nearly 60% of the target population with the first dose and the strategy ahead is for equitable coverage of all districts."