Karnataka: 2 die, 30 hurt after bus from marriage reception overturns on Maakali-Ghaati Subrahmanya Road | Bengaluru News – Times of India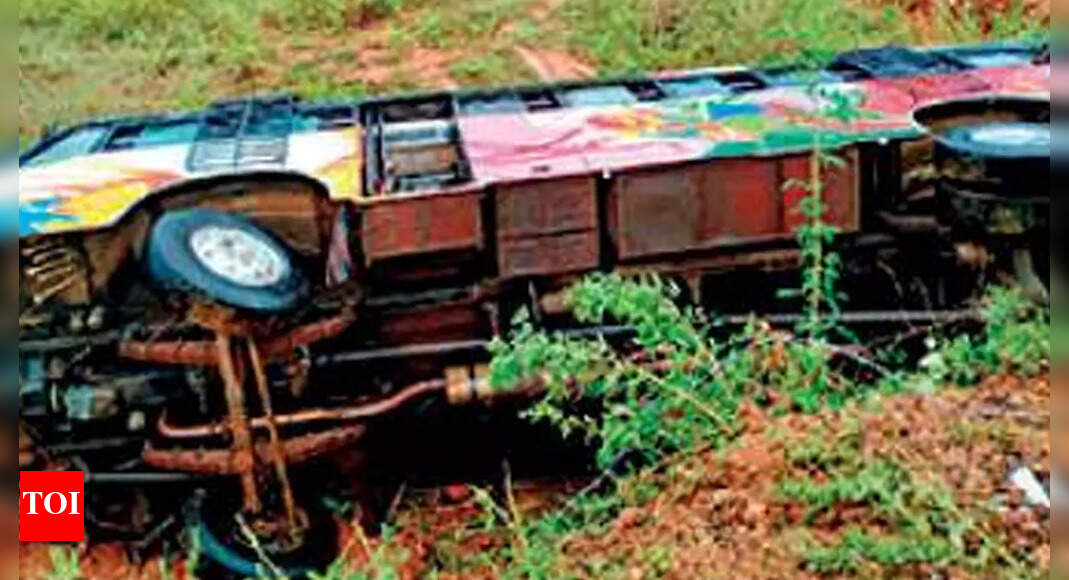 BENGALURU: Two people died and 29 injured when a private bus overturned while the driver was negotiating a curve on Maakali-Ghaati Subrahmanya Road, near Doddaballapur, 50km from Bengaluru, on Saturday night.
Police said the accident occurred around 10.30pm when the victims were returning to their villages after attending a marriage reception. The injured and the deceased were relatives of the bride from Pinjarahalli village in Gauribidanur taluk.
The deceased have been identified as Shiva Kumar, 64, a farmer and resident of Thondebhavi, and Ramakrishna Reddy, 60, a transport agent from Belchikkanahalli village, near Gauribidanur of Chikkaballapur district.
The wedding was slated at a marriage hall in Ghaati Subrahmanya in Doddaballapur taluk on Sunday and the reception was held the previous evening. Over 50 persons from Pinjarahalli and neighboring villages boarded the bus to return home.
"There was a curve 2km from the marriage hall. Driver Narayani tried to take a long cut. The bus ran over a muddy part of the road and fell to its right side," a police officer said.
The injured were rushed to hospitals in Doddaballapur, Gauribidanur and Bengaluru. Shivakumar breathed his last on the way to a hospital in Doddaballapur, while Reddy was declared brought dead at a Gauribidanur hospital.
Police said the injured — 14 are in a Doddaballapur hospital, 10 in Gauribidanur and five in Bengaluru hospitals — are stable and out of danger. Nishanth R, one of the injured, told TOI that passengers' screams filled the bus as it fell on the roadside. "I sustained injuries on the neck. Passengers fell in a heap on one another. It took 10 minutes for passengers to get off the bus," he added.