Kannur Yesvantpur Express Derails: Kannur- Yeshwantpur Express derails after boulders fall on it near Dharmapuri in Tamil Nadu | Chennai News – Times of India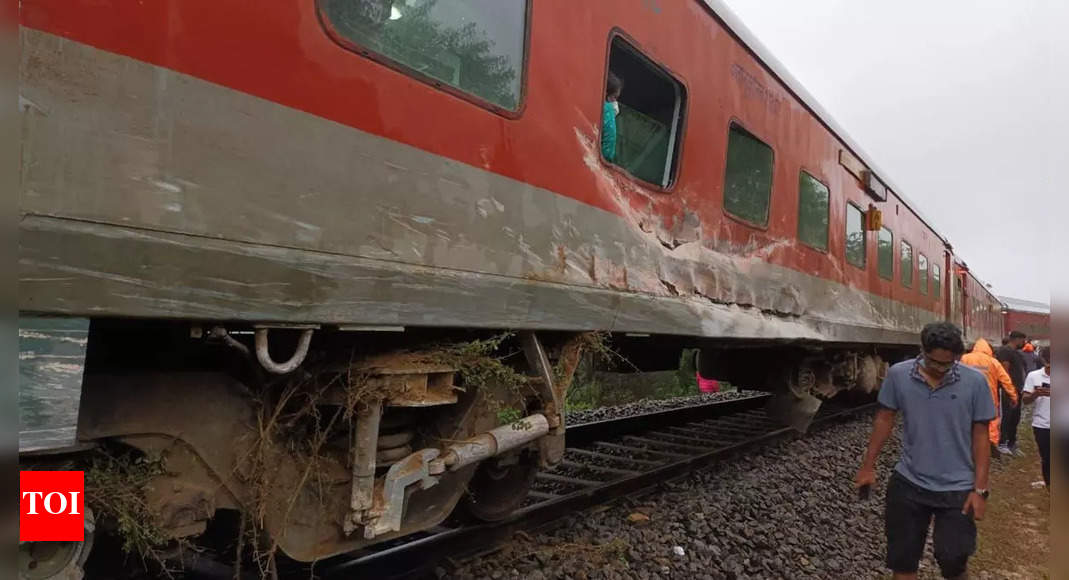 BENGALURU/SALEM: Around 2,350 passengers onboard 07390 Kannur- Yeshwantpur Express train had a narrow escape after boulders fell on it on a ghat section in Dharmapuri district of Tamil Nadu in the early hours of Friday.
Seven coaches — B1, B2 (3rd AC), S6, S7, S8, S9, S10 (sleeper) — derailed between Thoppur and Sivadi (ghat section) around 3.50am on Friday.
"Due to sudden falling of boulders on the running train, seven coaches derailed between Sivadi and Muttampatti in Omalur – Bengaluru section in Bengaluru division" said SWR chief public relations officer Aneesh Hegde.
There were 2,348 passengers onboard the train which left Kannur at 6.05pm on Thursday. No casualties or injuries were reported.
Bengaluru Divisional Railway Manager Shyam Singh along with senior officials rushed to the spot Immediately with Accident Relief Train (ART) and medical equipment van at 4.45am. DRM Salem with the team have also proceeded to the spot along with ART from Erode at 5.30am.
The Bengaluru DRM told reporters all passenger were safe. "No casualty or injury reported," he said, adding that the medical team had rushed to the spot to examine the passengers.
"We have moved the train towards Salem and further to Bengaluru via Tirupattur route by a special train," the Bangalore DRM said. "The front portion of three coaches were being moved to Dharmapuri," the DRM added.
"The unaffected rear portion of six coaches and SLR (Seating cum Luggage Rake) along with passengers continued the journey towards Thoppur and further to Salem. This will be halted at Toppur. Fifteen buses were arranged at Thoppur for those who want to go to Bengaluru by bus. Those who want to go back to Salem travelled in the same train" said Hegde.
Hegde said water and light refreshment were arranged at spot for stranded passengers. A help desk also opened at Hosur (04344-222603), Bengaluru (080-22156554) and Dharmapuri (04342-232111).
Track restoration was in progress. Boulders were being removed with earthmoving equipment.
Trains affected
SWR officials said three trains diverted due to the derailment.
Train no. 02677 KSR Bengaluru – Ernakulam Superfast special departed is diverted to run via Baiyyappanahali, Bangarapet and Tirupattur.
Train no. 07236 Nagercoil Jn- KSR Bengaluru Festival Special schedule is diverted to run via Salem, Tirupathur, Bangarapet and KSR Bengaluru.
Train no. 07316 Salem – Yesvantpur Express Special which was scheduled to leave at 5:30am will be regulated at Salem and rescheduled by three hours.