kadur: Karnataka: Woman beggar donates Rs 10,000 to temple for second time | Mysuru News – Times of India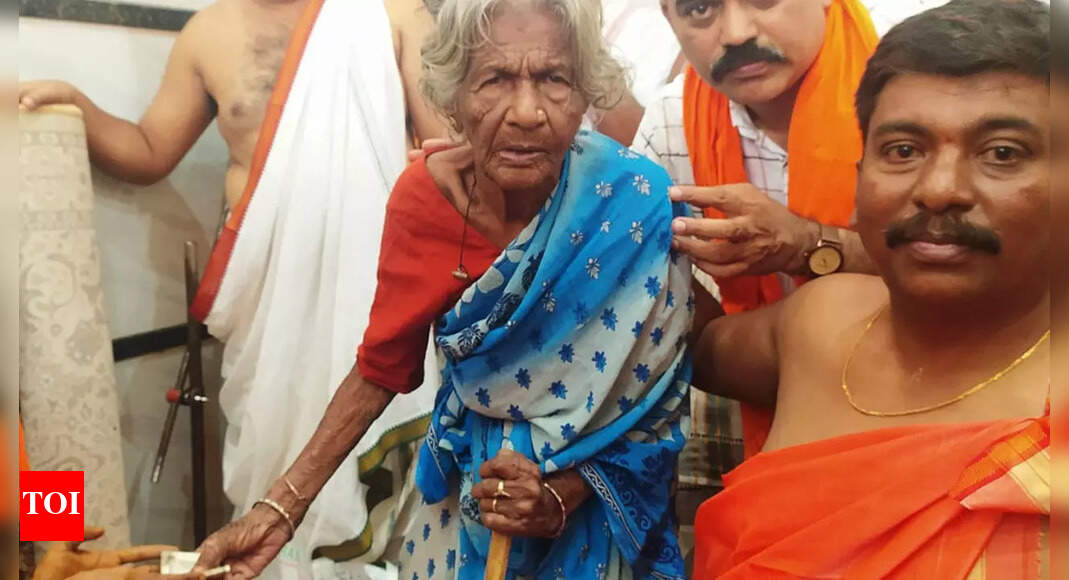 CHIKKAMAGALURU: On Friday, people shooed Kempamma, 65, away when she tried to enter underconstruction Pathala Anjaneya temple in Kadur town, Chikkamagaluru district, seeking to meet the administrator or its priest. Minutes later, she was Kadur's new celebrity with the same people now clicking selfies with her.
Reason: Kempamma, who ekes out a living by begging, made a surprise Rs 10,000 donation to the temple. Asked to leave, undeterred Kempamma slowly walked into the temple. Priest Dattu Vasudev was surprised when she handed him 20 currency notes of Rs 500 denomination each, which she had saved for years. She asked him to use the money for making a silver covering for the temple gopuram (tower).
This is the second time she was making a Rs 10,000 contribution to the temple. The previous occasion was in 2019.
Kempamma, also known as Kempajji, is usually seen outside Kadur Saibaba temple. She sleeps outside the temple or at a nearby bus terminal. After her 2019 donation, a hotel has been providing free food to her.
"Her donation is priceless and it's the purest form of devotion," Pathala Anjaneya temple president Mallikarjun told TOI.
"Kempamma made the donation as she has no dependents. She had saved this money for years. The temple will take care of her as nobody knows about her family members or her village and Kempamma doesn't want to talk about them," he added.