ICU patients in 2 Karnataka hospitals now get 'robot care' | Bengaluru News – Times of India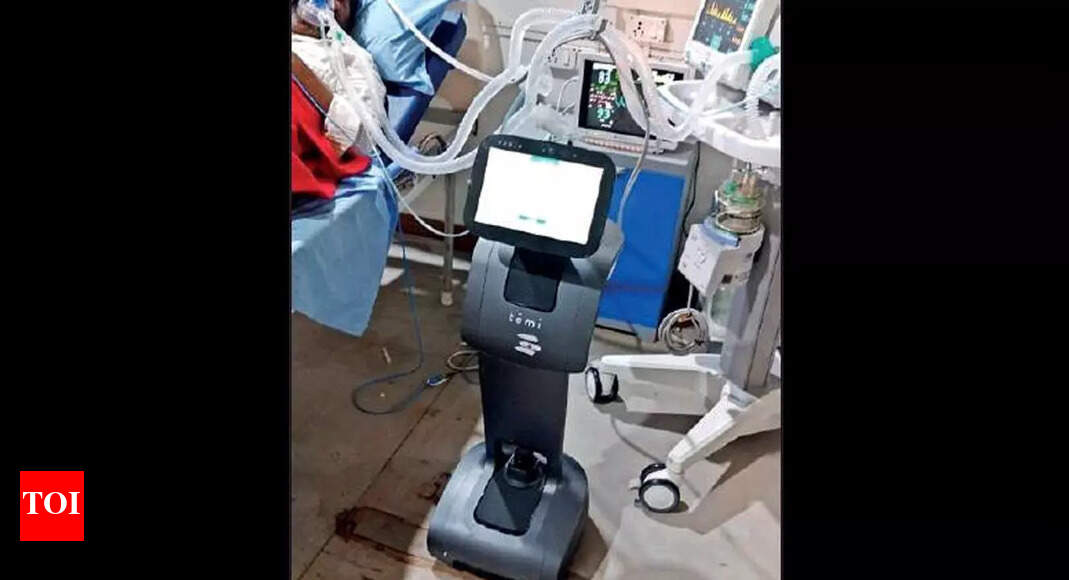 BENGALURU: Round the clock monitoring of bed-bound Covid-19 patients has become much easier for doctors at Bengaluru's Victoria Hospital and Hubballi's KIMS hospital, as robots have been assisting them for two months now.
Israel-made Temi robots go around mapped pathways in ICUs in the two hospitals and capture the patients' health parameters. These are passed on to the treating team. The robots are also fitted with audio-visual technology through which a remotely monitoring tele ICU team stays abreast of the patient's condition. It also enables video consultations.
Sponsored through the CSR initiative of a Bengaluru-based company, robots are being used for the first time in Karnataka's Covid-19 hospitals. In four other districts, government hospitals use PTZ (pan, tilt, zoom) cameras to remotely connect patients with the tele ICU team.
"Healthcare staff find it useful," said TK Anil Kumar, principal secretary, health and family welfare department. "We may not be able to deploy robots in all district hospitals, but they will all get PTZ cameras soon."
The use of Temi robots and PTZ in Covid ICUs in hospitals in Karnataka drew much appreciation from the Centre.
Dr KV Trilok Chandra, special commissioner, BBMP (health), and special officer, critical care support unit which monitors Covid patients in ICUs of government hospitals across the state, said robots have made the jobs of healthcare staff easier.
"The ICU is a sterile environment and movement is restricted," Dr Chandra said. "Since bed locations are fixed, the robot can be programmed to go on a predetermined path every 3-4 hours based on requirement. It provides twoway communication; it relays audio and video to a remote physician."
He said, basically, the robot goes near a patient and captures all the vital parameters. This helps the remote physician understand the patient's condition better. "The remote physician can also talk to the patient through the robot which can make the patient more confident as specialists are aware of her/his condition," said Dr Chandra. Doctors and nurses in the ICU can also direct the bot to move towards a specific patient, he said.
KIMS, Hubballi, currently has five patients in ICU who are being monitored via the Temi robot. "We operate the robot via an app installed on phones of critical care team members," said Dr Kalinga BE, associate professor, department of medicine, KIMS. "It's very handy. All the doctors who are part of the group get updates. We can remotely control the movement of the robot."
Dr Kalinga said the robot captures data on blood pressure, oxygen saturation, pulse, respiration and heart rate which is displayed on a multi-para monitor connected to each bed through Temi. The bot is a battery-operated machine and requires an hour of charging a day.
Dr Pradeep Rangappa, critical care specialist and member of the state Covid-19 critical care support team, who worked with Temi robots, said the bot is more helpful than PTZ as it provides both audio and video input. For PTZ, doctors require another device to speak to patients.
Zero cases in Victoria
The robot at Victoria hospital, Bengaluru has been in use for more than a month now. However, since the hospital has not had a Covid patient for more than a week now, the health department is planning to use the robot in another district.