Hubballi: Nehru Stadium renewal work moving at snail's pace | Hubballi News – Times of India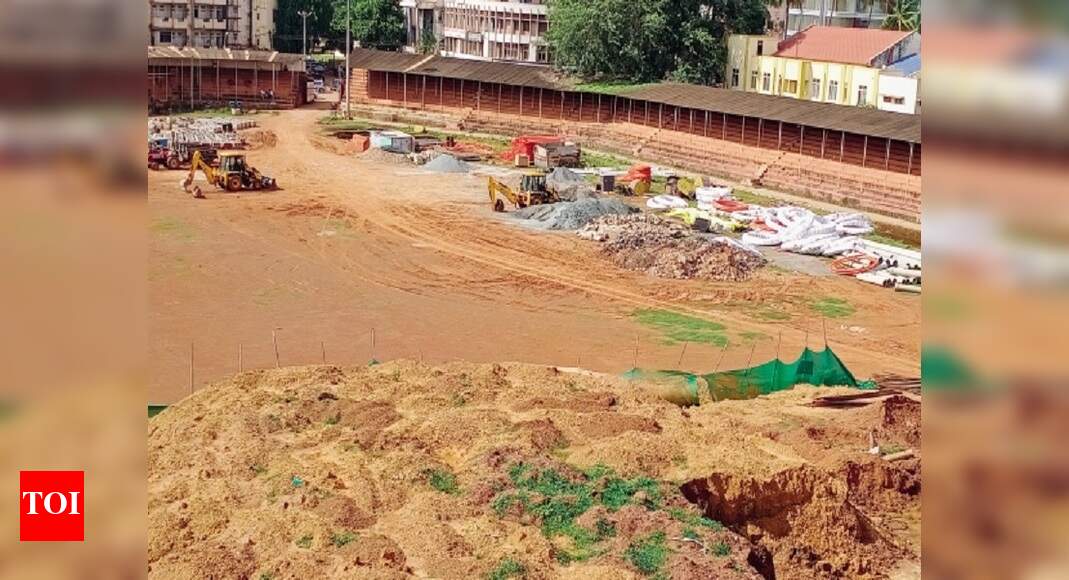 HUBBALLI: Work to develop the Nehru Stadium here is moving at a snail's pace. The redevelopment of the stadium, the only public sports ground for the people in the heart of Hubballi city, is hampered for more than a year.
In the month of June 2020, the redevelopment of Nehru Stadium was taken up by a company, but not even 20% of the work has been completed since then. As per the targets set by the Hubballi-Dharwad Smart City Limited (HDSCL), it expected more than 60% to 80% of the work to be completed by December 2021, but the work is not on track to achieve this, because of the lockdown and other issues. The construction company has failed to expedite the work, and officials are not sure if the work will get over within the stipulated 18 months.
Basavaraj Dharmanthi, DGM, HDSCL, said that the redevelopment of Nehru Stadium is moving at a slow pace, and that they are extending all possible support to the contractor to expedite the work, but till date only 15% to 20% of the work has been completed. "Many labourers got infected at the camp they were staying in and some left for their hometowns due to the pandemic. The contractor's relatives too tested positive for Covid-19, which delayed the work," he said.
"We have issued notices to the construction company due to the slow progress in the work. From June 2020 till date, the toilet and administrative blocks are nearing completion, and drainage up to a distance of 280m has been completed. Yet more work needs to be done. We were expecting 50% to 60% of the work to have been completed by now," he added.
According to sources in the HDSCL, district minister Jagadish Shettar has expressed his disappointment over the progress of the work, and ordered the officials to expedite it. The cost of the project is Rs 21.4 crore.
Hubballi Dharwad Smart City Ltd MD C W Shakeel Ahmed said that a notice has been issued to the construction company to expedite the work. "We will wait for six more months, and if the company fails to meet our expectations, action will be initiated against them. Minister Jagadish Shettar also ordered to complete the work as early as possible in a review meeting," he added.