How to choose the best engineering branch, Is CSE the only option? – Times of India
With the boom in innovative fields of technology, right from Artificial Intelligence, Automotive Technology, Automation, IoT, 5G, Aerospace and Cybersecurity, the scope for Engineering has grown by leaps and bounds. An extensive subject in itself, Engineering is, opposed to popular conception, far more diverse than just Computer Science Engineering. So are the associated career options that go with various types of engineering degrees.
With so many options to choose from, narrowing down the right one is not simple. To figure out factors that help students decide, it is essential to identify what field they're passionate about. Keeping in mind the institution chosen and associated facilities provided for your selected field is essential too. Another crucial guiding point while choosing an engineering degree is to be aware of the international and regional career prospects for the selected speciality.
As the world moves to adapt to the New World Order, human life is increasingly becoming heavily technology-dependent. Every field of engineering specialises in a form of problem-solving for the future benefit of our use. From 5G communication technology with the promise of high data transmission speeds to advanced robotics technology replacing repetitive human jobs; every industry has adapted technology. From tabulating the active COVID-19 cases to easy digital transactions happening in every micro- to large-scale sectors, technology adaptation is becoming unstoppable by the day.
Will this bring down human employment opportunities? Not really, say experts, instead it will propel upskilling of labour, enabling humans to move above mundane tasks and use their skills more effectively. From healthcare to education, technology is everywhere and is pushing everyone it comes in touch with to learn new things at every turn.
In such an evolving scenario, what will essentially drive the future? Experts confirm that data and skillsets are the key beacons that will lead the progress in the coming years. The value of data and its security is hence becoming more important with time too. More bandwidth for effective communication is another core research area, where transmitting maximum data using the lowest possible bandwidth with optimal security is the end goal.
Drone monitoring for traffic and police functions, on-the-go health updates using IoT and smart devices, virtual reality for effective education are all ongoing technologies that have a great scope in the future. All of these require advanced and updated engineering skills, translating into a very wide range of career choices for engineers than ever before.
Talking of the engineering curriculum at Amrita University – ranked 4th best university in India by the NIRF and accredited with the highest rating of 'A' by NAAC – the options are multiple and carefully curated.
The career options in Computer Engineering at Amrita are not confined to the conventional route. There are sub-courses that specialise in a wide array of applications like Wireless Communication, Robotics, Internet of Things, Mobile Communication etc. Similar is the scope for Aerospace, Chemical, Mechanical and Civil Engineering courses.
Also, by pursuing engineering degrees that cover courses combining Electrical, Electronics and Computer Engineering, the scope for hardware design fields like VLSI design, Embedded Systems, Power Industry applications and IoT hold a lot of potential for future engineers.
Students opting to pursue an engineering course at Amrita will also get industry exposure to futuristic technologies 5G communication, robotics, cybersecurity, machine learning, automotive and electric cars, augmented and virtual reality and AI-based systems. This will open future career pathways for engineering aspirants in the fields of e-commerce, supply chain, healthcare, government sectors, robotic manufacturing, digital learning etc.
Take a healthcare robotics project as an example – With the physical design planned by mechanical engineers, the communication aspect done by electronics engineers, all of which runs on codes developed by a computer engineer with chemical and biomedical engineers ensuring right functionality. In the same manner, every sector of engineering is crucial to futuristic projects.
To ensure a successful career path in the field you are passionate about, excelling at the highly-research based Amrita curriculum is the starting step. With added industry exposure while working alongside research scholars and experts, moulding a student for a career both in India or internationally lies at the base of Amrita's education principle. Amrita career opportunities range from industry jobs, research opportunities, entrepreneurial guidance and preparation etc. – making Amrita one of the best destinations for engineering in the country.
What makes Amrita different from other engineering colleges?
The engineering courses at Amrita follow a well-rounded curriculum, rightly complemented by value-based education. At Amrita, a student is prepared for a promising career and a remarkable life both. Amrita also collaborates with top universities world over to offer regular student exchange programs, integrated courses and dual-degree courses to its students.
Amrita Vishwa Vidyapeetham University
00:25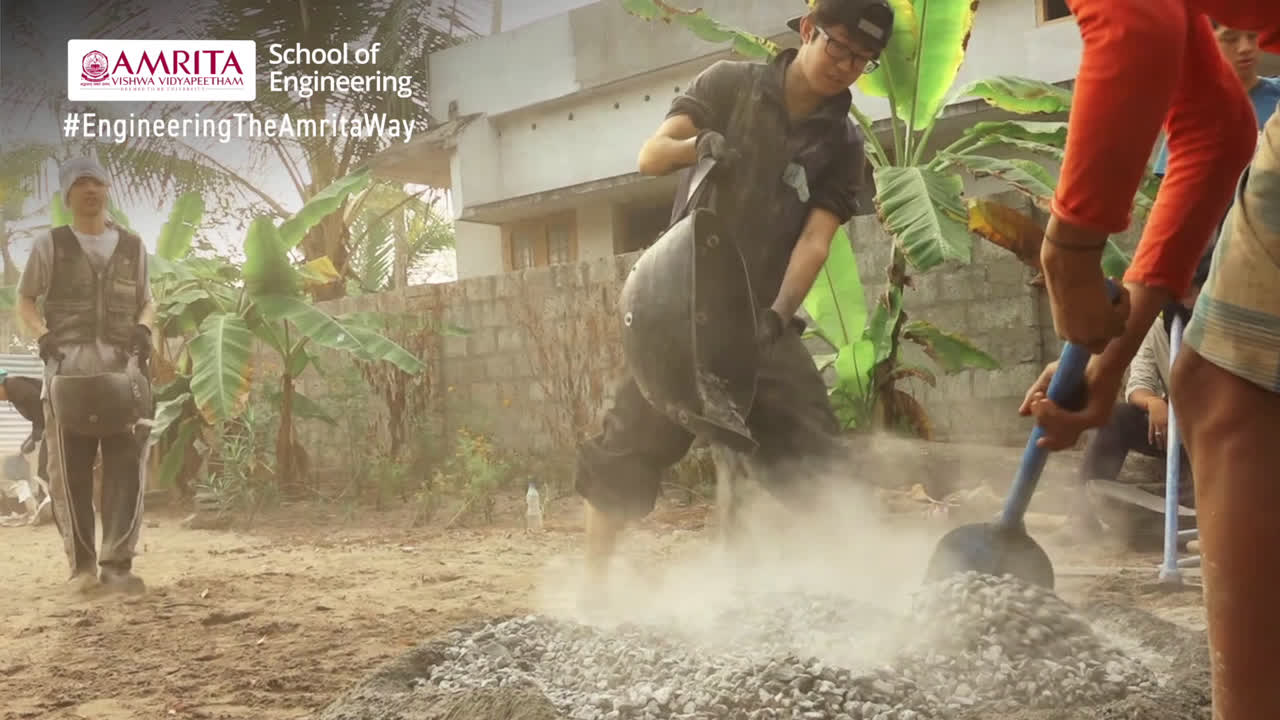 Amita Vishwa Vidyapeetham – B.Tech Admissions 2021-
https://www.amrita.edu/admissions/btech-2021
Disha Career Conclave-
https://www.amrita.edu/event/amrita-disha-virtual-career-conclave
How to crack JEE? (Understand the New Pattern for JEE 2021) –
https://bit.ly/Future2021
Disclaimer: Content Produced by Amrita Vishwa Vidyapeetham University