Heavy rain across south Karnataka; Mysuru roads waterlogged | Mysuru News – Times of India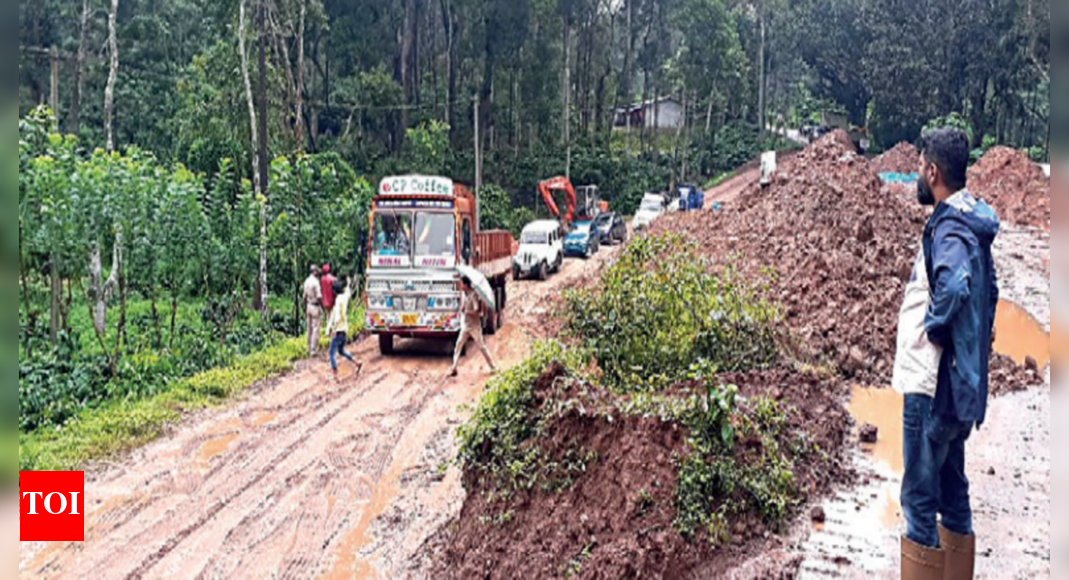 MYSURU: Heavy showers lashed Mysuru, and neighbouring districts of south Karnataka on Saturday. Fortunately, no loss of life was reported in any of the districts, although residents had to put up with waterlogged roads throughout the day.
Heavy rainfall in the catchment areas of Cauvery has pushed the water level at the Krishnaraja Sagar (KRS) Dam closer to its maximum storage height, 124.8ft.
In all, Mysuru city recorded 48mm rainfall during the early hours of Saturday. Heavy showers left Paduvarahalli and Gangotri localities inundated, with Mysuru City Corporation's (MCC) Abhaya Team being pressed into service to attend to complaints.
Heavy rain also pounded other parts of Mysuru taluk with Maraballi recording 125mm rain, while Tumbala received 73mm and Heggur was lashed by 65mm rain.
Waterlogged roads meant commuters endured a nightmarish experience on various thoroughfares of the city, with many potholes resurfacing in the aftermath of heavy showers.
Commuters using the Outer Ring Road to avoid gridlock on the roads within the city limits too had to endure a similar ordeal. Meanwhile, standing crops were washed away in the district's rural boroughs.
Rain pounded the hilly district of Kodagu intermittently throughout Saturday. While the district received heavy rain in the night on Friday, residents woke up to a bright morning on Saturday, although rainfall continued in bursts throughout the day. Planters in the district are worried about the effect that unseasonal showers will have on coffee and pepper plantations.
Thus far in 2021, Kodagu has received 2,702mm rain, while the corresponding figure for the district in 2020 was 2,612mm rainfall. Madikeri taluk has received 3,644mm rainfall, the highest in the district.
Heavy rainfall has also been reported in several parts of Chamarajanagar and Mandya districts.