Gusty wind rattles Bengaluru; 50 trees, 12 vehicles damaged | Bengaluru News – Times of India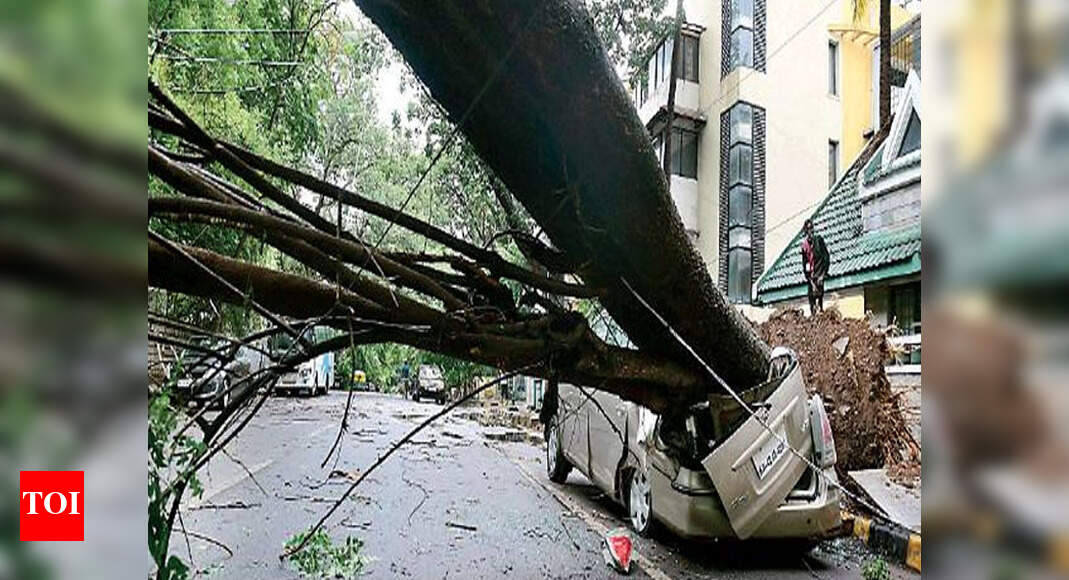 A huge tree damaged a car at Malleswaram after heavy rain on Wednesday.
BENGALURU: Heavy rain accompanied by strong wind and thunder struck the city for the second consecutive day, leaving in its wake uprooted trees, fallen branches, damaged electric poles, flooded roads and stranded citizens.
West and central Bengaluru bore the brunt of the fury; 50 trees and 70 branches fell in Malleswaram, Gandhinagar, Cottonpet and Seshadripuram. BBMP received 150 tree-fall calls in one hour.
More than a dozen cars and two-wheelers were damaged after they were trapped under falling trees.
A senior scientist with the meteorological department said the wind speed was 62-75 kmph, which the city hasn't seen for a long time.
Power connections
hit
Bescom said electric poles fell at 21 locations and power connection snapped. Malleswaram alone saw five poles damaged and power transmission lines snapping at 15 places.
"We were at home when we heard a screeching sound; we rushed out to see trees falling. Nearly 13 trees were uprooted on Malleswaram 18th Cross. The road is full of logs and branches," said Raksha Badari, a resident.
"Most of the uprooted trees are very old. I have asked the forest department to look into it," said mayor Goutham Kumar.