Gang stole Rs 30 lakh by cloning ATM cards in Tumakuru; 2 foreigners held | Bengaluru News – Times of India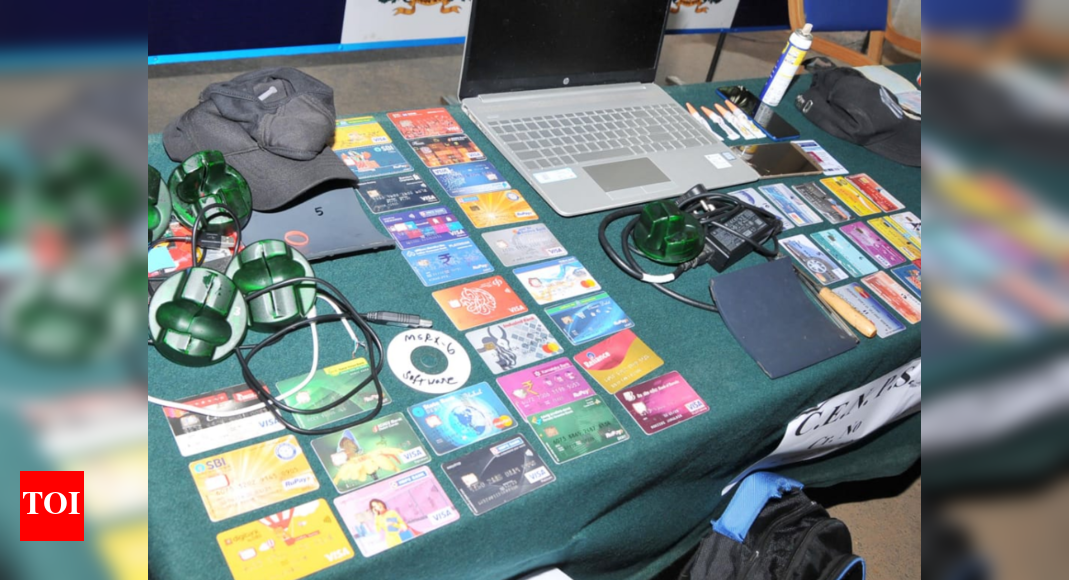 BENGALURU: Tumakuru police busted an international gang which siphoned off lakhs of rupees by cloning debit cards and cracked at least 60 cases reported in two months with the arrest of two foreign nationals.
While Ivan Kabonge, 22, is from Uganda, Lawrence Makamu, 29, belongs to Kenya. Both are residents of Delhi and had arrived in India on student visa due for expiry in March 2021. However, police said the visa is now subject to verification.
During September and October, more than 60 cases were registered in Tumakuru district: Rs 30 lakh was fraudulently withdrawn from bank accounts of 60 locals. Initially, police thought the victims may have shared credentials such as card verification code (CVC) with the fraudsters. However, as cases started pouring in, investigators found there was more than what met the eye.
Tumakuru CEN police formed a special team which discovered that some ATM kiosks in Nittur, Bheemasandra and Kunigal had been rigged. A tiny camera and skimming machine had been fixed in the kiosks to steal debit card data of users and clone them. Police found the duplicate cards were used to withdraw money from the victims' accounts from kiosks in Bengaluru, Chennai and Delhi and Mumbai. To gather clues about the accused, cops started collecting information about vehicles entering Tumakuru from the Bengaluru side. They got to know a Delhi-registration car often crossed the toll plaza during the two months and began efforts to trace it. Investigation revealed a few foreign nationals had been paying frequent visits to Tumakuru.
"The culprits would carry a mobile debit card skimming machine and install a camera in the ATM machine. The copied data was transferred to Delhi, where the cards were cloned," sources said. The gang, which has four more foreigners as members, was led by James, who is from South Africa and is also based in Delhi.
An officer said the accused did not stay for more than a day in Tumakuru district. They would install the skimming machine and camera in the morning and take them out by evening. They visited the district 20 times in six days to siphon off the money. With ATM kiosks being unguarded, their job became easier," he said.
Twenty fake ATM cards, a skimming machine and a Honda CRV have been seized.