Full-day school begins in Karnataka, lunch break returns after March 2020 | Bengaluru News – Times of India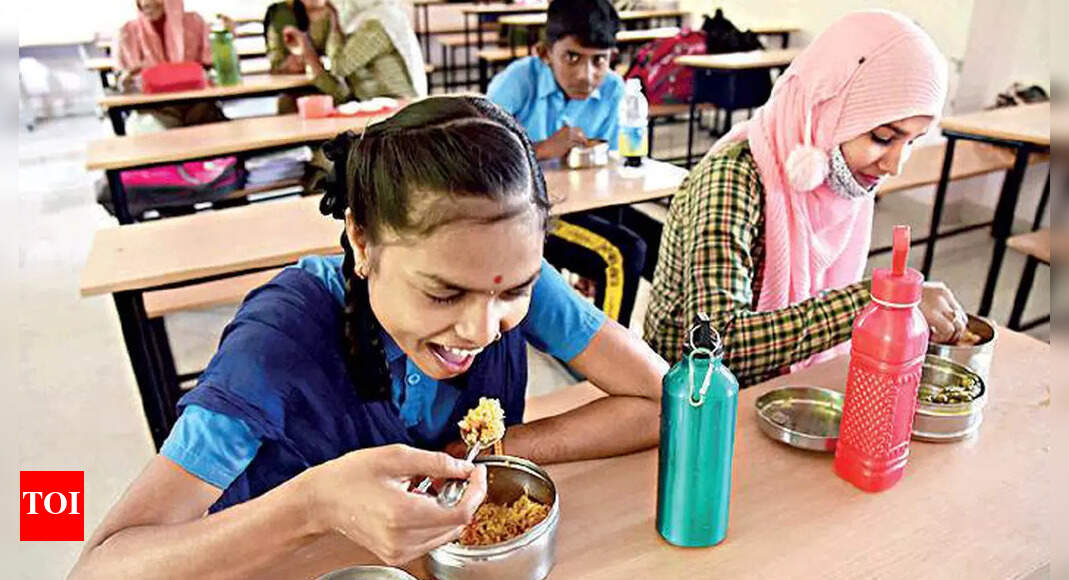 BENGALURU: When the bell rang at 12.30pm at Ramamurthy Nagar High School on Monday, students erupted into a loud cheer. For students, it was the return of their favourite time of the day on campus: The lunch break.
For the first time after March 2020, schools were open for full-day classes with a 40-minute lunch break on Monday. While the state government had announced full-day classes from October 1, the department order came by Friday evening. With this, most schools decided to start full-day classes on Monday.
However, several private schools did not extend the school timings.
Kids say full-day classes fun; educators want midday meals to be restarted soon
Parents are still wary of sending children to school. With the lunch break added, they fear social distancing will be further compromised. We will wait and watch," said the principal of a school in east Bengaluru.
D Shashi Kumar, secretary of Association of Primary and Secondary Schools of Karnataka, said a majority of their member-institutions have extended classes till 3.30pm.
"Half-day classes were boring. It's fun only when we have full-day classes and the lunch break. We were missing this for the past one and a half years," said Varshini PS, a class 9 student of Government High School, Ramamurthy Nagar. "For lunch break, we usually take the plate with midday meals and go to the ground, sit under the trees, chat and play while we eat. That is the best part about school. How much we missed it," said Rohini Kumari, her classmate.
However, things were different on school campus, post pandemic. Only those who had brought lunchboxes sat on the benches indoors, while many just walked out or milled about on the ground. Several children did not bring their lunch as they did not know about the change. Some of them who stayed close by went back home for lunch to return later. In the higher primary section of the school, the children sat in a straight line on the floor at a distance, with their respective lunchboxes.
"Many students come from poor background. They might not be able to bring lunch daily. It is important we restart midday meals soon," said Bharathi BV, principal, Government High School, Ramamurthy Nagar. Other school principals echoed similar sentiments. A teacher at a government school said students were excited to return to school, but many were unable to focus because they skipped breakfast.
"It's good that the government is providing the rations. But it does not necessarily mean students are well-fed. There are times when I have given my lunchbox to hungry children," he said, adding: "Midday meals are an equalising factor among the children. It must be restarted as soon as possible."