Five months on, Bengaluru airport halt station unused as trains suspended | Bengaluru News – Times of India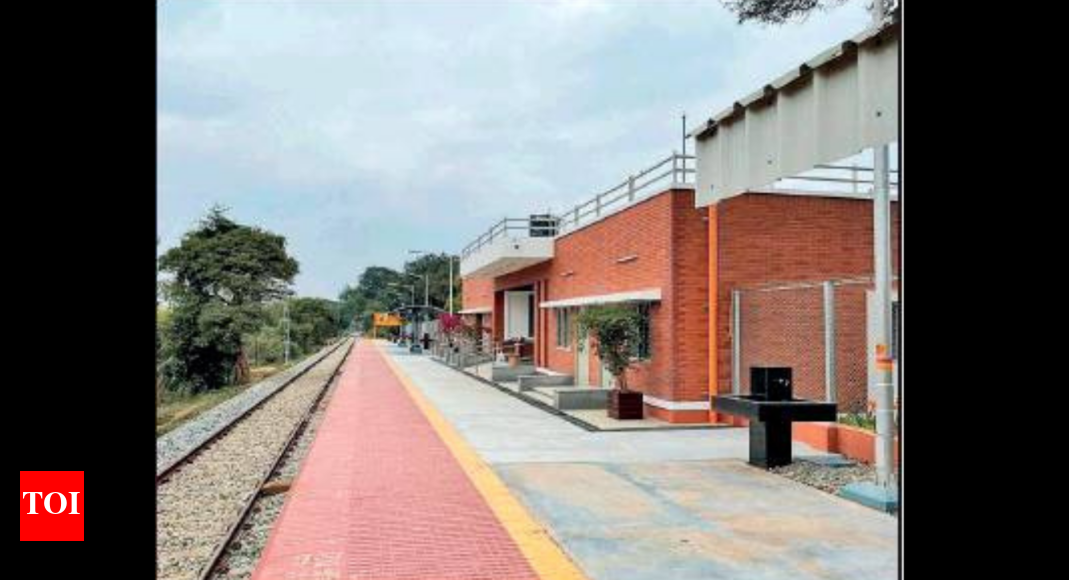 BENGALURU: More than eight months since it was inaugurated with much fanfare, the halt station near Kempegowda International Airport (KIA) remains unused. The reason: South Western Railway has suspended train services to and from KIA due to poor patronage during the second Covid wave. However, activists say poor frequency of trains and lack of awareness are to blame.
SWR operated 10 trains a day to and from KIA halt station when it was inaugurated on January 4, 2021. However, services have been suspended since April-end.
The halt station located 3.5km from the KIA terminal was built by Bangalore International Airport Limited (BIAL) at a cost of around Rs 3 crore and aimed at benefiting 28,000 airport employees as well as passengers. BIAL also operated free shuttle bus services between the station and terminal. The train ticket fare is between Rs 10 and Rs 15.
SWR chief public relations officer Aneesh Hegde said. "Only 2,098 passengers travelled between January and April and we earned a ticketing revenue of Rs 20,830." SWR records show average daily passengers and revenue were only 20 and Rs 197, respectively, during the period.
"The demand has reduced during Covid. We are examining it and conducting phase-wise restoration as per demand in various sections/routes," added Hegde.
Officials said electrification of Yelahanka-Devanahalli will be completed by October and will help to operate Memu trains. "It is expected to be over by October-end. However, shifting of transformer/utilities by KPTCL near Doddajala is yet to be done," said Hegde.
SWR had promised to operate express trains between KSR Bengaluru City and KIA halt station with limited stops. The railways had also planned to increase frequency by operating trains from Yelahanka, Yeshwantpur, KSR Bengaluru City and Whitefield. However, it didn't take off. Though there was a demand to operate trains from Heelalige near Electronics City to KIA halt station, there are operational constraints. At present, it is not possible to operate direct trains from Hosur/Salem to Devanahalli side without engine changeover at Byappanahalli.
Asked if there is any plan to operate additional services, Hegde said: "It will be examined once the Covid situation ameliorates, based on passengers' demand."
Activists said both SWR and BIAL have failed to review the timings, travel duration and routes of airport train services. Rajkumar Dugar, founder and convener, Citizens for Citizens, said: "More people would have used the halt station if there was a train to and from the airport every 30 minutes. In fact, one evening train from KIA halt to Bengaluru City takes around two hours and 40 minutes. How does SWR expect people to travel in these trains?," he said.