Five months on, 23% of healthcare workers in Bengaluru yet to get jab | Bengaluru News – Times of India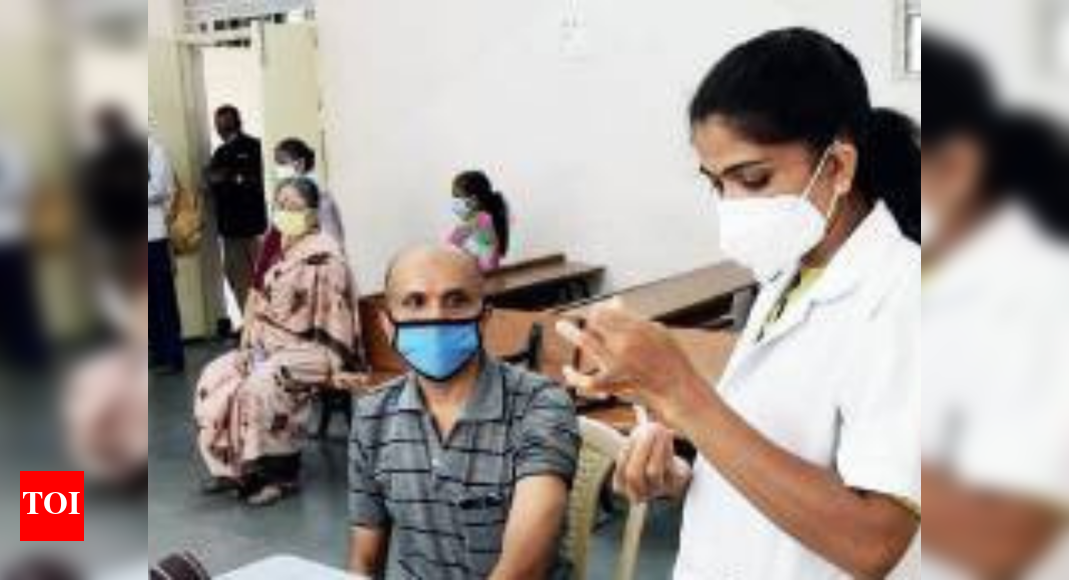 IMMUNITY JAB: A nurse prepares to administer the Covid-19 vaccine to a beneficiary at a private college in Bengaluru on Thursday.
BENGALURU: Nearly five months on since the vaccination drive opened for them, only 77% of registered beneficiaries under the healthcare workers (HCWs) category in Bengaluru have taken at least one dose of the Covid-19 vaccine, while only 42% have got both the doses. The drive to inoculate these Covid warriors began on January 16.
Of the over 2.5 lakh HCWs registered in Bengaluru, more than 1.9 lakh have got at least one jab as at 9am on June 7, state health and family welfare department data shows. Of all the districts, coverage among HCWs is the worst in Bengaluru.
However, coverage among frontline workers (FLWs) in Bengaluru stands at 92%: While 2 lakh of the 2.2 lakh registered beneficiaries have got at least one jab, 21% (over 45,000) have got both jabs.
Across Karnataka, 81% or 7.3 lakh of the nearly 9 lakh registered HCWs have got at least one dose, while 53% or 4.8 lakh are completely vaccinated. Of the 7.6 lakh FLWs, 6.4 lakh or 85% have taken the first dose and 2.2 lakh or 29% have had both doses.
Anti-vaccine propaganda and hesitancy are still rampant among HCWs, doctors admit. Sources say coverage is better among those employed in the private sector than in government.
Dr HM Prasanna, president, Private Hospitals and Nursing Homes Association, said about 50% of HCWs were infected during the second wave. "Most had taken at least one dose of the vaccine, but still contracted the virus as they work in high viral load areas," he said. "They all had mild infections. However, those who did not take the jab and were infected by the virus will have to wait three months from the time of recovery to get vaccinated."
Health department officials said a majority of those who missed out on vaccination are nursing college students, healthcare staffers working in non-allopathy hospitals and Ayush doctors.
"Pregnant women and lactating mothers did not take the vaccine earlier. Now, lactating mothers can take the vaccine, as per revised guidelines. However, there are many others who did not take the vaccine. Vaccination is a voluntary process," said a senior officer from the health department.
In some medical education institutions, there were issues with regards to double entry of students. The list of registered beneficiaries included all those who had enrolled in courses as on August 2020. "Several students who had passed out of nursing colleges are still appearing as unvaccinated," an official said.
FacebookTwitterLinkedinEMail