First for Karnataka: 65-year-old patient treated with plasma therapy at KIMS discharged | Hubballi News – Times of India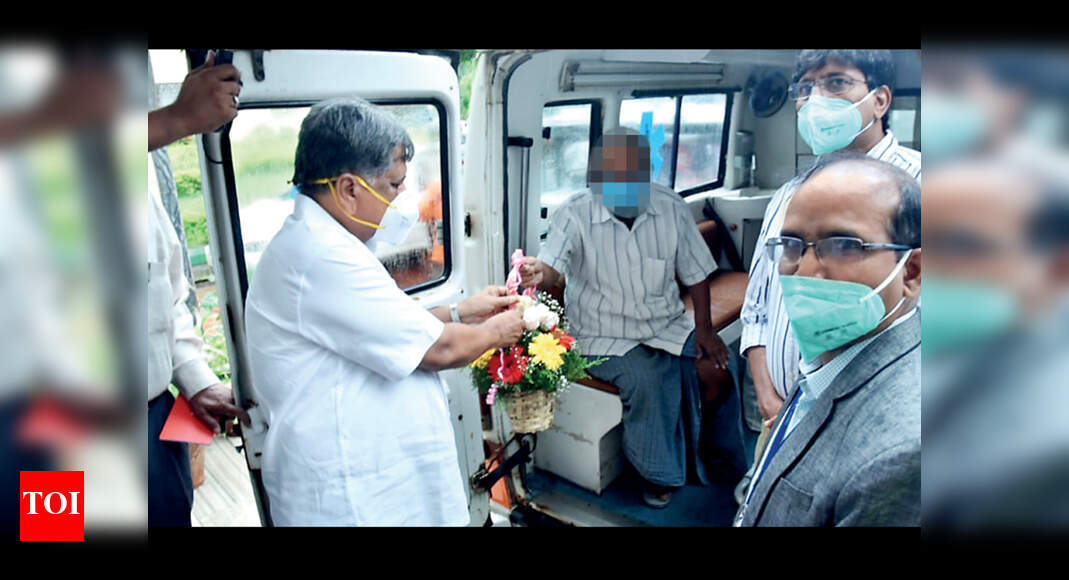 HUBBALLI: A 65-year-old man, who tested positive for Covid-19 after returning from Maharashtra, was discharged on Wednesday from Karnataka Institute of Medical Sciences (KIMS) — becoming the first patient in the state to be successfully treated with plasma therapy.
The patient, P-2170, was admitted to KIMS on May 27 and put on oxygen support immediately. A 63-year-old recovered patient, who works as a guard at a graveyard in Hubballi, came forward to donate plasma, and doctors began the therapy on May 28. With the help of medical experts from Dr RB Patil Cancer Institute at Navanagar, KIMS doctors extracted the plasma and administered two doses of 200ml each to P-2170.
KIMS had obtained approval from the Indian Council of Medical Research and state experts' panel on Covid-19 formed by the state government.
KIMS director Dr Ramalingappa Antaratani said the patient is "100% cured". "We were providing oxygen support only when required in the last two weeks. This support was completely stopped four days ago. He tested negative for Covid-19 twice. The last report was obtained four days ago but we held him back to further ensure his safety," he said.
On June 2, Antaratani had said the patient showed significant improvement after convalescent plasma therapy and that it had proved a success. Medical education minister Dr K Sudhakar and health minister B Sriramulu had backed and congratulated KIMS the same day even as some medical experts said the therapy could be deemed a success only on discharge of the patient.