Fire in Bangalore: Mother, daughter charred to death in LPG leakage blaze in southeast Bengaluru | Bengaluru News – Times of India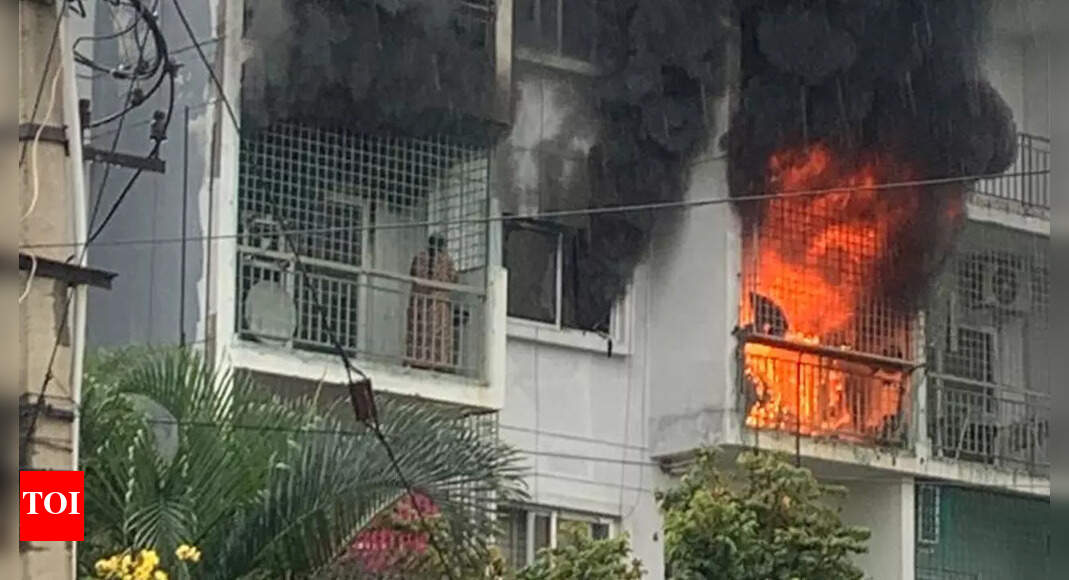 BENGALURU: An 82-year-old woman and her 59-year-old daughter were burnt alive in a blaze suspected to be triggered by a cooking gas cylinder leakage in an apartment in southeast Bengaluru on Tuesday evening.
The explosion occurred around 4.30pm in a second-floor flat in Ashrith Aspire in SBI Colony, Devarachikkanahalli, near BTM Layout. The fire spread to an adjacent flat in no time. Both flats were occupied by the same family. The younger woman's husband survived the blaze with burns and is said to be stable. As residents of the apartment and neighbouring building rushed out, they found flames leaping out of flats 210 and 211, occupied by the same family. Soon the fire turned into a massive blaze accompanied by thick smoke and the flames were touching third and fourth floors of the apartment.
The older woman, Lakshmidevi, who was taking a walk in the balcony of one of the flats, was stuck as the space was sealed with iron grills. She could not get into the flat which was up in flames. She was seen crying for help as flames engulfed her.
Her daughter Bhagya Rekha, too, was stuck inside the other flat, while son-in-law Bheemsen Rao, 66, managed to come out. Rao sustained burns as he tried to get the women out in vain. Rao has been admitted to a private hospital and is said to be out of danger.
Rao's elder daughter is in the US, and the younger, a bank employee, lives with her parents. The daughter, Preethi, and her husband, Sandeep, were not at home when the fire broke out. Rao and Rekha had returned from the US only on Monday evening.
Heard her screaming, called fire brigade, says neighbour
"We heard a woman screaming for help and banging the grills of the balcony. All of us watched helplessly as she was charred to death within a minute," said Ravi Chandran, who lives on the same road as Ashrith Aspire, the apartment where an LPG leak killed two women on Tuesday evening.
Ravi Chandran, a corporate employee, told TOI he went to his verandah at 4.15pm for a tea break when he heard a blast and saw smoke coming out of two second-floor flats.
He heard construction workers near the apartment screaming and at 4.20pm, he called the fire brigade emergency number 101.
"Within 10 minutes, we saw flames flying out of the balconies and one woman running to the edge and screaming for help. Around 4.45pm, the fire enveloped her and within a minute, she was charred to death. She was talking on the phone and pleading for help," he said. He added that the grills had no opening for the woman to get out and the net on the balcony to keep pigeons out may have added to the blaze, he said.
"All of us standing outside saw this helplessly and began crying," he said, adding that fire brigade personnel reached the spot around 4.55pm.
Four persons who tried to enter the flat to save the women rushed out crying because of burns, Chandran said. The charred body was on the balcony till about 8pm as fire force personnel found it impossible to find their way into the flat full of smoke. Most residents of the apartment took refuge in the nearby Janhavi Enclave as electricity supply to their homes was cut off and rescue operations were under way.
Two Ashrity Aspire residents Naveen and Karthik said they were in their flats and did not hear the explosion. They came to know about the fire via their WhatsApp group around 4.15pm. They began evacuating women and children from all the flats and took them to the basement. Naveen, who lives on the same floor but a different wing of the flat that caught fire, said they faced no problem due to smoke and there was no panic. "We're waiting for the all-clear to go back to our flats," he said.
A former resident of the flat, who reached the spot on hearing about the fire, was shocked. "I'm not sure if this is the same aged lady I knew. She was always gracious while interacting with others."
Watch
Shocking visuals: Mother, daughter charred to death in Bengaluru apartment blaze