Find Juicy Apples Growing In Bengaluru's Neighbourhood | Bengaluru News – Times of India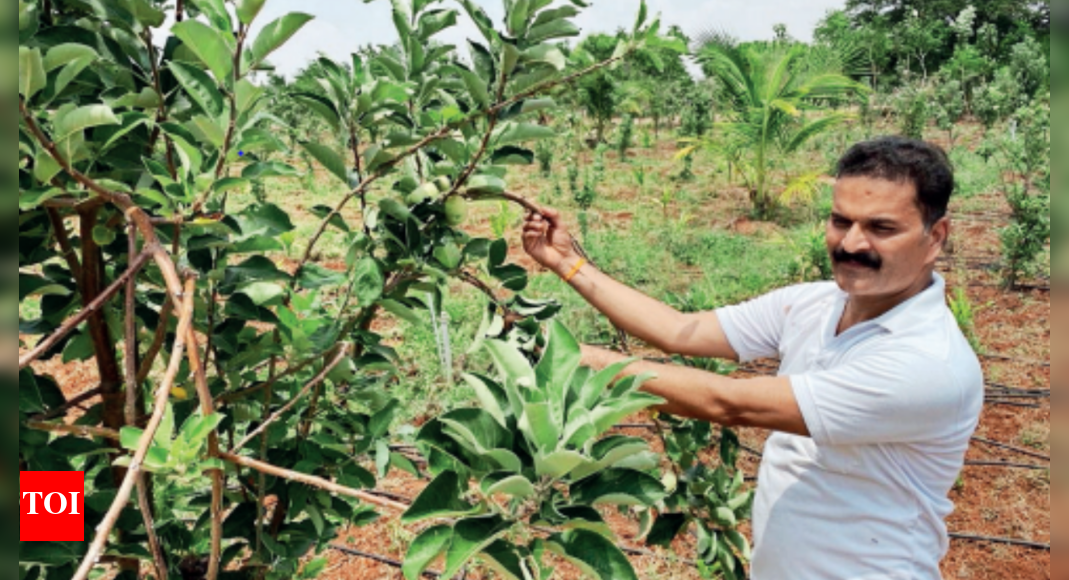 BENGALURU: Did you know that apples were grown in the heart of Bengaluru over a hundred years ago? Cut to the present: Another 'apple revolution' seems to be in the offing as scores of farmers around the tech capital are cultivating the temperate fruit, which is usually grown in Kashmir and Himachal Pradesh.
What is more interesting is the fact that apple cultivation is being tried out in the parched lands of Tumakuru and Chikkaballapur districts (both around 60km from Bengaluru), along with some drought-stricken plains of North Karnataka. "The last time apples were grown in Bengaluru was a decade ago, when horticulture officials achieved field success by cultivating the city's native variety in Lalbagh. Now, apples are being grown on nearly 50 acres in Sira and districts of Chikkaballapur and Bengaluru Rural," said horticulture department officials.
Sources in the department told TOI that Bengaluru's own variety of apple — Rome Beauty — was introduced by British botanist John Cameroon in 1887. Soon, Bengaluru saw apple orchards in and around Palace Grounds. However, the Garden City's tryst with apples was over by 1920.
"Out of curiosity, we had sourced the cultivars by rootstock method from Himachal Pradesh and planted them at Lalbagh. Apples require at least 350 hours of chilling (less than 10 degrees Celsius) in a year to blossom. We created such a condition and were successful in getting fruits," explained SV Hittalamani, former additional director of horticulture (fruits), who oversaw the experiment.
Soon the success got many farmers eager to cultivate apples. Initial experiments were done in and around Sira, Tumakuru district. Ramadass, president of Fruit Growers Association of Karnataka said: "Chiranjit Parmar, an apple specialist from Himachal, helped us in 2014 by providing rootstock cultivars. By 2018, we were able to see small success. As we went around distributing seedlings, Covid struck. But then we had distributed over five lakh seedlings to farmers." In fact, Ramadass has named the variety that he was able to grow locally after PM Narendra Modi as 'Modi apple'.
GN Narayanaswamy, a farmer in Chikkaballapur, has tried apple cultivation on a half-acre plot. "We have been trying it since 2019 and got the yield (150kg) in 2022. But it is still in the trial-and-error phase. The cultivars can withstand temperatures up to 45 degrees Celsius and can be raised under drip irrigation method," he explained.
Similarly, youngster Sachin Balagond from Kolhar in Vijayapura also cultivated apples on a one-acre plot. "It's been two years since we started. But this year the yield is satisfying with close to one tonne produce. If you prune the plants by October, the winter conditions of November-December will help in blossoming," he explained.
Omkar Naik, a Bengalurean who is cultivating apples on his farm near Pattanayakanahalli in Sira, said, "We tried with 700 plants two years ago. About 100 have perished now. A few are bearing fruits this year. But all fruits suffered bird bites as soon as they turned pink. The fruits become sweet after two days of harvest."
While apples are currently cultivated on close to 50 acres of land in various districts, fruit scientists have cautioned that it is economically not feasible. Hittalamani added, "We had cultivated the crop out of curiosity. No part of Karnataka is suitable for growing apples on a commercial scale due to fluctuating weather conditions. In fact, until 2014 we were appealing to the district officials not to recommend these crops. The plants will perish within six years and decline in yield will begin from the third year. Considering the investment, it will only add to the misery of already stressed farmers."