Festive vibes attract shoppers to Bengaluru malls | Bengaluru News – Times of India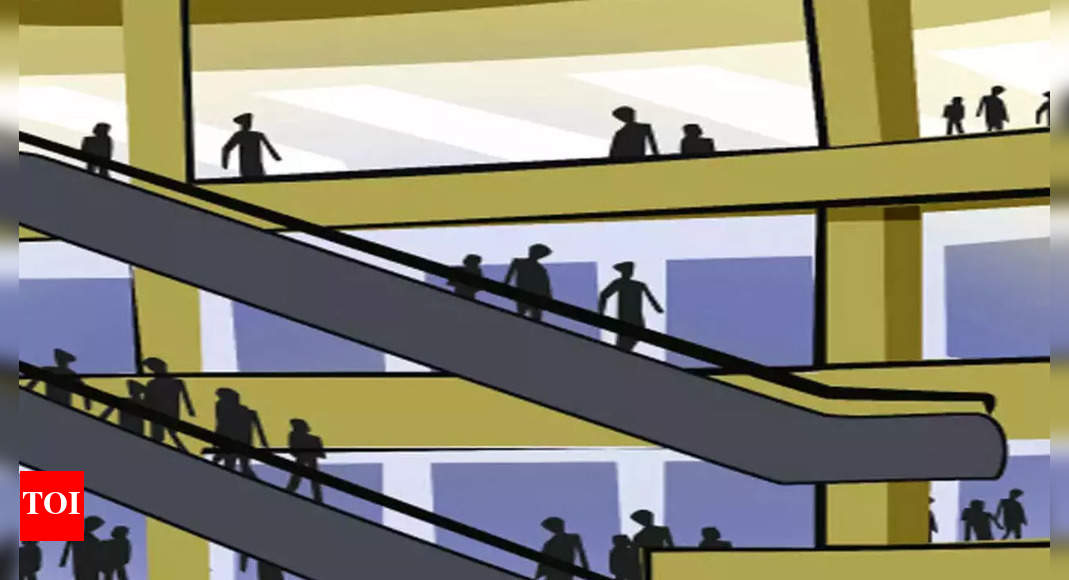 BENGALURU: Major shopping malls in the city have been abuzz over the last few days with Bengalureans thronging them to make the most of the festival season. Signs of 'parking full' went up in some places, even as long lines at trial rooms and billing counters brought in a welcome change after more than 18 pandemic-weary months.
Netizens were quick to notice the rush and take to social media platforms to share their experiences and observe that popular eateries were full to the brim with people.
Twitter user 'Bangalore Metro Updates' tweeted: "V R Mall at 4.30 PM – Parking Full, no entry; Phoenix Mall – Parking Full, No Entry; HSR Layout 27th Main – packed with Cars on both sides and Pani Puri guys are super busy serving customers. Four clear signs of China Virus disappearing!? Fair to say that?? Or is it too early! (sic)"
Another user Dinesh responded: "Waited for an hour to get parking but no luck. Went back home without visiting the mall."
Richa C, a make-up artist out for Diwali shopping, told TOI that she spent an hour in a line at a trial room, and almost double the time to bill the items. "I can't complain to see normalcy returning. The festive vibes were obvious and I hope this continues," she said.
While some felt this was a positive sign, others feared the laxity might lead to an increase in Covid cases again.
Sethu Ram, a techie, said it is positive to see crowded shopping malls. "However, this must not lead to another wave," he added.
Manoj Singh, cluster director, Karnataka Malls at Nexus Malls (the Forum Mall Koramangala, Forum Neighbourhood Mall and Forum Shantiniketan in Whitefield) said they witnessed a 50% growth in the footfalls and double the sales compared to last year. "However, our pre-Covid footfall recovery is still only at 60%," he said.
Sunil Munshi, AVP Operations, Orion Malls, Brigade Group, said over the last week, they saw a footfall of over 3.2 lakhs across all three Orion Malls in the city — Orion Mall at Brigade Gateway, Orion Avenue at Cooke Town and Orion Uptown at Whitefield-Hoskote. "We are at over 75% of pre-pandemic footfall and expect to surpass that by Diwali," he said.
Shibu Philips, Business Head, Lulu Malls, said they witnessed a footfall of over 1.6 lakh between Thursday and Sunday.
Philips said to ensure smooth traffic flow at the mall, entry to the mall will only be from the Magadi Road side, while the Vatal Nagaraj Road one will be used only for the exit. "We have been holding several meetings with traffic officials to determine alternative and viable options for entry and exit. Also, direct access from Rajajinagar to the mall will be opened in the next two weeks," he said.
MLA Suresh Kumar had tweeted that the mall caused traffic congestion on Vatal Nagaraj Road. "Studied the issue with Traffic Police team for over an hour The Entrance & Exit system needs to be streamlined. Extra load adds to the worry (sic)," he tweeted.
Eateries filled
Chef Vikas Seth, culinary director, Embassy Leisure (Sanchez, Sriracha and Hopshaus), said they saw a 10-15% increase in their sales during the weekend. They expect a higher footfall when the rain recedes and the 10pm curfew is relaxed.
Zonu Reddy, Partner Spago Foods, Magnolia Bakery India, said there was a good rise in the enquiries and online orders for the festive hampers.
Aditi Rao, co-founder, K-OS Game Bar – Koramangala, said the last weekend was a celebration at the outlet filled with 'We-fies'.
Nidhi Nahata, founder, JustBe Resto Cafe, said: "We have events like flea markets and gatherings to enable customers to enjoy responsibly and consciously."