Encouraging footfall at Bengaluru malls on day of reopening | Bengaluru News – Times of India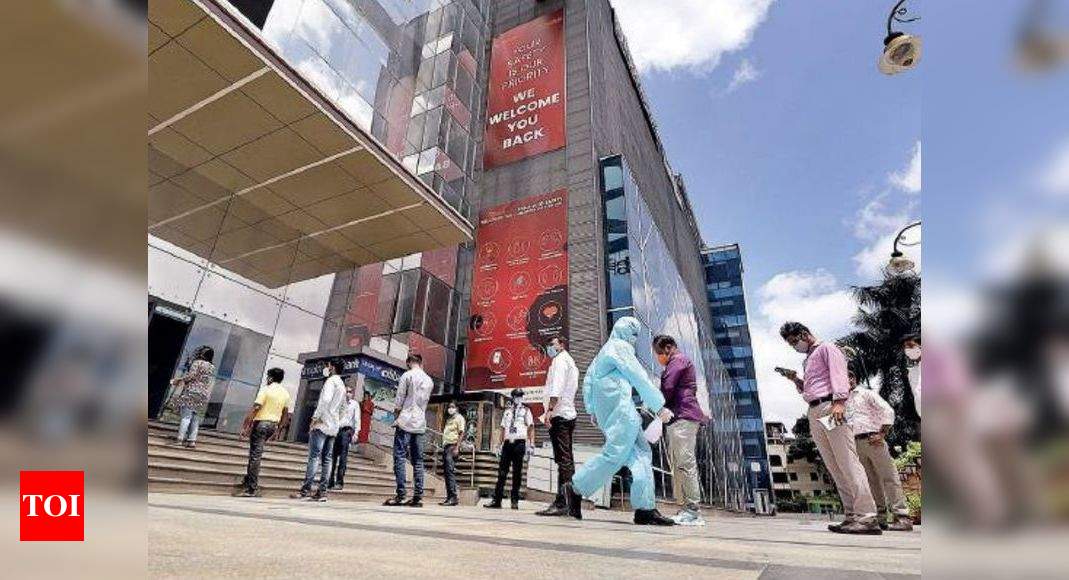 BENGALURU: IT professionals and friends Chandrika K and Asiya P had their hands full of bags after three shopping hours on Monday. They had waited for retail therapy for more than five months. "I am not an online shopper and wanted to visit a mall," Chandrika said. Asiya agreed. "We met each other after a long time and decided to shop together," she said.
The two were among hundreds of Bengalureans who made trips to shopping hubs as malls reopened under Unlock 3.0. Vega City Mall on Bannerghatta Road and Forum Mall on Hosur Road saw encouraging footfall. They had strict Covid-19 protocols at entry points and inside the complex.
An attendant at a popular sports brand store in Vega mall said that more than 50 customers turned up on the first day.
"We are seeing more people than we had expected. The items on sale are selling like hotcakes," the person said. A store manager at a cosmetics store said the footfall on Monday was much better than what it was after last year's lockdown. "We are known for cosmetics, but today, most of the customers were looking to buy body care products," he added.
Groups of youngsters gathered at malls to catch up. Though food courts were not completely open, shops selling desserts and coffee were popular among the groups. Many said that they cannot wait for movie theatres to reopen. "It is refreshing to see some normalcy. I hope that we can go back to our popcorn-munching movie theatre days soon," said Shruthi Baskar.
Some malls and high-end brands didn't see the rush of shoppers they had expected. "The merchandise we sell is expensive and few people are ready to spend the way they used to before the lockdown," said an employee of one such brand.
Staffers miss colleagues
Employees of stores inside malls said that they missed their colleagues who died of Covid-19 during the second wave. When TOI visited a store to speak to the manager, the staff informed that he had passed away. "There are many staff members in different stores like this. I cannot believe I opened the store today and he is not here with us. He was in his 30s," a salesperson said.
An electronics store lost a salesperson. "Almost every other store has the same story. It is heartbreaking," said an attendant.
Popular segments
Manoj Singh, cluster director, Nexus Malls (Forum Malls in city, Centre Mall in Mysuru and Fiza Mall in Mangaluru), said each of the establishments saw an average 6,000 footfall on Monday. Sunil Munshi, AVE Operations, Orion Malls, said that fashion, beauty, healthcare and electronics stores drew many shoppers.
Najeeb Kunil, CEO, PPZ Mall Development and Management Services Co (Vega City malls), said that they saw footfall of 4,500 and that most shoppers checked out the fashion section, home decor, cosmetics, electronic and hypermarket.