Drugs, online crimes & traffic: Bengalureans pour out woes at meet | Bengaluru News – Times of India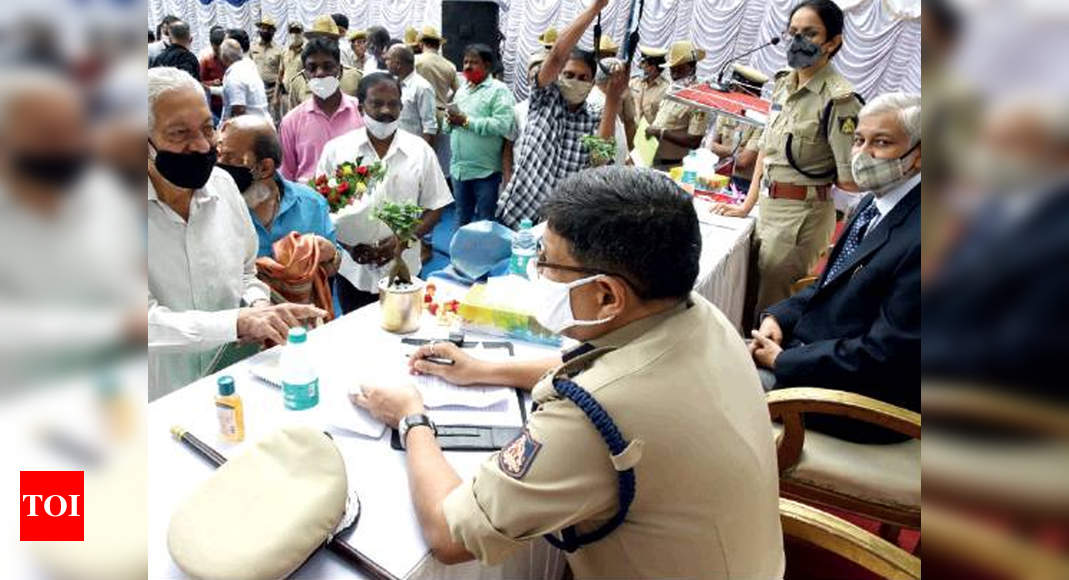 BENGALURU: The first Maasika Janasamparka Divasa (Monthly Public Contact Day) organised by the city police on Saturday received tremendous response with citizens overcoming pandemic fears and visiting police stations to highlight various problems faced by them.
From drug menace to dangerous riding and increasing cyber crimes to lack of CCTV cameras at public places, citizens aired their complaints to police commissioner Kamal Pant and senior police officers at police stations between 11am and 1pm.
Here's an areawise list handed over to senior cops.
Bengaluru East — Drug menace
The major problem nagging the area is drug peddling. So much so that a few parents pleaded with police: Please end the drug menace and save the next generation. Several pockets in Hennur, Pulakeshinagar, Banasawadi and Outer Ring Road have become points of sale for drugs and students and foreigners were peddling thems to make quick money, they said. Citizens wanted increased patrolling and police visibility in these areas. Police were told to arrange counselling sessions for youngsters caught consuming drugs instead of booking cases and packing them off to jails. They also requested for intense crackdown on drug suppliers.
West division — Wheeling issue
Residents coming under different police stations in western part of the city complained about wheeling and dangerous bike stunts performed on the roads. A few residents from Nagarabavi and Vijayanagar said there some groups regularly performed such stunts on Outer Ring Road and roads connecting to the Jnanabharati campus from Kengeri. There are tea stalls that remain open through the night and are meeting points for biker groups, residents said. They urged cops to crack down on such groups which put other motorists at risk.
Bengaluru South — Cops and
traffic
Participants asked senior cops why some police officials were continuing in the same police station for many years. Some suggested that new police points (where Hoysala vehicles will be parked for some hours) should be set up. Also, traffic snarls on the Mysuru Road stretch between Chamarajpet and Kengeri were discussed. Senior cops said they'll bring the matter to the notice of their traffic counterparts. Residents of South East division talked about vehicle parking on pavements and vendors encroaching pavements near Koramangala, BTM Layout and Madiwala.
Bengaluru North — Abandoned vehicles
City police commissioner Kamal Pant met people at Malleswaram police station and participants asked him who should clear abandoned vehicles in the area. Pant said: "We discussed it with BBMP commissioner on Thursday. The issue will be attended to soon," he said. A few senior citizens sought an alternative for reaching police station while reporting cyber crimes. "We don't have that much knowledge about yber crimes. When we approach local police, they direct us to contact the cyber crime station," they said.
Bengaluru Central — Construction chaos
Residents from upscale areas in Ashoknagar, Cubbon Park, Lavelle Road and Richmond Town and adjoining localities told cops they are fed up with construction work that goes on till late in the night. "The work at night may not be major ones. But movement of earthmovers, cutting of materials, welding iron rods and loud talking by workers are enough to disturb us. The matter is worse when comes to high-rise constructions," they said. Residents also complained about bikeborne youths roaming around at night in and around MG Road, Brigade Road, Race Course Road, Seshadripuram and nearby areas. "Police patrol at nights. But these youths vanish on seeing police vehicles and reappear later," they said.
First mooted in 2009
Maasika Janasamparka Divasa was first mooted in 2009 when Ajai Kumar Singh was director general and inspector general of police in a bid to increase public confidence in police. He was roped in on Saturday to formally inaugurate the programme at Pulakeshinagar police station in the presence of police commissioner Kamal Pant.
Singh told cops: "Policing is not an easy job. While 90 per cent cases are attended, remaining 10 per cent go unattended for many reasons. A policeman must bear in mind that he is a public servant and does his work."
Whitefield — CCTVs please
The major issues pointed out by residents of Whitefield-KR Puram areas pertained to bike-related offences. While some complained that more bikes were stolen from their localities, others pointed out to the excess fare being charged by autorickshaw drivers. Residents of Whitefield urged police to install more CCTV cameras and increase surveillance. Representatives from Resident Welfare Associations sought police help in setting up high resolution cameras in and around their premises. "We'll purchasing these cameras soon. We want to connect them to our jurisdictional police stations," they said.