Drug Racket Busted: Karnataka: Bengaluru police bust major drug racket, seize 1.3 tonnes of ganja in Kalaburagi | Hubballi News – Times of India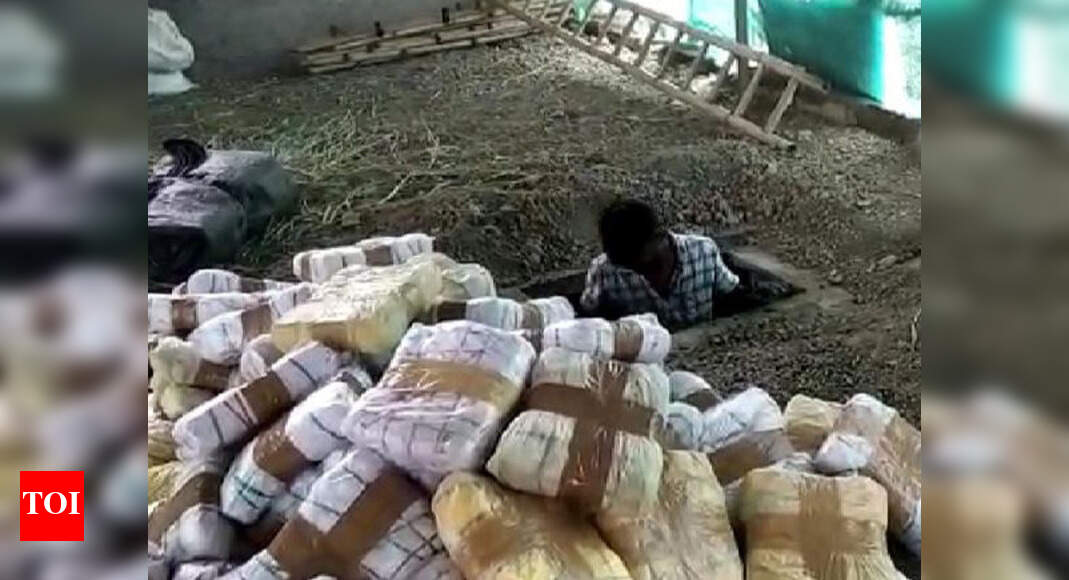 KALABURAGI: In a major crackdown on cannabis since the sandalwood drug racket controversy panned out, the Bengaluru police seized 1,350 kgs of cannabis in two separate raids at Kalaburagi district in north Karnataka.
The raids were conducted on September 8 on the information provided by accused drug paddlers Siddunatha Lavate (22), Chandrakant (34) and Naganath (39). The first raid was carried out at a village in Kamalapura hobli near National Highway 50, while the second raid was held at a sheep farm Laccha Nayaka Tanda (hamlet) in Kalagi taluk. The police seized 150 kgs and 1,200 kgs respectively.
Siddunatha Lavate was arrested on September 6 at Madanayakana Halli in Bengaluru who later led the police to Chandrakant and Naganath who revealed incriminating details about the farmhouse. The latter duo were arrested at Madagud toll in Kalaburagi on the day of raid. The raids were conducted on the direction of Bengaluru West additional commissioner of police Soumendu Mukherjee.
At Laccha Nayakana Tanda the police during the search found nothing in the sprawling sheep farm. However, later when they grilled Chandrakant he directed them to a secret underground place where a huge number of packets filled with ganja was stashed. Upon inquiry it was found that ganja was grown in Odisha and was supplied by the racketeers to Telangana State. From Telangana, Chandrakant and Naganath in the guise of transporting vegetables were smuggling large quantities of weed on Eicher trucks hiding under the veggies. Through the Telangana-Karnataka border they were carrying marrijuana to the sheep farm where it was stashed underground, according to the press note released by the police department.
The farmer and political leaders in Kalaburagi say the seizure is not at all shocking news to them. Maruti Manpade, a farmer leader from Kalaburagi, said this is just a tip of the iceberg and now the police have only managed to seize ganja procured from Odisha.
"But in actuality ganja is grown in tons in Afzalpur and Chincholi taluks. This has been going on for several decades and twice we have helped police to nab the growers."
Maruti Manpade said in the tandas people cultivate this crop and they are well protected by the politicians of this region, earlier by the Congress and now by the BJP. The police have to do more leg work to reach till political bosses of these growers and peddlers.
Chittapur MLA and former minister Priyank M Kharge talking to ToI said Kalaburagi is a transit point for Maharashtra, Telangana and Andhra Pradesh and even for a port at Vizag. Hence smuggling of ganja and other drugs happen through this district. He points out that in the span of a year leaders in power have granted permission for many recreational clubs which are set up by people from Andhra Pradesh and Telangana. These clubs are known to nurture durg racketeers and the state has to come down heavily on these to open the pandora box.
CRACKDOWN ONLY ON GANJA, NOT ON OTHER DRUGS IN NK
In Raichur, Ballari, Belagavi, Haveri, Kalaburagi, Bidar and other districts of north Karnataka police are only cracking down on ganja and appear to have turned a blind eye to costlier synthetic drugs like LSD and MDMA. The sources in the police department in Raichur say that synthetic drugs are supplied to college students especially for medical and engineering in the district. But bursting this would bring out the names of reputed colleges which are run by political leaders. A source in Belagavi revealed that LSD is supplied to Belagavi from Goa and some medical students travel to Goa to pick up, even as some peddle in the district. "It is not as easy as ganja to crack down on as people from reputed families are involved in the racket too," the source said.
With Moueshwar Sonnad