dr srinivas: Bengaluru doctor cycles around Karnataka in 119 hours | Bengaluru News – Times of India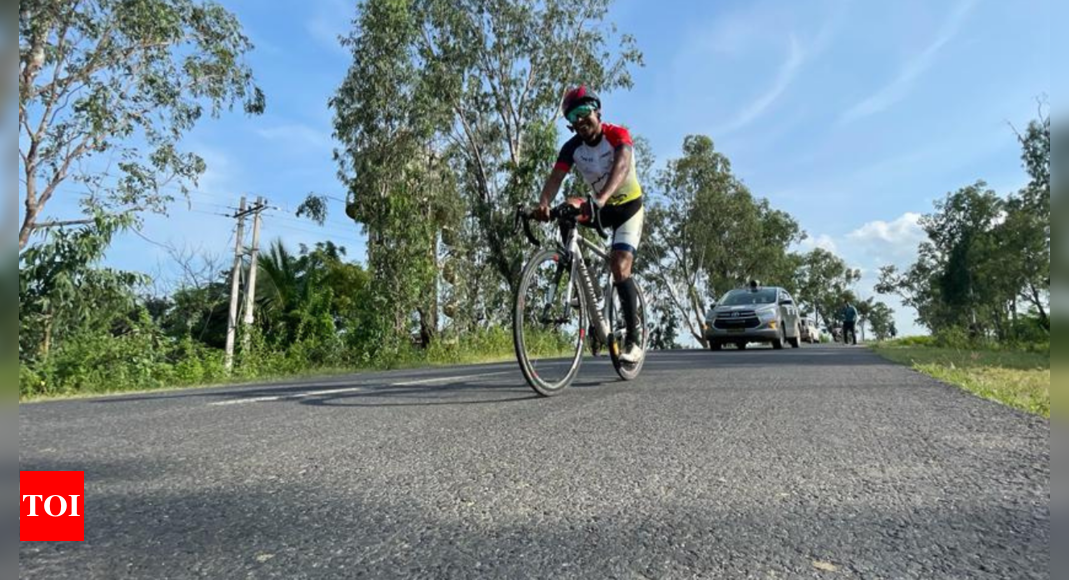 BENGALURU: Heavy rain at the 6am flag-off at Vidhana Soudha on October 8 indicated to ultra-cyclist Dr Srinivas Gokulnath what was in store during the Race Around Karnataka (RAKA) that he was embarking on.
But by the time he returned to Vidhana Soudha at 5.13am on October 13 — cycling across the state — he knew the downpour was only one of the many challenges en route.
Under Race Around Karnataka, Dr Srinivas covered the 2,240km periphery of Karnataka in the shortest time – he took 119 hours and 13 minutes to ride through the tough but scenic route: Mulbagal-Chikkaballapura-Madhugiri-Sira-Chitradurga-Kudligi-Sandur-Ballari-Raichur-Yadgir-Bidar-Kalaburagi-Vijayapura-Jamakhandi-Belagavi-Joida-Karwar-Honnavar-Kundapur-Udupi-Mangaluru-Madikeri-Mysuru-Mandya-Bengaluru. During the four day-23 hour-13minute trip, he slept only for seven hours to clock an average speed of 18.8kmph.
The ride, Dr Srinivas said, was to explore the home state and curate a route so it becomes an annual race for ultra-cyclists from India and abroad. The pandemic prompted him and his 10-member crew to curate the route. Of late, Dr Srinivas had not been able to race abroad — his annual fix — because of travel restrictions. So Team Srini decided to replicate here events like Race Across America (RAAM) and RAA (Race Around Austria).
"When Austria with a 2,200km periphery can do it, why not Karnataka?" we asked ourselves and the result was Race Around Karnataka," said Dr Srinivas, who is into medical services of the armed forces, currently posted in Assam.
Troubles and bliss
Besides the downpour, 30% of the 2,240km-stretch was bad, particularly in the Kalyana Karnataka region. There were also steep stretches between Ballari and Raichur, Mangaluru and Madikeri. The total elevation gain was 15,800m.
"Cycling groups from Bengaluru, Kalaburagi, Jamakhandi, Madikeri and Bidar cheered me even when I reached the places in the middle of the night," he said. While the doctors' fraternity felicitated him in Mangaluru, coastal police created a green corridor for his smooth passage on October 10.
Race Around Karnataka was a perfect homecoming for Dr Srinivas after RAAM and RAA. "North Karnataka offered breathtaking views of meadows and agriculture fields, while in Kodagu it was mountains. It's blissful to soak in the beauty of rivers Krishna, Bheema and Cauvery," he said.
Endurance cyclists Monish Calappa and Rajkumar Koth officiated the race for World Ultra-Cycling Association. Once certified, Team Srini will make Race Around Karnataka the state race from 2022.