Despite tax cuts, petrol still hovers over Rs 100/litre in Karnataka | Bengaluru News – Times of India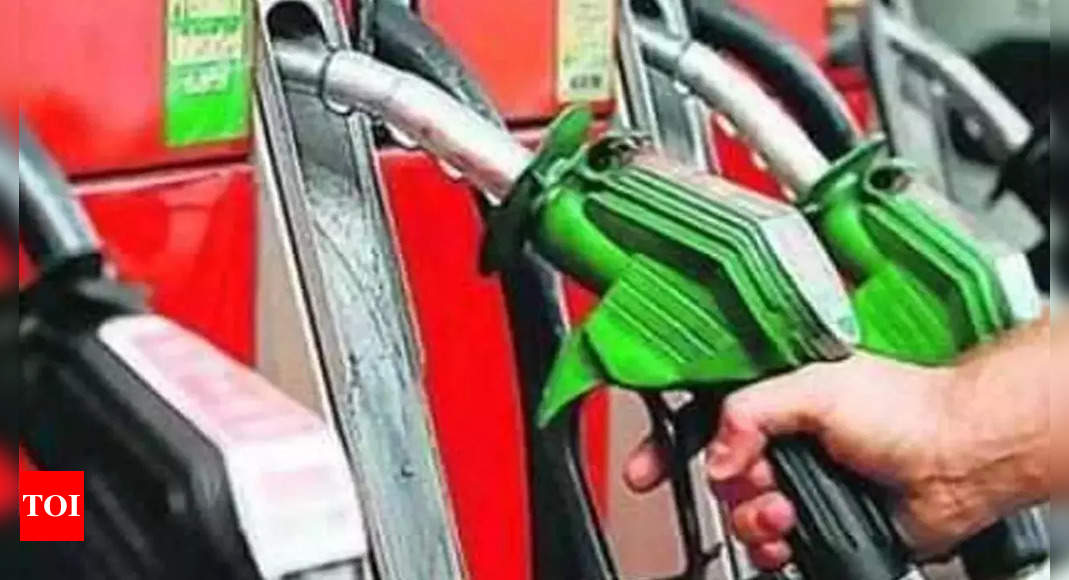 BENGALURU: Despite a substantial cut in tax by both Centre and state on petrol and diesel prices, petrol in Karnataka continues to hover at over Rs 100 per litre.
As per the state government's notification on Thursday, petrol price has reduced from Rs 114 on November 3 to Rs 101 (reduction of Rs 13.30) while diesel price has reduced from Rs 104 on November 3 to Rs 85 (reduction of Rs 19.40).
Karnataka chief minister Basavaraj Bommai on Wednesday, while announcing reduction in prices of both fuels by Rs 7 more, said the prices of petrol and diesel will be Rs 95.50 and Rs 81.50 per litre in Karnataka.
This was because prices were calculated on the old base price which is linked to fluctuating crude oil prices in the international market as well as the dollar rate fluctuation.
"The difference is because the break-up calculated yesterday (Wednesday) was on the base price on October 20 as oil market companies had not given the latest figures. In the past 13 days, there was an upward revision – Rs 4.39 on petrol and Rs 4.09 on diesel – in base prices. Petrol base price increased by 40paise yesterday," said a finance department official.
Tax cut to boost consumption, revive economy, says FKCCI
On Wednesday, the Centre reduced duty by Rs 5 and Rs 10 respectively on petrol and diesel while the state on Thursday notified a reduction of Karnataka Sales Tax (KST) to 25.92% from 35% earlier on petrol and 14.34% from 24% on diesel.
Bommai in Hubballi said the government had been contemplating reducing prices ever since fuel prices crossed the Rs 100 mark and it may cause an estimated loss of Rs 2,100 crore to the state's exchequer. The bigger concern is that sales tax will continue to increase with increase of base prices since sales tax structure is ad valorem tax (imposed on monetary value of product) unlike central excise duty, which is constant irrespective of fluctuation of base price. "Since upward trend of crude oil prices is expected to continue, base prices will increase, and retail prices will correspondingly increase. At this rate, the effect of KST reduction is expected to be neutralised in 20 days," said KM Basave Gowda, president, Akhila Karnataka Petroleum Dealers Association. M Govid Rao, economist and former director of National Institute of Public Finance and Policy, said: "Specific rates of state sales tax on the lines of central excise duty seems to be the solution. States have to agree and the Centre must build consensus."
"There's merit in the argument that KST should be made a constant after due deliberation at the ministerial level," said commercial taxes commissioner C Shikha.
"The tax reduction by both Centre and state has given much-needed relief. It may boost consumption and help revive the economy after the Covid-induced lull,"said BT Manohar, state taxation chairman, FKCCI.