Day 1 Sees Empty Roads, Lots Of Cops | Bengaluru News – Times of India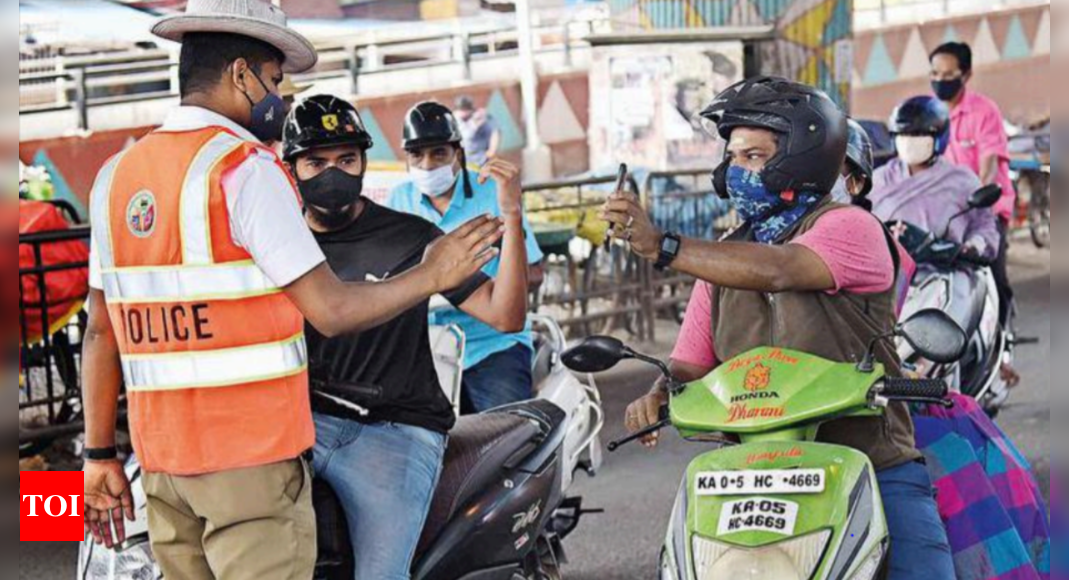 BENGALURU: The city on Saturday wore a deserted look as the weekend curfew kicked in. While people mostly stayed indoors and traffic remained thin compared to normal weekends, cops and BBMP marshals dotted the streets. The first half of the day saw some traffic on the otherwise deserted stretches, which too gradually declined towards evening.
Cops and marshals were seen manning checkpoints, nearly 300 of them, and flagging down almost all passing vehicles. However, ambulances, BMTC buses, private cars ferrying women and senior citizens were not stopped.
"Everyone claimed to be in hurry and said they had come out for medical purpose or to buy essentials. While some were genuine cases, some were lying. We have seized vehicles of people who didn't have a valid reason to step out," said police.
At many places, commuters were seen arguing with cops and marshals.A motorist heading to his workplace made the excuse of having to buy vegetables and got into an argument with police near satellite bus station, Mysuru Road.
Vijayamma, a vegetable vendor in KR Market, said the curfew hit her hard as there was no transport facility. "They (government) have given us permission to sell vegetables and fruits, but little did they think about our commute," Vijaymma told STOI.
Ramappa Kumar, an auto driver in Gandhi Bazaar, said: "Educated people flout rules, but we suffer. With two lockdowns, my family is badly affected. My children have stopped going to school…," said Kumar. "Weekends are when we get most customers," he added.
While grocery stores saw little to no footfall, Iqbal Khan, a store manager in Rajarajeshwari Nagar, said people are wary of stepping out due to the presence of cops. "On Friday evening, there was a mad rush at my store and people waited in queues to pick up groceries. But today (Saturday) I have had only three customers between 9am-5pm," added Khan.
Belagavi cops imposed curbs two hrs sooner
In a goof up, Belagavi police shut shops two hours prior to start of weekend curfew on Friday, causing inconvenience. However, around 9.30pm, police commissioner MB Boralingaiah clarified the curfew starts at 10pm. The confusion stemmed from a factual error in the state guidelines.