dasara: Countdown to Dasara begins as jumbos arrive in Mysuru | Mysuru News – Times of India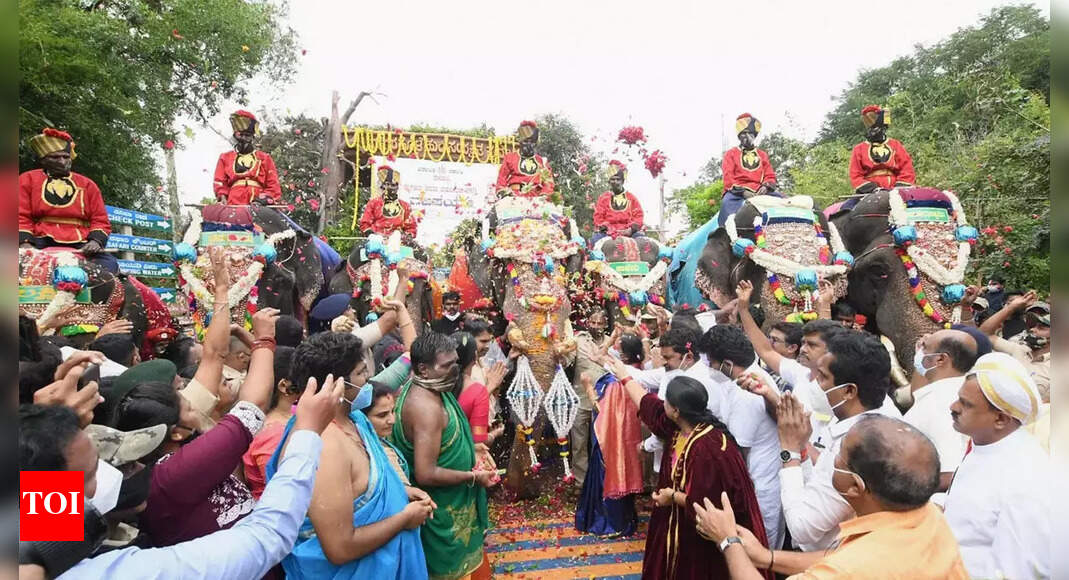 MYSURU: Eight Dasara jumbos were extended a traditional welcome at Veeranahosahalli, located on the fringes of Nagarahole Tiger Reserve in Hunsur taluk in Mysuru district on Monday.
Following Covid-19 for the past two years, Gajapayana, the ceremonial march of elephants from the forests to Mysuru, ahead of their participation in Dasara has been held in a simple but traditional manner.
The Dasara elephants – Gopalaswamy, Cauvery, Lakshmi, Dhananjaya, Chaitra, Vikrama and Ashwathama led by mighty tusker Abhimanyu, who will be carrying the Golden Howdah for the second time, were extended a traditional reception at Veeranahosahalli during Thula lagna at 9.50am.
Mysuru mayor Sunanda Palanetra, MP Pratap Simha and Hunsur MLA HP Manjunath flagged off the journey of elephants from the woods by lighting lamps and showering flowers on the pachyderms. MLA Manjunath distributed new dresses to mahouts and kavadis. Around 45 members, including eight mahouts, eight kavadis, helpers and special care takers accompanied the elephants. Veterinarian Ramesh will monitor the health of the elephants during their stay in Mysuru.
Later, the elephants were ferried in trucks to Mysuru. Around 2.30pm, the elephants reached Aranya Bhavan where they will stay till Wednesday (September 15).
On Thursday, the elephants will be traditionally welcomed at the Mysuru Palace. The elephants will be made to get accustomed to urban environment and will also be given training and rehearse for the Dasara procession, which is scheduled on October 16. They will be trained in their Dasara duties inside the palace premises given that the Jamboree is restricted to the palace premises owing to the pandemic.
DCF (Mysuru wildlife) V Karikalan said, "On September 16, the elephants will be shifted to Mysuru Palace premises. All the eight elephants are found healthy during the medical check-up conducted regularly from the past few days. The mahouts and kavadis are insured."
Karikalan said that tusker Ashwathama which was captured at Sakleshpura range in Hassan district in 2017 will be participating in Dasara for the first time.
"The elephant will be trained to participate regularly in the coming Dasara festivities. While the mahouts and kavadis have been vaccinated with the first dose, those who have not got the second dose will be administered at Mysuru Palace premises," he said.