culture: Karnataka: Lakhs sing Nadageethe, vow to preserve Kannada culture | Bengaluru News – Times of India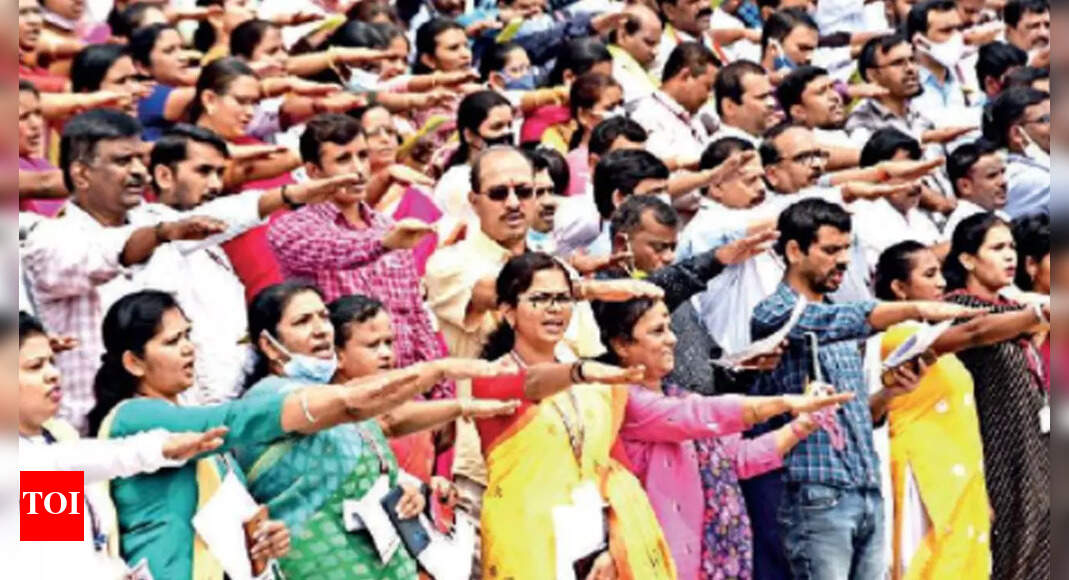 BENGALURU: Nadageethe, the state anthem and three other Kannada songs rent the air as 16 lakh people rendered them simultaneously at thousands of places across Karnataka on Thursday morning under a unique initiative, called Kannadakkagi Navu.
The initiative was organised by the state government. Over 1,000 people including musicians and singers gathered on the premises of the Vidhana Soudha in Bengaluru to sing the state anthem followed by Barisu Kannada Dindimava, written by late Jnanpith laureate Kuvempu, Jogada Siri Belakinalli, by the poet (late) Nissar Ahmed, and Huttidare Kannada Naadalli Huttabeku, written by noted lyricist Hamsalekha.
The main programme started at 11 am and ended at 11.30 am. Singers and musicians also sang Hachchevu Kannadada Deepa, written by DS Karki, Vishva Vinuthana Vidya Chethana, written by Chennaveera Kanavi and other Kannada songs till noon. Among the participants at Vidhana Soudha were Kannada and culture minister V Sunil Kumar, chief secretary P Ravi Kumar, chief minister's secretary Manjunath Prasad, IAS, IPS, IFS and KAS officers and employees of the Vidhana Soudha.
"A total of 16 lakh people sang the Nadageethe and the three songs across the state in the programmes organised by the government," director of Kannada and Culture department S Rangappa said.
According to official data, the event was held at 628 centres in the state's 31 districts.
The programme also saw participants take an oath that they will use Kannada in their daily-life activities, teach the language to non-Kannadigas and commit themselves to work for preserving Kannada land, language, culture and heritage.
Karnataka Border Development Authority chairman C Somashekar told TOI, "It is a unique programme which creates awareness among the people of Karnataka about their language and culture and helps to build a harmonious society even with non-Kannada speaking people."
Veteran vocalist Kikkeri Krishnamurthy told TOI, "It is a very unique programme which will help to create unity among the people of Karnataka, irrespective of their region and religion."
Krishnamurthy had trained officers and employees of Vidhana Soudha for the past week for the event.
Ravindra Kalakshetra and Jnanajyoti Auditorium were among several places that saw the song renditions.
In Tumakuru, over 8,000 students and teachers of Siddaganga Mutt participated in the Kannadakkagi Navu programme. In Chikkaballapura district, deputy commissioner R Latha administered an oath to hundreds of students, officers and activists of pro-Kannada organisations to speak and use Kannada in their daily life at an event held at Bhoga Nandishwara temple at the foot of the Nandi Hills.