Covid castaways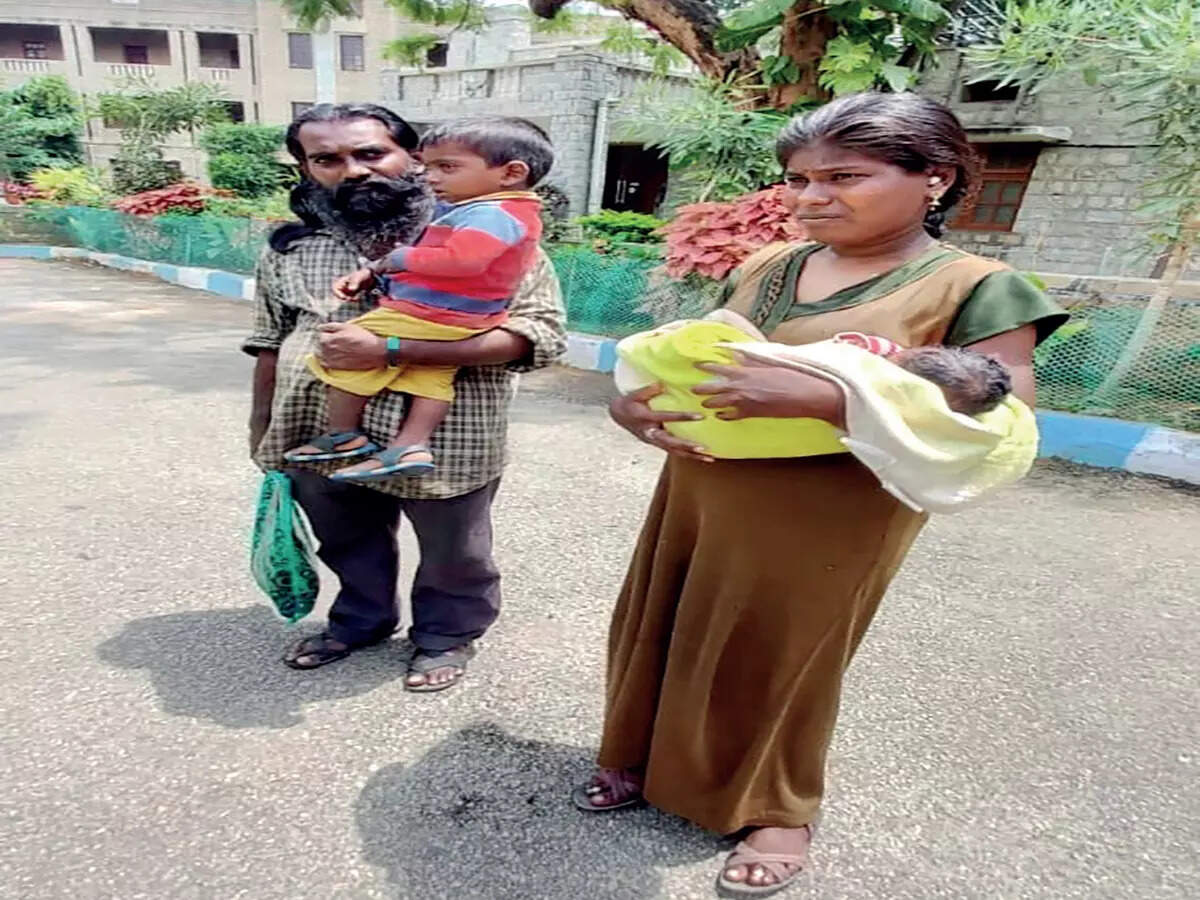 Homeless couple evicted from rented shed; woman gives birth in government school

In the aftermath of covid-19, many lost jobs and were left homeless in Bengaluru. The story of Remi and his wife Sophia, both in their early thirties, for instance.
Sophia
was expecting and went into labour after the couple was mercilessly thrown out of their rented shed in Lingarajapuram, along with their two-and-a-half-year-old son
The reason: they couldn't pay the rent for a few months.
Remi's and Sophia's story echoes thousands of such tales of penury — of individuals employed in the unorganised sector now badly hit due to lockdowns and such restrictions.



Remi worked as an electrician pre-covid. As he couldn't find employment since March last year, he had been taking up small daily wage jobs with great difficulty.
He had not paid the rent for a few months and after adjusting the rent with the advance amount, he was evicted last week from the shed the family was living in.
The couple, after leaving the house, roamed around the area in an attempt to find shelter. They slept in bus shelters and temples while it rained. On Thursday, Sophia started to experience labour pain. Naturally, the couple could not afford a hospital.
Sophia gave birth to her premature baby in a government school in Lingarajapuram, and has been struggling since to take care of the newborn.
"On Monday morning, I received a call for help. We immediately brought them to our office in Jayamahal. They had not eaten or changed clothes in so many days. We arranged food and clothing. Their son was not well and kept coughing. We took him to the hospital and gave him medicines. Now, we have sent them to a temporary shelter in Summanahalli. As we do not have family shelters, we are planning to help them rent a house and Remi find a job," Sampath TD, convener of Impact India Consortium, which handles BBMP shelter houses along with the Azim Premji Foundation told Bangalore Mirror.
According to Sampath, currently there are 14 shelters managed by the BBMP. More are required as there are over 5,000 homeless individuals in the city, according to the survey (latest) done two years ago.
"We do not have enough shelters to accommodate the urban homeless. Due to the pandemic, the majority of them from the unorganised sector are becoming homeless, while some are returning to their hometown. Many are sleeping on the footpaths along with their family, including children," Sampath revealed.
Ramachandrappa HT, Project Manager of Impact India Consortium, said that they did a night survey in the city last Tuesday between 9:30 pm and 2:00 am when they identified 1,500 homeless — over 300 were found in Majestic bus station alone.
"Most of them are from the unorganised sector and have no shelter. Many would have come to the city in search of work and would be sleeping on the road. Many families affected financially with no work had also lost shelter. During the first wave, we helped over 4,000 people to return home as they had lost jobs as well as accommodation. We are conducting more surveys to identify the homeless. Majority of the individuals we rescue are, in most cases, very depressed and mentally not sound. We do not have specific shelter houses for such people — for families or transgenders, which are most needed at the moment," Ramachandrappa told Mirror.
BBMP special commissioner (welfare) Raveendra SG further explained: "Based on the population, we require 87 night shelters. The high court had directed to set up 42 night shelters in the next three months. We have 14 night shelters. We are adding 39 shelters. Currently, we have shelters for men and women. In the coming days, we will be opening shelter houses for transgenders, families and the differently abled."