Covid-19: Six Karnataka districts report single-digit cases, 9 zero fatalities | Bengaluru News – Times of India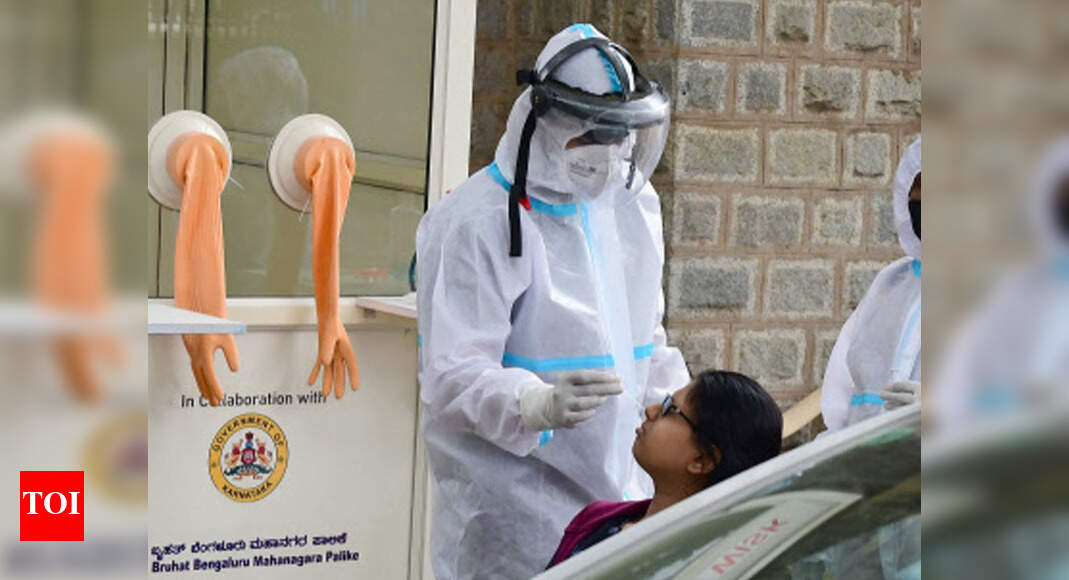 BENGALURU: Six districts in Karnataka reported less than 10 new Covid-19 cases and n 10 had zero deaths on Tuesday, a clear sign that the spread of the virus is in decline. Four districts — Bagalkot, Yadgir, Raichur and Vijayapura — figure among both sets of districts.
Vijayapura reported two positive cases, Yadgir three, Raichur four, Bagalkot five, Bidar six and Gadag seven. These districts, along with Koppal, had reported infections in single digits on Monday as well.
The state reported 2,848 and 3,104 fresh infections on Monday and Tuesday, respectively. Covid fatalities on these two days stood at 67 and 92 respectively.
BBagalk a ot,, Gadag, Kalabu aburagi, Kodagu d , RaKoppal hurUttara , chunnada , , VijKannad y a , and jay Ydgir did d not rgipdidan not rep Covid any deaths on Tuesthe vi while us Bag n Tuesday.alabu Bagalkot, Kalabura d , Cih, ikkar,aChikka, ba Kalapura, Chitoppal, Udupi , , pal,ara Kannada p anKannadir , Vijd repor ap raed zdro Ya deaths gir on rMonrted zero dar had the least day umber .Bid ofhactthe cases aum 27 ber on Tuesday a cases while Yadgir o Tuesday,y 55 people Yadg under a o ltr55tmenleunder treatment.
Dr Indumati Patil, district health officer (DHO), Yadgir, said the administration has been conducting nearly 1,400 tests every day and positive results are sporadic. The district has 17 mobile testing teams which traverse areas of the district every day.
"Testing is no longer a challenge as a system has been put in place and there is awareness among people, even in remote villages. Testing is a concern only in railway stations and bus stands as people are in a hurry. We have not let our guard down," said Dr Patil.
The last Covid fatality in Yadgir was on June 13, when a 75-year-old man with no comorbidities died after eight days of treatment. Yadgir is the only district with 0% fatality rate in the past seven days, as per state Covid war room data.
In Bagalkot district, 2,600 tests are being conducted daily, and the positivity rate is less than 0.5%, said Dr AN Desai, DHO. "When the positivity rate is low, fatalities also drop. We are seeing one death in a day at the most. There are not more than 10-20 cases that are oxygen dependent. The burden on the healthcare system has reduced," said Dr Desai.
Well above target
Bidar has a testing target of 1,400, but it conducts 2,500 every day. "Targeted testing, which includes people with symptoms and contacts of infected people, comprise 50%. The rest are random tests. We have been able to keep Covid at bay," said Dr VG Reddy, Bidar DHO.
The burden on the healthcare system has reduced in these districts, say health department officials. "With the lockdown lifted, interstate and inter-district travel has resumed and the focus has been on testing. In districts with low infections, the focus is more on vaccinations," said a senior health officer.
As per the State Covid war room data, as on July 4, Yadgir and Bidar have the least Covid test positivity rate at 0.2%. Karnataka's average positivity rate in the last seven days has been 1.8%.
However, vaccination coverage in Yadgir is a mere 30% and 45% in Bidar so far, health officials say. Out of a total population of 13.4 lakh above the age of 18 years, more than 6 lakh people have taken at least one dose of the vaccine in Bagalkot. "Not just hesitation, but resistance towards vaccination is more among minority communities," said Dr Reddy.