congress: Karnataka Congress counting on new unity to challenge BJP | Bengaluru News – Times of India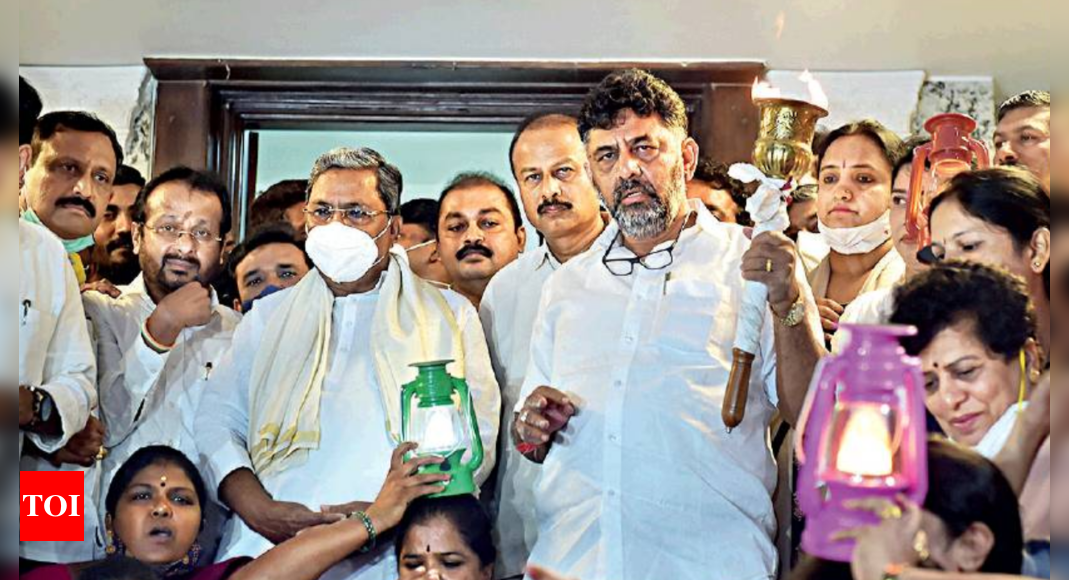 BENGALURU: With the infighting in Karnataka Congress dying down, party functionaries are approaching the bypolls in the Sindgi (Vijayapura) and Hangal (Haveri) assembly segments with greater vigour. The discomfiture in BJP over issues such as price rise and change of guard is making them more confident.
"People are yearning for change in the state and the upcoming bypolls will possibly give an indication to this effect," said KPCC working president Saleem Ahmed. The elections are slated for October 30.
But Congress has said the same thing before every election in the past two years. Each time, the outcome was not in its favour. And it won't be easy this year either: the Sindgi and Hangal constituencies are dominated by the Lingayat community, which tends to back BJP.
Despite challenges, the saffron camp is unlikely to leave anything to chance. It has already activated its well-oiled election machinery and blood-level management and may rely on the development plank again. "Hangal has been our constituency, whereas Sindgi was a JD(S) fort. We are 100 per cent sure of winning both the seats, largely because ours is a disciplined party that has its cadre from booth level to the national level," said chief minister Basavaraj Bommai.
Congress still suffers from a lack of solid organisation at the ground. It is also said that there are more senior functionaries than workers in the party. There was a major factional tussle for prominence in the party earlier, but there seems to be some consensus between DK Shivakumar and Siddaramaiah now. Congress is also getting some traction among people. Much, however, will depend on caste equations and how many Lingayat votes the grand old party can swing in its favour.
"These two bypolls are critical for BJP as they are in north Karnataka. This is in and around the electoral base of Bommai, who is facing bypolls for the first time after becoming the chief minister. It will be a test of his leadership and capacity to get the party cadres galvanised," said political analyst Sandeep Shashtri.
He believes Congress also needs to make an impact to gain some momentum before the 2023 state elections. "The Congress unity will be tested in the October 30 bypolls," he added.
Congress insiders say there is already a race to help supporters of Shivakumar and Siddaramaiah get the tickets. "We did well in the Belagavi Lok Sabha and Maski bypolls held in May mainly because we fielded the right candidates," said a senior party functionary from Vijayapura.
Can the Shivaumar-Siddaramaiah combo get the selection right and upset Bommai and BJP's plans? The question will be answered on November 2.