BS Yediyurappa urges MPs to pursue Karnataka's causes | Bengaluru News – Times of India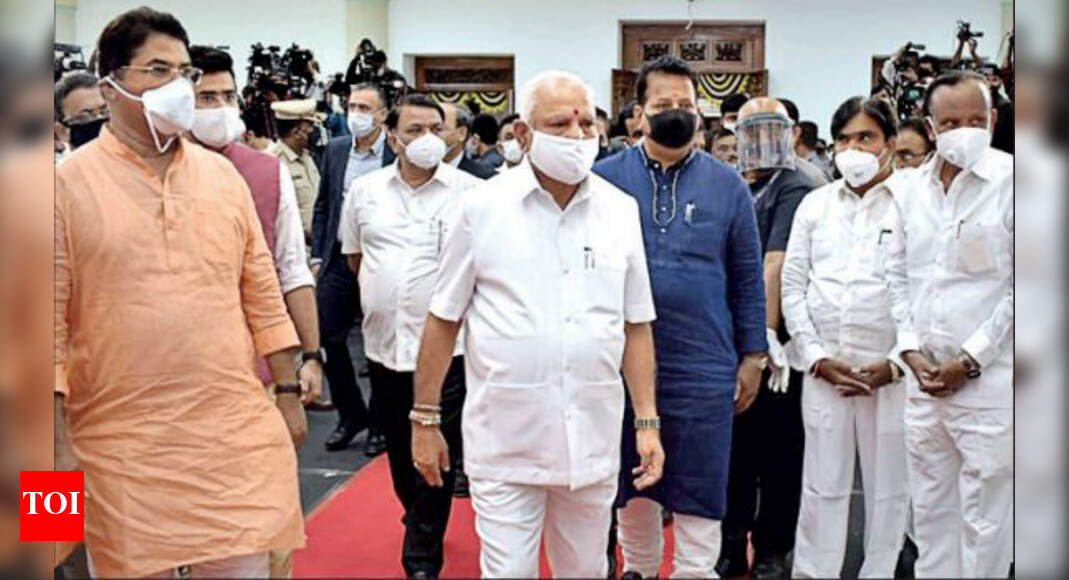 BENGALURU: Chief minister BS Yediyurappa had called a meeting of MPs from Karnataka on Friday, but many couldn't attend it because the invite was reportedly a bit last minute.
There are 29 BJP members from the state in Parliament. Fifteen BJP MPs, including some Rajya Sabha members, were present at the gathering, where Yediyurappa urged them to help Karnataka get more sops and funds in the Union Budget 2021-22.
He said that there was a need to create synergy between MPs and the state government, so Karnataka could get more assistance and projects. "Yediyurappa urged the MPs to lobby for Karnataka with greater emphasis on the projects that need clearances from the Centre. He told them that it was impractical for the chief minister or other cabinet members to visit Delhi with requests each time," said an official in the Chief Minister's Office (CMO).
Some MPs who attended the meeting said that it was normal for the chief minister to discuss issues with Lok Sabha members before the Parliament session. Such sessions are held every quarter or once in six months.
Some BJP functionaries claimed that by calling MPs on Friday, Yediyurappa had planned to put pressure on the Centre over the issue of including Lingayats in the Other Backward Classes. He changed the agenda after Union home minister Amit Shah's prod.
BOX:
Cabinet expansion in 2-3 days: BSY
Chief minister BS Yediyurappa on Friday extended the deadline for cabinet expansion, saying the process would be carried out in two to three days. "I have discussed the issue with Amit Shah. The final list of candidates will be ready in two days. After that, an announcement will be made," he said.
During a visit to Mysuru earlier this week, Yediyurappa had said that he would expand his cabinet in two to three days. This is the fourth time he has revised the deadline since the last cabinet exercise in February.