Bonding in lockdown, work from home dads redefine parenting | Bengaluru News – Times of India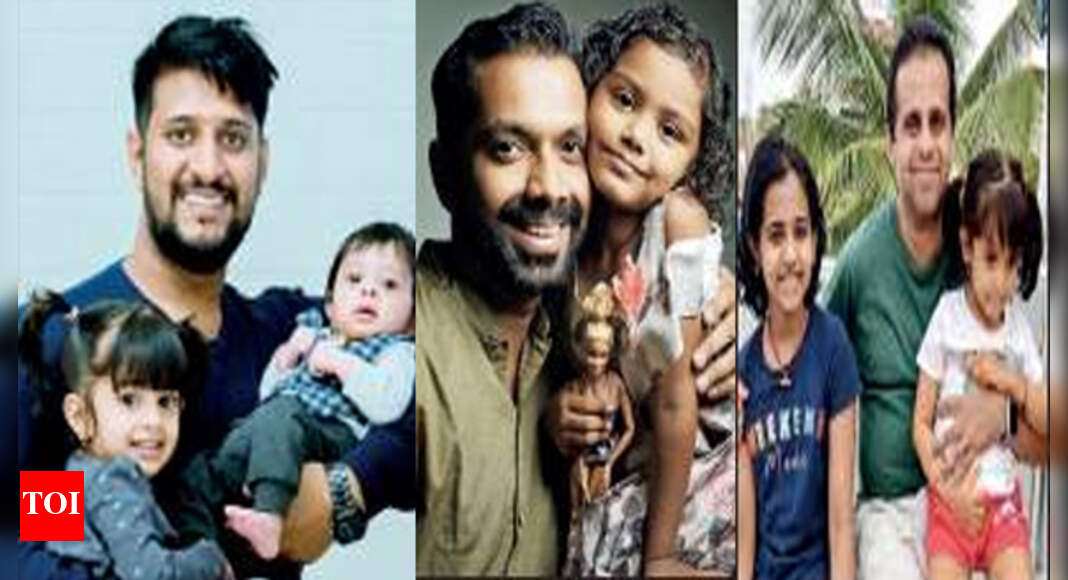 Yogesh is on a Zoom call but is simultaneously patting his 2-month-old baby to sleep on his lap. This is now a part of his afternoon routine. The businessman has his hands full with three kids — Thanishka, 4, Gaurang, 2, and the little one. "I missed out on several milestones of my first kids because of hectic work. But now, thanks to Covid, I can savour every bit of the growing years of my youngest daughter. A few days ago, I saw her smile for the first time. It's a beautiful feeling," he says. He is now a full-time dad and a part-time housekeeper too. "We narrate rhymes together. I can also help my wife," he adds.
The pandemic-induced work from home has made fatherhood more visible than ever before. Meetings are scheduled around kids' nap time and Zoom calls usually begin with disclaimers about toddlers crying in the background. The wall between work life and family life has crumbled. Most fathers are excited to be part of childcare, which otherwise falls mainly on mothers.
Vlogging and memories
Photographer Nishant Ratnakar has always shared a special bond with his six-year-old daughter – Ruhani Swapna Nishant. When the lockdown began, his work assignments grew thin and his 'dada-duty' became more intense.
Ruhani was initiated to vlogging last year. Nishant created a YouTube page, Ruh O'Clock, which has videos of Ruhani tying a ponytail on her father's hair, helping him with a hairband, introducing dolls, or just talking about her day. Nishant is also documenting their journey – pre-Covid, lockdown and now – through his Instagram handle called 'Dadagrapher'.
Building toys
At techie Susheel Sandeep's house, superheroes' fight for supremacy has gone up a notch. Susheel, a DC comics fan, is trying to pull his son Aniketana, 5, a Marvel comics fan, towards DC. But, that hasn't stopped Susheel from turning a Frisbee into Captain America's Shield. He has also fashioned HawkEye's Bow from the Bamboo stick while broom handles fixed to newspaperstuffed carton are turned into Mjölnir (Thor's hammer). Susheel is also grateful for the three meals that they all have together.
Appreciating little joys
Teaching kids to appreciate little things is what keeps techie Vasuki Raghavan busy these days. He and his daughters Dyuti, 9, and Urvi, 3, get together on the terrace and listen to music. "I have taught Dyuti sudoku, spell-a-thon and word jumble. I'm teaching Urvi the basics of drawing. Though the work hours are the same, I'm utilising the time otherwise spent in traffic while travelling to work to bond with them," Vasuki adds.
Mys firm offers 21-day paternity leave
Mysuru-based firm, Cycle Pure Agarbathi, has announced 21-day paternity leave for all its employees. The company is launching this policy from June 20. The first beneficiary of the policy is Ravichandran, junior production supervisor. His wife is the first mother in the country to have conceived naturally and delivered a healthy baby after a Simultaneous Pancreas and Kidney Transplant (SPKT).