bommai: Rs 900-crore plan to prevent flooding in North Bengaluru | Bengaluru News – Times of India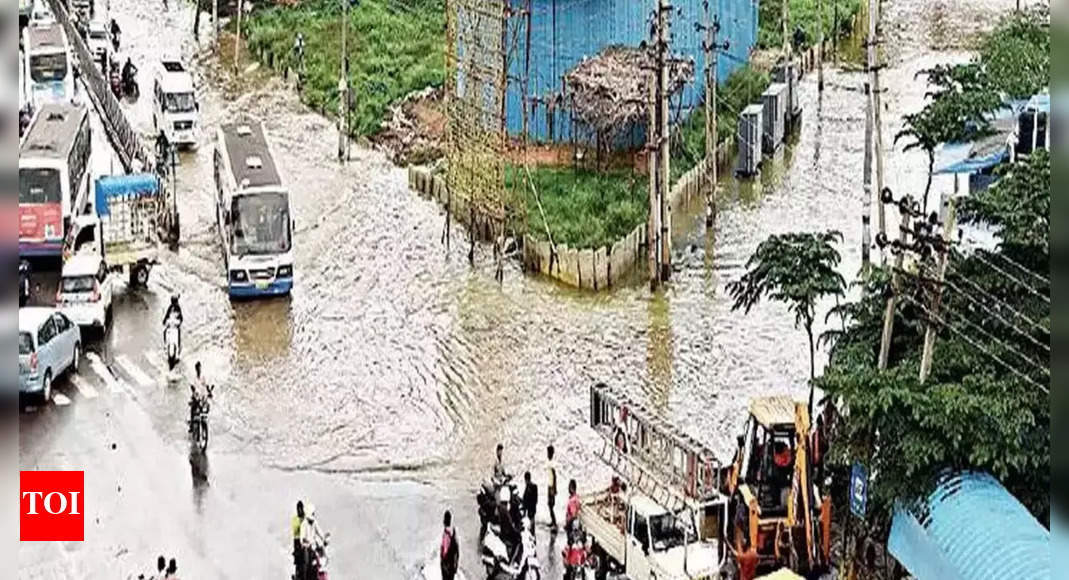 BENGALURU: Chief minister Basavaraj Bommai on Wednesday announced a Rs 900-crore special package to widen rajakaluves (main storm water drains) and build diversion canals to prevent flooding from excessive rain in Bengaluru city.
After meeting BBMP officials and senior officials, he said 87km of primary and secondary storm water drains will be completed in north Bengaluru. Flooding in many parts of Yelahanka and Byatarayanapura assembly constituencies was due to unprecedented rain over a couple of hours and narrow storm water drain network.
"The BBMP officials explained the need for constructing a 51-km primary SWD and a 36-km secondary SWD in north Bengaluru to tackle flooding in low-lying areas. I asked the BBMP chief commissioner to prepare a detailed project report. Preliminary estimates suggest it may cost Rs 900 crore which I'll release once the DPR is ready," said Bommai.
The CM has instructed the Palike to ensure the SWD masterplan is prepared simultaneously and all possible measures are taken to prevent flooding from next year. "The work should be completed before the next monsoon and I've ordered immediate desilting of all SWDs, including tertiary drains, to ensure free flow of water," he said.
BBMP directed to clear 714 illegal constructions on SWDs
Bommai has been informed of 94 critical points in Bengaluru and he said these will be freed of all obstacles.
BBMP has been directed to clear 714 illegal constructions on SWDs in the city at the earliest. "While I told BBMP to give the poor adequate time to relocate with notices served in advance, structures constructed by real estate developers need to be demolished immediately," he said.
The BWSSB has been asked to complete existing drain works as incomplete drains are adding to the flooding.
BBMP has been directed to fill up potholes more than 1 foot in depth and relay stretches of damaged roads more than half a kilometre. "The works are being taken up on priority as soon as rain recedes," the CM said.
Ashoka's absence
Revenue minister R Ashoka's absence at the meeting triggered much speculation. There were reports that he didn't attend the meet since he is miffed at not being given the Bengaluru development portfolio following resentment of city BJP MLAs. At the meeting, Bommai was flanked by IT-BT minister CN Ashwath Narayan, also an aspirant for the portfolio ahead of BBMP polls.
Bommai dismissed the speculation: "Ashoka is the revenue minister and has a vast area to cover, considering the rain has hurt several districts. He informed me before the meeting about a scheduled tour of Hassan and Kodagu districts. There's nothing more to it."