bommai: Picking BJP candidate is voting for Narendra Modi-BS Yediyurappa, says Karnataka CM Basavaraj Bommai at rally | Mysuru News – Times of India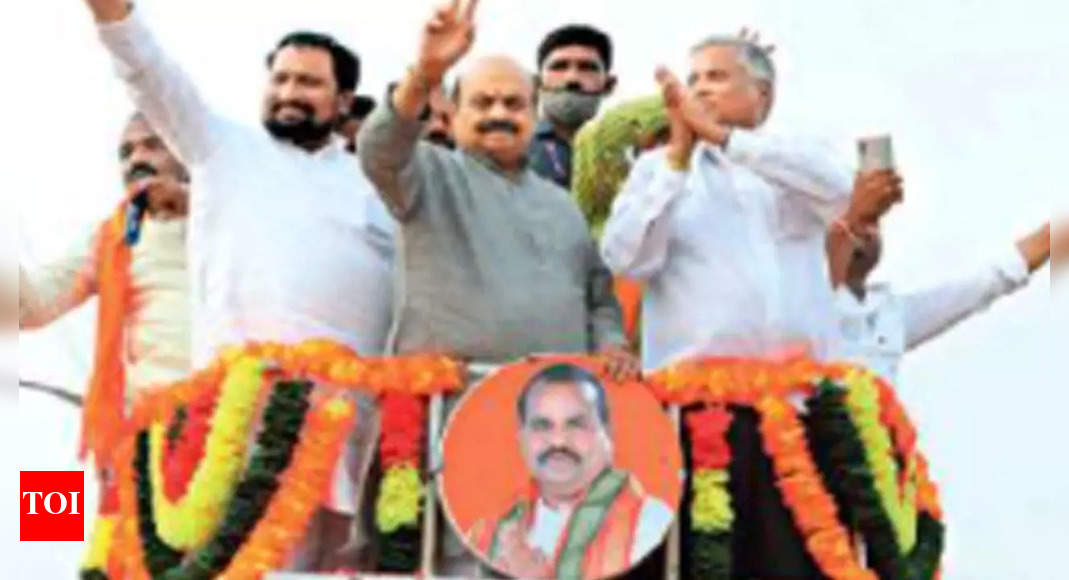 VIJAYAPURA/HAVERI: Sounding the poll bugle in Sindgi, chief minister Basavaraj Bommai on Tuesday said every vote for BJP would be a vote for Prime Minister Narendra Modi and former chief minister BS Yediyurappa.
"When you go to the polling booth and vote for Ramesh Bhusanur (candidate), it will be for two of our tall leaders — PM Modi and BS Yediyurappa," Bommai said at a rally.
Bommai's appeal holds significance since Yediyurappa last month had said the Modi wave alone cannot help the party win elections in Karnataka. "Let us not be under any illusion that we can win all elections by using Modi's name. It may be easy to win Lok Sabha elections, but in the state, we cannot bank only on that. We must reach out to people with development work," Yediyurappa had said.
Bommai went on to attack opposition leader Siddaramaiah yet again while responding to the jibe against him over joining BJP and RSS from the Janata Dal which "spoiled" him. "If he thinks I got spoiled by joining BJP and RSS, let me make it clear that Siddramanna got even more spoiled after joining Congress," he said.
Don't feel I have been sidelined: Yediyurappa
Earlier, in Shivamogga, Yediyurappa dismissed speculations that BJP had ignored him. "It was of my free will that I resigned as CM and am working for the party. Neither PM Modi nor the party has sidelined me. We should be thankful to have such a strong leader in PM Modi to lead the country," he said.
Yediyurappa said he will not be campaigning alone, adding BJP MLAs and MPs will accompany him during road shows and public rallies over the next four days.
At another rally, Congress state president DK Shivakumar went on to raise the issue of police personnel allegedly shedding their uniform in Vijayapura and Kaup police stations to wear saffron scarves and attire on Ayudha Puja day. "People who have taken oath in the name of the Constitution, including the CM, home minister and police brass, are trying to saffronise police stations in the state. This is a scary indication of the future. Those who are supposed to uphold the integrity of the Constitution are demeaning it," he said.
National general secretary and Karnataka in-charge Randeep Singh Surjewala also made his presence felt in Sindgi during the rallies on Tuesday.
JD(S) leader and former CM HD Kumaraswamy, while campaigning for party candidate Nazia Shakila Angadi in Sindgi, alleged Congress was misusing the name of their late MLA and former minister MC Manguli.