bjp: Karnataka bypolls: Cash for votes allegations against BJP by Congress party | Bengaluru News – Times of India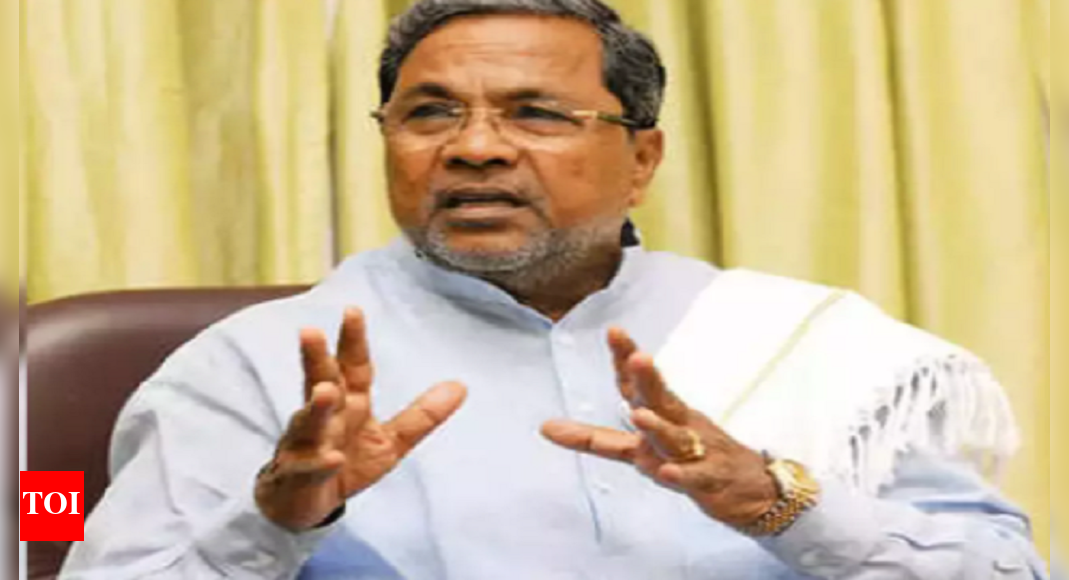 BENGALURU: Former chief minister and opposition leader on Thursday alleged that there is a news which has spread across both bypoll constituencies that the BJP will be paying Rs 2,000 per vote.
Speaking to the media in Bengaluru, Siddaramaiah was quizzed about rumours that the ruling party was likely to spend upwards of Rs 100 crore in the byelections.
To this speculation, Siddaramaiah responded, "To my knowledge there is a news which has been spread across the two assembly segments, of Hangal and Sindgi, that the BJP will be giving Rs 2,000 per vote."
While the opposition leader exuded confidence that the Congress will win both the segments, Siddaramaiah claimed the ruling party was ready to rig the elections.
"Since coming to power, what has the BJP got to show to the voters? Have they managed the Covid-19 situation efficiently? Have they paid the compensation announced for the victims of the pandemic? Have they given flood relief? When they have nothing to show and seek votes, it is but natural that they will use their money power for seeking votes," he claimed.
His claim was reiterated by KPCC president DK Shivakumar at a public rally in Hangal, wherein he created a rally cry of, "BJP notu, Congress ge votu" (BJP notes but Congress to get votes).
Shivakumar went on to allege that as many as 5 to 6 ministers from the BJP government had come to Hangal with bags of money for distributing it to voters anywhere between Rs 2000 to Rs 5000 per vote and had begun distribution in a village called Hebbari.
"What we hear is that the BJP local leaders are taking more money from the share and giving Rs 500 or Rs 1000 per person in the villages. I am not saying do not take their money. Take their money otherwise they will get suspicious. But once you take their money, come on election day and give your vote to the Congress," he claimed.
The Congress state president went on to allege that a similar situation prevailed in the recently concluded Maski bypolls, wherein he claimed that BJP state vice-president and son of former CM BS Yediyurappa, B Y Vijayendra's people distributed money.
"But in the end, when they came out to vote it was in favour of Congress," said Shivakumar.
The statements sent ripples in the political circles with chief minister Basavaraj Bommai saying Shivakumar was speaking out of experience and nothing more.
"During their (Congress) regime, when the Kundgol, Gundlupet and Nanjangud bypolls were held we have seen how gunny bags of money were transported. He is speaking only out of experience and not facts. The BJP is fighting the elections based on the love and trust which has been shown by the people of Hangal and Sindgi," claimed Bommai.
In Sindgi, former CM B S Yediyurappa went on to condemn the statements by Congress leaders and said there was not a single iota of truth to the allegations.
"The BJP is in power across 26 states. Did all the governments and their CMs come to power on the basis of money power? Let them speak of facts and not on some wild rumours. The Congress leaders are resigned to the fact that they will lose both the seats and are thus making such false allegations as a last ditch effort," said Yediyurappa.
Yediyurappa went on to add that former CM Siddaramaiah is in a position of authority and should be responsible while making allegations and accusations against any person or party.
In Sindgi, Kumaraswamy went on to add that the JD(S) was quite well placed to secure a win while admitting that their strength in Hangal was minimal.
"In the fight between both the national parties, which have never given anything to the two segment, the people are with JD(S)," he claimed.