bjp: Hangal, Sindgi bypolls: BJP & Congress spar to win minority votes | Mysuru News – Times of India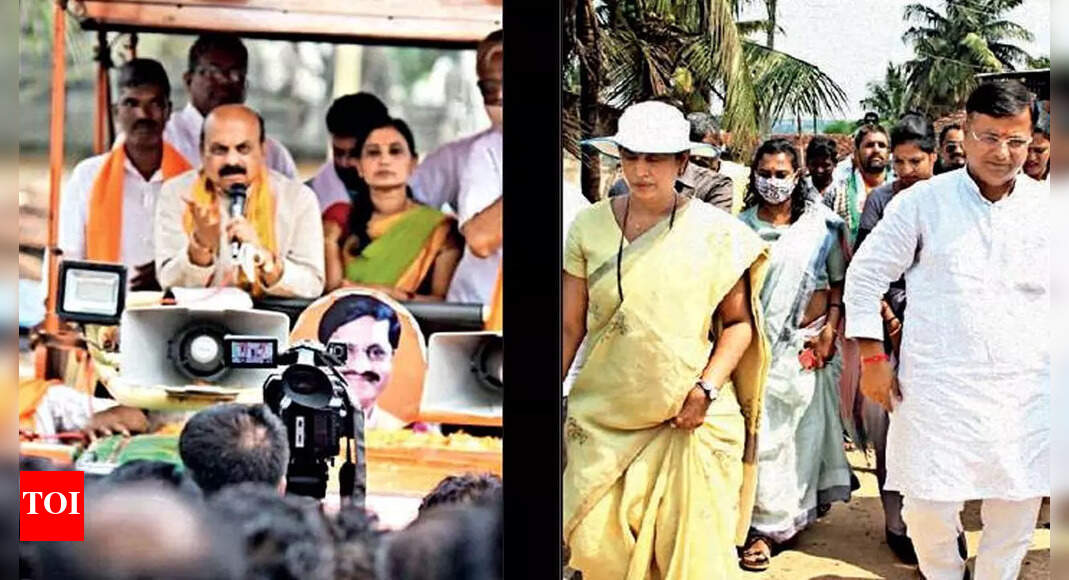 HAVERI/BENGALURU: As the political battle for Hangal and Sindgi entered its last leg, the BJP and Congress tried to outdo each other in wooing the caste-based votes.
The BJP picked the issue of a separate religion for Lingayats and strategically hit out at opposition leader Siddaramaiah. This was a day after the former chief minister participated in a Kuruba community meeting at Sindgi. "He (Siddaramaiah) was the one who tried to break the Lingayat community during his tenure as CM and is posing as a secular leader now,'' the BJP tweeted.
"Siddaramaiah is the man who sowed the seeds of the poison of casteism in the state. Today, the same man is trying to woo votes by stringing together a garland of lies. The man who tried to divide the Veerashaiva and Lingayats, how can you now say that you will take all communities together?" questioned the BJP.
The BJP also accused Siddaramaiah of dividing journalists on communal lines by providing "media kits" only to the minorities.
Siddaramaiah responded by questioning the duplicity of the BJP, saying that when their leaders attend caste-based rallies then that is secular, but if he attends one, then it is labelled casteist. "Eshwarappa held a Kuruba rally while Basangouda Patil Yatnal held a Panchamasali Lingayat rally and Prahlad Joshi, Vishveshwara Hegde Kageri and Suresh Kumar attended a Brahmin community rally. In fact, minister R Ashoka claimed that he became a minister for being a Vokkaliga. Are they all casteist or secular?" he asked.
Siddaramaiah even questioned the Lingayat seers coming out in support of former chief minister BS Yediyurappa when he was being replaced and questioned whether he was also casteist.
Row over wearing rug
Siddaramaiah took on Bommai, continuing the war of words over wearing a rug on their shoulders, a symbol of the shepherd community. He demanded reintroduction of the "Anugraha" scheme to provide relief for the dead sheep.
"Wearing a rug on your shoulders for votes does not mean you are with the community. Re-introduce the Congress-initiated scheme of Anugraha, which provides compensation for the death of their livestock, if you intend to help the community," Siddaramaiah said regarding the death of 40 sheep in a dairy farmer in Shivamogga.
In Hangal, the CM hit back by claiming that he never targeted Siddaramaiah or any other leader. "Nobody is born in a particular community by submitting an application. All the communities are with the BJP and I do not need to defame anyone to win the votes of a particular community. The BJP has never discriminated against any caste or community. The Congress and Siddaramaiah are trying to twist words," he said in a rally.