Bengaluru: With preschools closed, parents bring tutors home | Bengaluru News – Times of India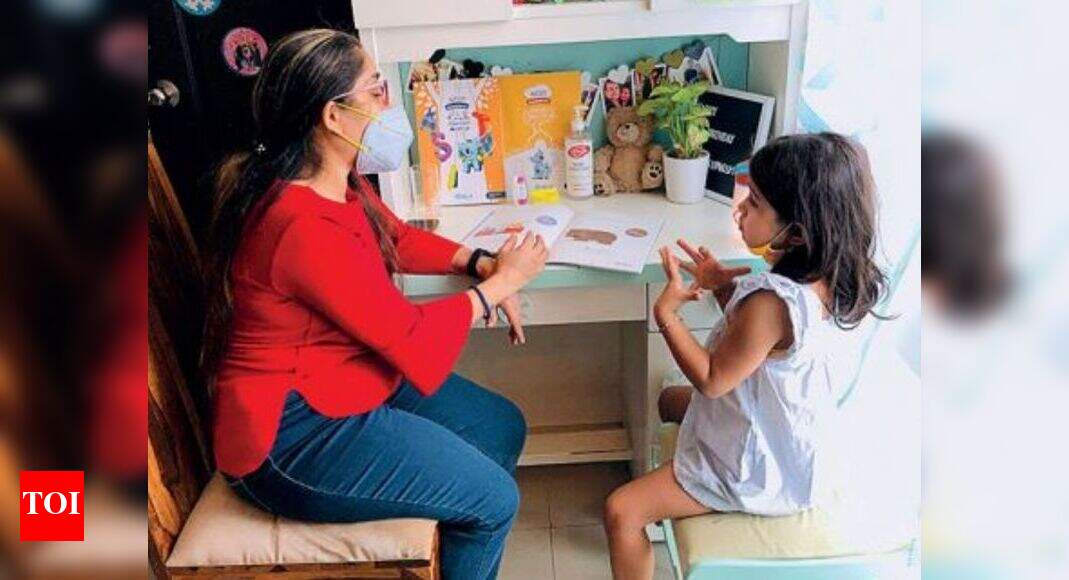 BENGALURU: Four-and-a-half-year-old Aarav Shukla eagerly awaits Mondays, Wednesdays and Fridays when his teacher comes home and takes lessons. He finishes his breakfast early, gets his books, pencils and crayons together, helps his mom roll out the mat on the floor and waits for the doorbell to ring.
Aarav is one of many preschoolers who have teachers coming home for lessons after his pre-school shut in March due to the pandemic. Realising that online classes aren't helping toddlers, many parents are opting for a programme some pre-schools offer where teachers come home for an hour or two on specific days to interact with their children.
"We tried online classes for a month," said Ramya N, a marketing general manager of a private healthcare company, who has opted for Klay preschools' '
[email protected]
' programme. "My three-year-old refused to sit in front of the laptop for more than 10 minutes. I had my own office schedule and could not give him undivided attention. So, we decided to opt for the programme. Now, he gets a solid two hours daily with the teacher and I don't feel guilty that I've neglected his learning needs."
Swetha Ramdas, Aarav's mother, said a teacher at home has brought in a schedule that was otherwise missing after work-from-home began. "It was challenging to maintain a schedule. Now with a teacher coming in, things are in place," she said.
Teachers too say it has been an experience. "The children get excited when we go to their homes. They take us to their favourite rooms, show us their favourite toys and introduce us to their relatives. Unlike in school, they are more comfortable," said Swetha Sthanikam, a teacher of Koala preschool, RT Nagar.
Pankti Jayesh Dubal, a teacher in Klay, said, "While this is a joyful experience, I miss school. Children learn from each other and this is missing at home." Pre-schools managements monitor the health of the teacher and family members on a daily basis for safety purposes.
"We have had 450 enrolments for the programme, out of which 250 are from Bengaluru," said Srikanth AK, CEO, Klay preschools. "While online classes are a good substitute, they remain a substitute at best. The social aspect is still missing in the child's learning. It's also a crucial time in a child's life as they learn a lot during these years,"
Alifiya Zavery, senior manager academics, Koala Preschools said: "We had to recruit a lot of new teachers and train them. It was a win-win situation as there were many talented teachers who lost their jobs."